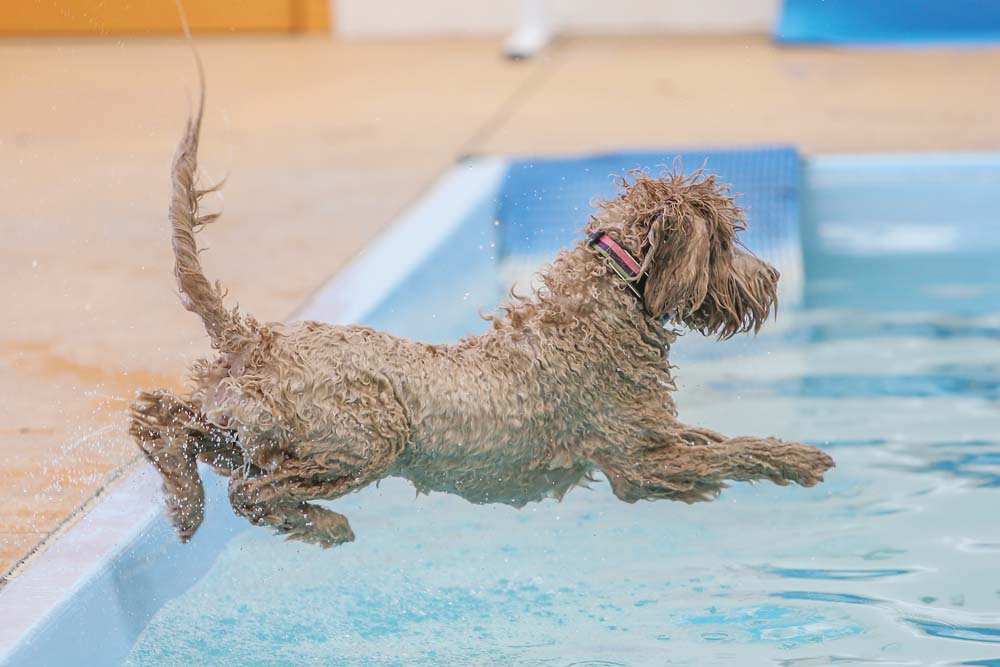 FOND memories of 47 dachshunds gleefully running amok at her swimming pool for dogs a few years back still makes Somerville woman Jo Woolley laugh.
"They came to us via a Facebook group booking for a pool party and had an absolute ball in and out of the water," she said. "They were hilarious."
That's easy to imagine as the pool at Aquapaws Canine Rehabilitation Centre is a favourite destination for its regular four-legged visitors. Ms Woolley says she can hear her customers panting and squealing as they literally drag their owners across the car park to get there. "They are off the planet," she said.
Ms Woolley, who has run the business in Lower Somerville Road for the past 14 years, developed her skills during a canine rehabilitation therapy and hydrotherapy degree course in the UK and the US in the early 2000s. Back home, her vocation coincided with a growing desire by dog owners here to better care for their dogs, who receive physiotherapy, acupuncture, chiropractic, massage, pain management and rehabilitation treatments after injury or surgery. Fido fitness and weight-loss are popular aims and there's even a seniors' program for older dogs.
Dogs of all shapes and sizes learn to swim in the 12-metre pool wearing lifejackets while their owners encourage them holding a handle on the back or using a leash. Their pets enjoy the feeling of the 24-degree water and become comfortable paddling and exercising. A puppy swim school teaches up to 10 puppies to swim at a time at $66 for four sessions.
While the dachshunds were amusing, so too were the 52 greyhounds brought in by a dog rescue group. "That was a fun day and it was bucketing down with rain at the time," Ms Woolley said.
In another amusing episode a largish woman fell head-first into the magnesium and salt chlorinated pool after her dog accidentally pushed her. "It took four of us 20 minutes to pull her out and she, and we, were laughing," Ms Woolley said. "I even had to jump in and pull her gumboots off so she could get up the steps."
Despite this mishap, it's easy to get the impression the owners have as much fun as their pets. "Many bring gazebos and trestle tables to picnic in the leash-free area and provide treats and even cakes for their dogs. They are here for hours."
Ms Woolley said most dogs were natural swimmers and took to the water with ease – especially the natural swimmers, like Labradors and retrievers. For others it's simply a matter of diving in and learning by doing. And every dog seems to love doing that.
Entry is $12.50 for 30 minutes, and $10 for a do-it-yourself wash and blow dry.