DIVISION TWO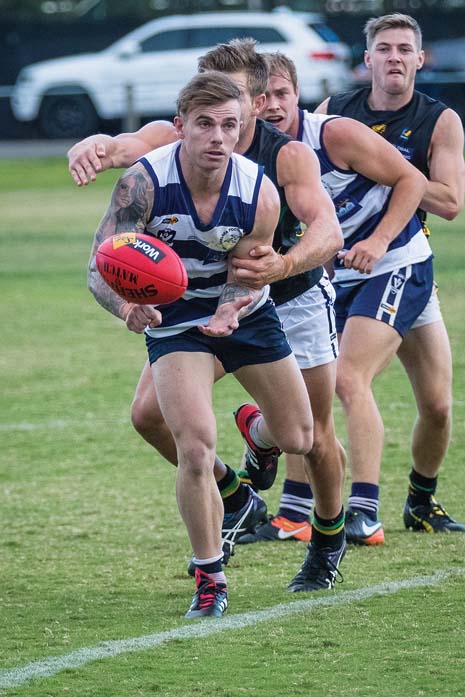 THE top of the ladder clash between Dromana and Chelsea was the headliner of the MPNFL Division Two competition this weekend, in a match that saw two sides both sitting undefeated going into Round Five do battle.
The much anticipated contest took place at Chelsea Reserve, and saw the home side start strong to go into quarter time in front by a goal. Despite these early signs of fight, it did not take much longer for Dromana to stamp their authority on the game, eventually running away to a comfortable lead they would hold for the rest of the match.
Once Dromana got going there was little that could be done to stop them, with Ben Holmes and Ethan Johnstone kicking three goals each to take their season totals to an impressive 16 and 17 respectively. Dromana's Joshua Bateman also joined contributed to the scoreboard with a three goal performance of his own, which helped his side record an easy 7.10 (52) to 13.16 (94) victory.
The clash between Tyabb and Crib Point was also an intriguing one, for entirely different reasons. Unlike the other top of the ladder battle on Saturday, this match featured two sides yet to record a win four rounds into the season.
Both clubs have struggled this season, and entered the clash desperate to break their ducks. The match however was almost over as soon as it began, as a seven goal to zip first quarter saw Tyabb take an unassailable lead into quarter time.
After going into the first break 48 points down, Crib Point fought hard to keep the result respectable, and only ended up going down by 55 points with the final score 15.12 (102) to 6.11 (47).
At RJ Rowley Reserve, Rye were forced to work hard at home to best Langwarrin. The kangas were kept in the game by Jesse Murphy, who finished with five goals to add to his tally of four goals in each of his last two games, but ultimately he was not able to drag his side to victory.
Despite Langwarrin only trailing by two points ten minutes into the final quarter, Rye comfortably kicked away to record an impressive victory to take them to sixth on the ladder, winning 13.17 (95) to 11.8 (74).
Elsewhere on Saturday, Devon Meadows struggled at home in a low scoring affair against Red Hill, who recorded their third consecutive win after a shaky start to the season. Red Hill led throughout the day, and although the gap had been closed to just ten points at three-quarter time, Red Hill managed to hold on to record a comfortable win 7.6 (48) to 9.12 (66), with Harry Wynn-Pope named as the best on ground.
It was also another disappointing weekend for lowly 11th placed Pearcedale who were easily beaten by a freely scoring Karingal side.
Karingal's Matthew Stanley may have impressed last week with five goals, but this Saturday bested that effort with an incredible seven goal haul to sink a Pearcedale side that were never a chance. Karingal piled on 20 goals to wrap up a comprehensive victory, 12.8 (80) to 20.18 (138).
Hastings' Thomas Barclay Oval played host to the final match of the day, which saw the home side visited by Somerville.
The best on ground on the day was Hastings' Luke Hewitt, who proved the difference between the two sides. His five goals took his tally for the season to 20 and took his side to a comfortable victory.
The final score was Hasting 11.12 (78) besting Sorrento 7.12 (54), a result which will fill Hastings with confidence leading up to their big clash against unbeaten Dromana away from home next Saturday.