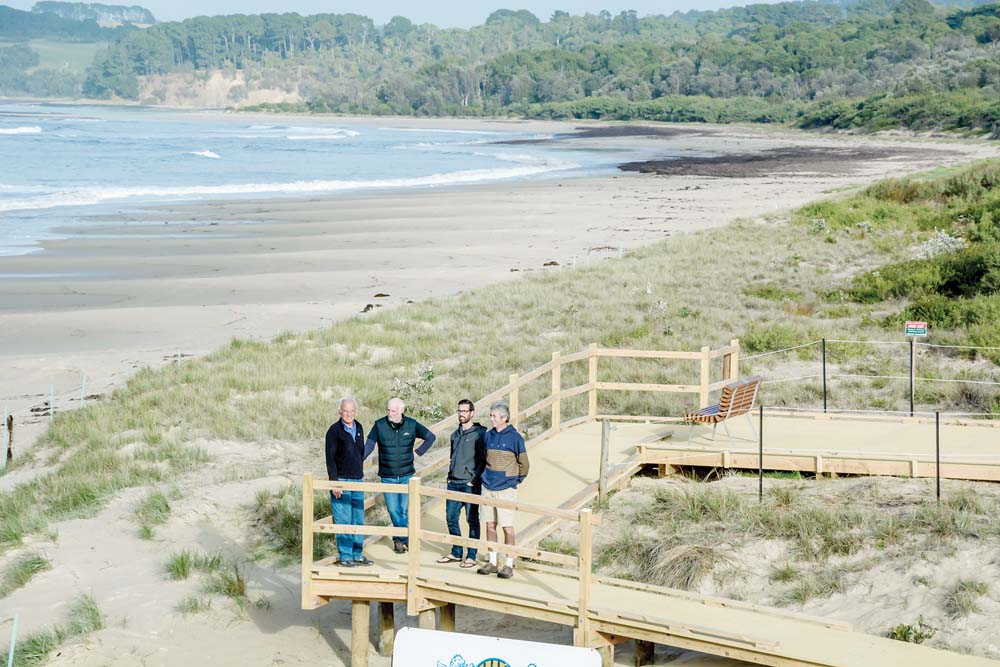 THE new executive committee of the Disabled Surfers Association Mornington Peninsula Branch (DSAMP) went to Point Leo last week for a final look before the official opening of a viewing platform and a new way of getting onto the beach.
Known as the boardwalk, the 82 metre long structure starts near Point Leo Surf Lifesaving Club and ends with a wheelchair ramp to the beach.
A wide-tyred wheelchair is available for loan from the club.
Taking a close look at the completed boardwalk last week were newly-elected DSAMP president John Bowers, vice-president Steve Hough, secretary Scott Cosgriff and former secretary Bill Hallet
The boardwalk – fibreglass grating supported by timber frame and poles – was a major project for the DSAMP which since 2012 has been holding two surf days a year for the disabled at Point Leo.
The days have become so popular that they now attract about 120 participants, supported by up to 250 volunteers.
The boardwalk, which can be used by the lifesaving club as a viewing platform, cost about $113,000, which came from several government departments, Mornington Peninsula Shire, businesses and individuals.
The official opening will be 10.30am Saturday 26 May.
Details of the opening are on the DSAMP facebook page.
First published in the Southern Peninsula News – 15 May 2018