SOCCER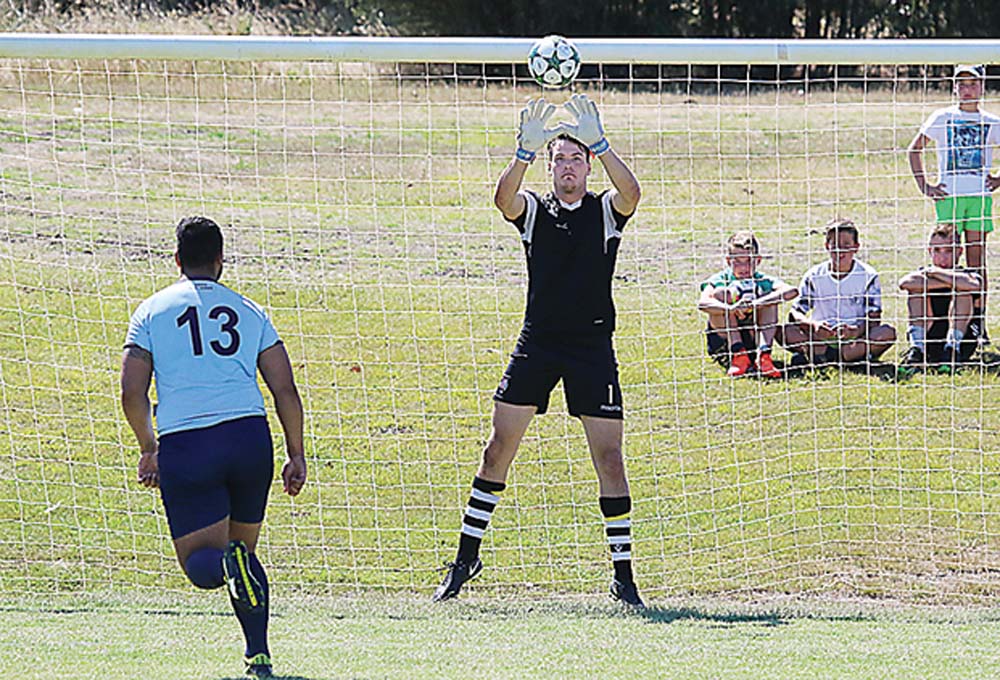 Langwarrin has sacked giant second-string keeper Josh Dorron and is on the lookout for a replacement.
Dorron will join State 1 South-East outfit Caulfield Cobras a week later than planned after Langy held up his clearance late last week.
The local club was incensed when told that Dorron had trained elsewhere without informing Langy's coaching staff.
The good news is that long-serving Langy boss Gus Macleod welcomes three new faces at training this week.
Queensland strikers Matt Heath and Chris Swain will be joined by tall central defender Lloyd Clothier.
Heath is from Brisbane-based Olympic FC, Swain is from Sunshine Coast Fire and Clothier is from Victorian club Malvern City.
Langy signed Heath a few months ago but Swain and Clothier will have to wait until the NPL transfer window opens on Monday 28 May before being eligible to play.
Macleod already has three places in his senior squad to fill after Nabil Mozaffaruddin was ruled out for the season with a knee injury, Sergio Yanez has left for work reasons while Esmael Zaheri joined Morwell Pegasus last month.
Langy lost 3-1 at home to Altona Magic on Saturday.
Mornington's recovery from a horror start to the State 1 South-East season continued last weekend when it travelled to the Latrobe Valley to defeat Morwell Pegasus 4-2.
Mornington confirmed the appointment of Dale White as Adam Jamieson's replacement last Friday and within two minutes Sammy Orritt put the visitors ahead with a free header following a long throw by Curtis Hutson and a flick on by Sam Scott.
Hutson capped a fine interpassing move by slotting the ball past advancing Morwell keeper Senad Ahmetovic in the 15th minute to make it 2-0.
The home side blew a great chance to get back into the contest by missing a penalty in the 35th minute but two goals inside five minutes in the second half had Mornington staring down the barrel.
A deflected long-range strike by Scott in the 73rd minute made it 3-2 and Morwell was caught on the break in the 86th minute when Keegan Ziada drew a defender and Orritt took one touch before smashing a firm shot into the top corner.
Mornington expects striker Max Etheridge to return from England next week and plans to add another striker to the senior squad.
The club's FFA Cup run ended with a 2-0 loss to NPL outfit Moreland Zebras last week.
Frankston Pines' defensive frailty was ruthlessly exposed by Berwick City in their State 2 South-East fixture at Monterey Reserve last weekend.
David Di Iorio had a free header for the opener in the 11th minute, Kurt Wagner-Goldsworthy let Nathan Credlin nip in front of him for another free header in the 22nd minute, a Graham Hill blunder gifted Orlando Mejias with the third in the 29th minute and a superb Chris L'Enclume through ball two minutes later allowed Jarod Blackbourn to make it 4-0.
Pines gave a better account of itself in the second stanza when the contest was all over and its consolation goal came from hard-working striker Mitch Lander after Berwick keeper Christian Morales had parried Ioasa Saemo's shot.
Peninsula Strikers remain on the bottom of the State 2 South-East table after losing 2-1 at home to North Caulfield on Sunday.
Although Strikers had the better of the first half they still had to rely on a superb double save from goalkeeper Ash Kupre in the 25th minute.
Ryan Wilson should have given Strikers the lead not long after but he mistimed his header at the near post following Nathan Smith's corner.
North Caulfield took the lead in the 55th minute through a headed own goal from Steve McLelland but when Femi Orenuga was brought down by North Caulfield keeper Daniel Shandler in the 68th minute Ryan Thompson converted from the spot to make it 1-1.
The winner came in the 80th minute when substitute Ariel Ritz sent his free kick from the left sailing into the top far corner.
Skye United continued its push up the State 3 South-East ladder after a nail-biting victory over fellow promotion candidate Collingwood in a seven-goal thriller at Kevin Bartlett Reserve on Friday night.
Skye took the lead when Caleb Nicholes finished well following a neat turn after a Jason Nowakowski cross in the 20th minute.
However the hosts were level 10 minutes later after a fine interpassing move finished by a Pat Makris drive from outside the area.
Three excellent saves from Skye keeper Jonathan Crook kept Collingwood at bay and in the 43rd minute Mohamad Elhassan broke onto a Mitch Blake through ball to make it 2-1 at the break.
When Nicholes turned provider in the 70th minute to set up Blake for a tap-in the points looked safe for Skye but no-one could have anticipated the frenzied final five minutes.
A looping header from Makris in the 86th minute gave the hosts a lifeline and a 90th minute equaliser from Federico Bono had the Skye faithful holding their heads in their hands.
But seconds after the restart Marcus Collier pushed the ball forward and Daniel Attard's through ball saw Nicholes felled in the area.
Referee Mike Zha pointed to the spot and Nicholes stepped up to snatch a crucial 4-3 win with the last kick of the contest.
Seaford United stayed in the relegation zone after losing 5-2 at home to promotion candidate Monbulk Rangers last weekend.
Harry McCartney reports that the visitors took the lead in the 9th minute when Geordie Scott converted from the spot after Arash Sadeghi had been brought down inside the area.
A long ball in the 35th minute was flicked on for Scott to make it 2-0 and almost from the restart Cameron Poynter made it 3-0.
In the 41st minute Seaford's Matty Schwellinger went past two opponents and laid the ball off to Dylan Waugh who hammered it into the top left corner to make it 3-1.
It was game on in the 76th minute after Waugh was brought down on the edge of the box and a superb free-kick from Matt Morris-Thomas made it 3-2.
Seaford pushed for the equaliser and was twice caught out on the break late in the game.
Chris Wynne made it 4-2 in the 86th minute and Scott completed his hat-trick in the final minute of normal time.
Baxter had to settle for a point at Sillitoe Reserve on Saturday in its State 4 South clash with Sandringham which finished 0-0.
Baxter came closest to scoring from an Owen Kilner header in the 11th minute which struck the crossbar, a Jake Kidder shot straight at Sandy keeper Gabe Zafrin in the 18th minute and a fierce strike from substitute Liam Kilner in the 80th minute which forced a superb save from Zafrin.
Sandy's best first-half chances fell to Dan Meltser but Baxter keeper James Foster and defender Tim Lee saved the day.
In the 82nd minute a short passback from Baxter's Heath Goss was intercepted by Sandy's Chris Pratt but Foster saved his defender's blushes with a magnificent save.
Player-coach Dave Greening returned from his honeymoon in New Zealand to spearhead Somerville Eagles to a 2-0 away win over Bunyip District on Saturday.
It was a club record third straight victory and Greening's first-half goals leave the Eagles equal top of State 5 South.
In NPLW news Southern United lost 9-0 to Calder United at Monterey Reserve on Sunday.
Goals from Eden McKeown and Kayla McLeod gave Southern's under-12s a win in a hard-fought contest against Calder while the under-14s increased their lead at the top of the table with a 3-2 win in a clash that brought together last year's Grand Finalists.
A Candy Kilderry double and an Alessandra Davis goal gave Southern all three points.
Southern's under-16s drew 0-0 while the under 19s lost 9-0.
Here are next weekend's games:
SATURDAY 3pm: Langwarrin v Melbourne City (Lawton Park), Mornington v Warragul Utd (Dallas Brooks Park), Doveton v Peninsula Strikers (Waratah Reserve), Skye Utd v Bayside Argonauts (Skye Recreation Reserve), Boroondara-Carey Eagles v Seaford Utd (Wilcox Field, Carey Sports Complex), Baxter v Harrisfield Hurricanes (Baxter Park), Endeavour Hills Fire v Somerville Eagles (Power Reserve).
SATURDAY 8.30pm: Mooroolbark v Frankston Pines (Esther Park).
SUNDAY 3pm: Alamein v Southern Utd (H.A. Smith Reserve).