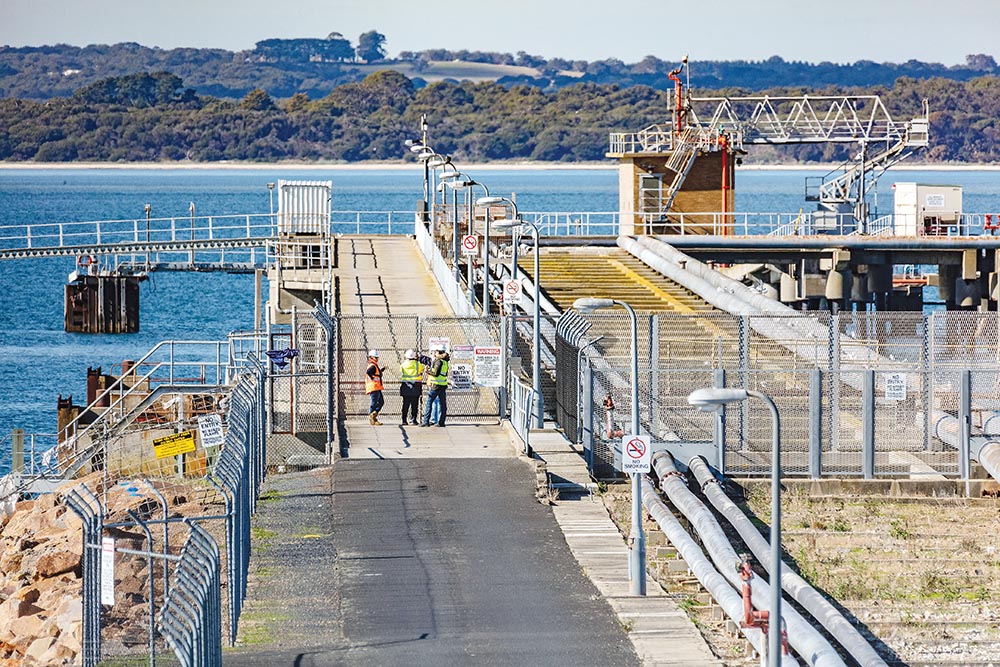 THE Port of Hastings Development Authority has started preparing the Crib Point jetty for a floating gas terminal "should the project proceed".
In a letter to residents dated 24 April the development authority said the work would include repairing concrete pylons, mooring dolphins and pipe racks as well as replacing the pier head.
The authority estimates work will take up to nine months and has warned residents of increased road traffic.
The port development authority was stripped of staff and finance following the November 2014 election of the Labor state government which dropped plans for a container port at Hastings.
Its announcement of "remediation" works to the jetty was made as all three levels of government come under increasing pressure to refuse power supplier AGL permission to moor a floating gas terminal at Crib Point.
A public meeting last week organised by the No AGL Gas Terminus for Crib Point group attended by 130 residents voted to "move the anti-gas terminal campaign forward".
Speakers described dangers to health and the environment of Western Port as well as land rights issues surrounding a 60-kilometre pipeline to Pakenham.
The gas import plan for Crib Point comes at the same time that the state and federal governments have agreed to each give $50 million a consortium headed Kawasaki Heavy Industries and including AGL for a hydrogen gas to liquid pilot plant at Hastings.
Mornington Peninsula mayor Cr Bryan Payne last week told ABC radio that he thought the floating gas terminal plan was "a good thing".
However, in reply to a letter from Crib Point resident Sylvia Simons the mayor said her concerns "are noted and when it comes to council after the full consultation process we will be in a position to vote on the matters".
Ms Simons is yet to hear from Flinders MP Greg Hunt and several state ministers who were also sent copies of her letter outlining her fears for the environment and public safety.
Mr Hunt's Liberal state colleague, Neale Burgess, has spoken strongly against any industrialisation south of Hastings.
The Tuesday 8 May public meeting at Crib Point Community Centre was told that AGL's plan for a floating storage regasification unit (FSRU) could endanger lives and the environment.
Former fireman Rod Knowles said the Coode Island explosion in 1991 had reportedly been sparked by natural causes – a St Elmo event.
Other natural causes, as well as human error, could cause the FSRU to explode or catch fire in our already bush fire prone area.
Don Juniper said the need to import gas was due to Australia's "dysfunctional" gas industry.
Risk management and training expert Keith Old said there were "gaps" in AGL's plans with risk assessment only being completed once the FSRU was in place.
Commercial seafarer and No AGL Gas group committee member, Grant Bradbury, said "this whole dreaded scenario could be avoided" if the federal government forced gas producers and exporters to keep enough gas in Australia to satisfy the country's needs.