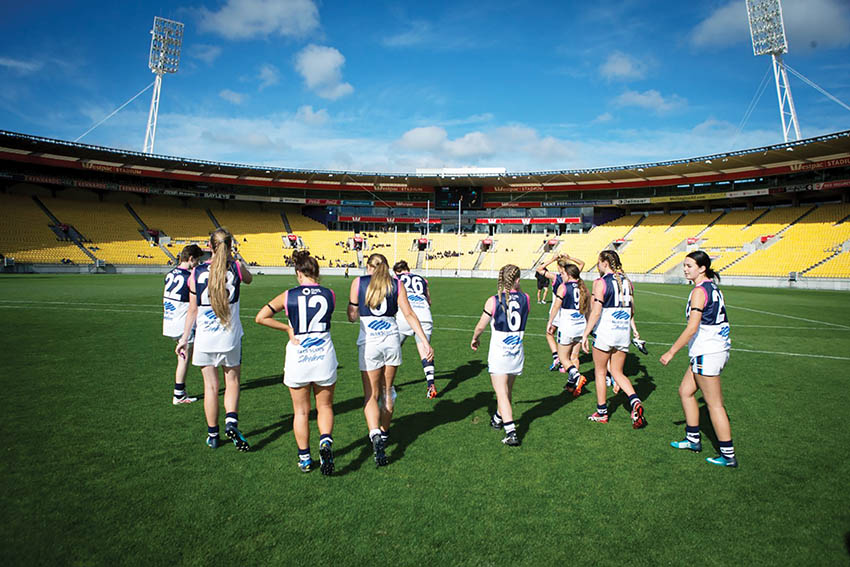 AFL New Zealand has recorded their first win on Australian soil after defeating a Mornington Peninsula interleague team on Friday 11 May.
In a close encounter, New Zealand's under-18 boy's side (6.9.45) saluted by five points over the Mornington Peninsula Junior Football League boys (5.10.40) at Bluescope Oval, Hastings.
After a spine-tingling Haka, New Zealand were first on the scoreboard as Quinn Pocock snapped the opening goal for the visitors. New Zealand looked to narrowly contain the lead throughout the match, but the home side didn't cave in and continued to chip away at a 15-point margin heading into the final quarter.
The MPJFL boy's side fought to the final whistle but it was New Zealand who claimed the victory.
New Zealand's victory in the under-18 boys match flipped the results from the MPJFL's New Zealand Tour over the Anzac Day weekend which saw both the MPJFL's under-14s and under-15/16s boy's sides return home as victors.
The Bluescope Steelers Youth Girls weren't as successful on the score board over the New Zealand Tour, but had the honour of being the first girls' team to play on Westpac Stadium against New Zealand in a curtain raiser to the AFLNZ V AFL Academy level one game.
MPJFL president Andrew Souter said competing against an international side is an incredible experience to offer the players.
"It is always an honour and a privilege to play representative sport at any level, however to play an international representative match is an opportunity that most will never experience," he said.
"Overall these young people did Australia, our league and themselves very proud by displaying fantastic sportsmanship and comradery over the tour.
"We are all extremely keen to ensure that this exciting venture continues."