DIVISION ONE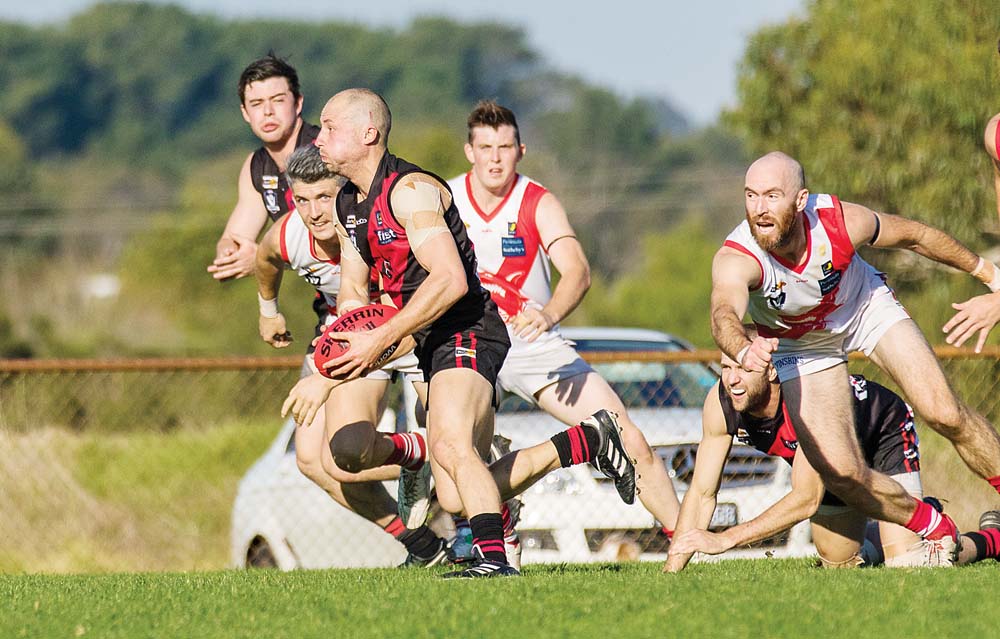 AFTER interleague action saw MPNFL football take a break last weekend, Division One football returned with a bang on Saturday in a day of shocking results.
The biggest turn up of the round came from Olympic Oval, where Rosebud took on a normally dependable Frankston YCW at home.
Frankston YCW were coming off their first loss of the season last round against Pines, and would have been keen to stamp their authority with a dominant performance against lowly ninth placed Rosebud. Despite that, Rosebud did well to hang in the game with their stronger opponents, only trailing by three points at quarter time and two points at half time.
Going into the final break, the scores were tied at 54 apiece, setting up for a thrilling last quarter. Swayed by the momentum of the home crowd, it was Rosebud who stormed home to take all four points in a nail biting game, claiming the win 10.12 (72) to 10.7 (67)
Michael Debenham kicked three goals and put in a best on ground performance for his Frankston YCW side, but it was not enough to drag them over the line as the traditional powerhouse lost their second game in a row.
There was another stunning result on Saturday as ladder leaders Sorrento travelled to the home of the Frankston Bombers to take on the sixth placed outfit.
Frankston have suffered from a very inconsistent start to their season, and were widely expected to struggle against Sorrento, who have been outstanding so far this year. Sorrento were also helped by the fact they had very few representatives in the MPNFL side for interleague football last weekend, meaning they came into this game fit and rested.
It was the Bombers who shocked their home crowd by racing out of the blocks with a five goal first quarter, taking a 13 point lead into the first break. From then on Sorrento wrestled their way back into the contest to go into half time with a narrow lead, but as the match continued they failed to put the feisty Frankston side away.
The contest remained close throughout the day, but in the end it was Frankston who kicked away to take out a hard fought victory.
Samuel Fox was the pick of the goalscorers for the winning side with three majors, while Jake Greeley and former Western Bulldog Jarrad Grant contributed with two goals each of their own in the 12.11 (83) to 11.7 (73) win.
Over at Pines' Eric Bell Reserve, the home team played host to a Mornington side riding the momentum of a momentous win last round against Bonbeach.
Looking to make it two on the trot after claiming their first win of the season in their previous game, Mornington looked a good chance to cause another upset and keep their good form going. As the game got underway, Mornington looked much the better side, taking an 11 point lead into quarter time and playing with confidence.
The contest was neck and neck from that point on, with the margin at three-quarter time standing at just three points Mornington's way.
Despite showing a lot of fight, the brave Mornington side were overrun in the last quarter, as Pines piled on six goals to one in the final quarter to take out a comfortable win.
Aaron Edwards returned to form with a dominating performance for Pines, with his seven goal haul proving the difference between the two sides in a 15.9 (99) to 11.11 (77) win.
Elsewhere, Bonbeach put on a dominant performance at home, bouncing back from their disappointing loss to Mornington with a comprehensive victory against Seaford.
The sides entered the game placed seventh and eighth on the ladder, and both sides were looking to make amends for bad losses in the previous round. On paper the match looked as if it should be a close contest, but Bonbeach were quick to make sure that was not the case, holding Seaford to just one behind in their first quarter and taking a 21 point lead into the first break.
Seaford were unable to fight their way back into the game, and Bonbeach stayed in control thanks to great performances from in-form Jackson Casey, Jack Williams, and Beau Bailey who was the pick of the goalkickers with three majors.
Any chance of a Seaford comeback was ultimately crushed by their own poor goalkicking, as they fell to Bonbeach 14.8 (92) to 6.12 (48)
At Regents Park on Saturday, Edithvale-Aspendale and Mt Eliza were set for an important match which would see the winner cement their position in the top three. Given the other results of the day, the winner of this clash would also go level on points with the two top sides, raising the stakes for the game to another level.
In the early stages, it was Mt Eliza who looked as if they would come out on top, establishing a strong 21 point lead at the quarter time break. Despite their strong start, complacency got the better them, and Edithvale-Aspendale stormed into the lead with a stunning second quarter that saw them score eight goals to zero.
Mt Eliza were much better after the main break, but ultimately could not fight back from Edithvale-Aspendale's brilliant second quarter effort, as the score eventually finished 12.12 (84) to 9.16 (70) Edithvale-Aspendale's way.
Michael Bussey was the best on ground on the day, with his four goals helping to gain his side an important victory.