DIVISION ONE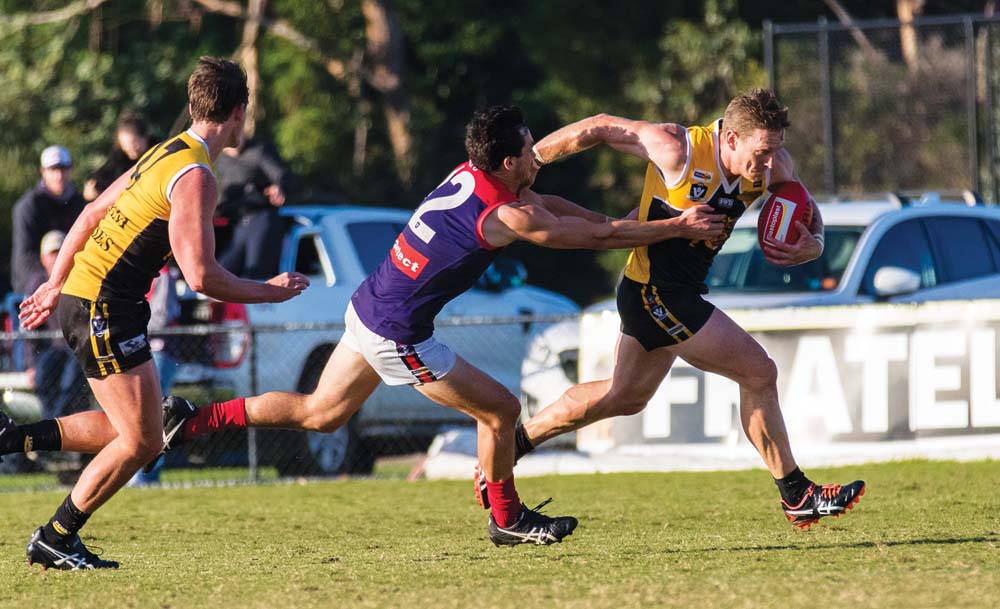 SORRENTO have maintained their spot on the top of the MPNFL Division One ladder with a thrilling two-point victory over Edithvale-Aspendale on Saturday.
The highly anticipated clash between the league's first and third placed teams took place at Sorrento's David Macfarlane Reserve, and it was the home side that came rushing out of the gates with a strong first term.
Despite looking the stronger team with a two-goal lead at the first break, it took no time at all for Edithvale-Aspendale to work their way back into the contest, thanks in part to their accuracy in front of goal.
The game remained close throughout the rest of the day, but it was Sorrento who had their noses in front at the finish line. Sorrento's Nick Corp put on a match-winning performance for his side, with his four goals helping Sorrento to a 12.14 (86) to 13.6 (84) win.
In the round's other high profile clash, it was second place taking on fourth place as Frankston YCW hosted Mt Eliza at John Coburn Oval.
The normally dominant Frankston YCW were reeling from a run of two straight losses and would have been keen to set the record straight and reclaim top position on the ladder with a big win against a strong opponent.
After a tight first quarter, the game looked set to be a high scoring and even contest. Each side kicked five goals apiece as Mt Eliza held a narrow lead at the first break. After quarter time, Mt Eliza overran their highly fancied opponents, establishing a 14 point lead at the half-time break.
Frankston YCW didn't let Mt Eliza run away with the game though and remained within touching distance. Faced with overcoming a seven-point deficit in the final quarter, they were far from down and out.
Despite showing signs of fight, the comeback was not meant to be, as Mt Eliza kicked away to secure a comfortable 19-point win to take them to second place on the ladder.
Jordan Moncrieff continued his sterling form this season with a best on ground performance for Mt Eliza, kicking two goals and contributing well around the ground.
With their next game being against top of the ladder Sorrento, Frankston YCW find themselves staring down the barrel of four consecutive losses, an unprecedented run for the champion side. A bad loss in that game could see them slip as low as sixth by the end of next round.
There will be plenty of work to be done in order to get back into the form that is expected of them, as Frankston YCW were left to lick their wounds after an 11.7 (73) to 13.14 (92) defeat.
The most impressive performance of the weekend came from Bonbeach Recreation Reserve, as Pines travelled to take on Bonbeach.
Both clubs had suffered from inconsistent seasons so far, and at the first break it was the home side who held a two-point lead. After quarter time, a fire was lit under Pines, who were simply unstoppable from that point on.
Former North Melbourne forward Aaron Edwards has only been back from a knee reconstruction for a little more than a month, but you wouldn't have thought it by watching his performance on Saturday. Edwards put on one of the best individual games from any player in the history of the league, kicking an astonishing 13 goals to punish a miserable Bonbeach side.
Edwards' massive haul took him to top of the goal kicking leaderboard, and if he continues this form he will be hard to overtake.
What looked a promising contest at the beginning eventually turned into a one-sided display of domination, as Bonbeach fell to Pines 8.6 (54) to 24.13 (157).
Elsewhere, another intriguing clash was taking place between Seaford and Mornington, in a game which would see the loser condemned to last place on the ladder.
With both teams playing for pride, it was a tough and even contest, with the lead changing hands at numerous points throughout the day. The lead at each break in play stood at less than a goal.
In the final quarter Seaford had plenty of opportunities to put the game to bed, but let themselves down by kicking just one goal and five behinds. Capitalising on Seaford's inaccuracy, Mornington were able to kick three goals straight in the final term to run out as four-point winners, 9.14 (68) to 11.6 (72).
It was Mornington's Lachlan Gorka who kicked the major to put his side in front with a little more than a minute to play, which was enough to secure his team the victory. The win is Mornington's second in a row, which takes them off the bottom of the ladder, a position now occupied by their Seaford opponents.
In the final game of the weekend, Rosebud's disappointing season went from bad to worse as they were easily dealt with at home by the Frankston Bombers.
Despite Rosebud holding a one-point lead at quarter time, Frankston quickly established a comfortable lead which would prove to be insurmountable.
Frankston's Jarrad Grant proved influential in the win, booting six goals to help his side to an 8.10 (58) to 15.12 (102) win.