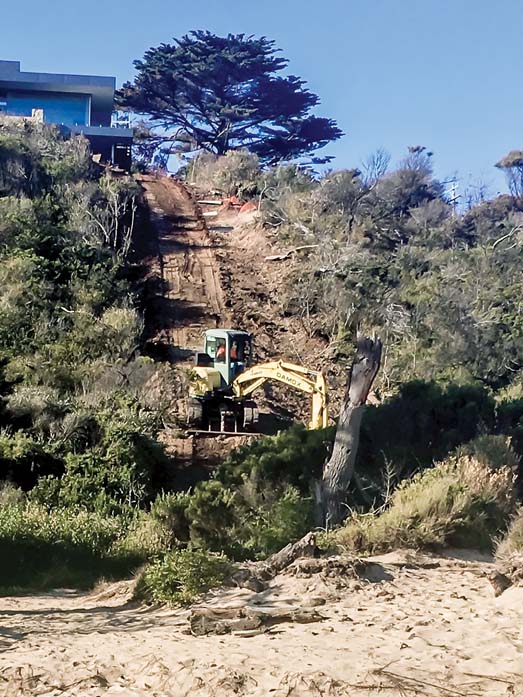 THE owner of a new home being built on a Mornington clifftop has received council permission to clear vegetation down to Mills beach for an inclinator.
Mornington Peninsula Shire's executive manager planning services David Bergin said the council had approved the permit in conjunction with the dwelling approval on the land at 1-3 Kalimna Drive.
"As a part of this approval the landowner sought to construct an inclinator, to provide access to the beach," he said. "Council have been reviewing the careful construction of the inclinator.
"The owner of the land has taken great steps to ensure that there was no potential damage to Aboriginal heritage and is required to undertake extensive local indigenous re-planting around the inclinator."
A shire officer said the cleared land was owned by the property owner and was not Crown land.
Members of Mornington Environment Association have described the cliff-side clearing as "rape and pillage" of the landscape.
"I do not have a copy of the cultural heritage map that shows the eastern end of Mills Beach … but I'm sure this vegetation would come under part of this area which is known for middens from history already collected," president Jill McIvor said.
The association has collected photographs from the first stage of the building process until recently. "Our maps clearly show a path to the west of the site that already runs through the vegetation and has probably been there for 100 years or more," Ms McIvor said.
"Could someone please have a look at the map of this area and advise me about cultural significance and how we can stop this rape and pillage of landscape?"
Mt Eliza kayaker Bill Robinson, who spotted the vegetation removal from the water, said he had a "gut feeling this is not right".
"When you consider the Solomon Lew pool saga of a few years ago on the same stretch of coastline I can see some similarities ("Lew pool demolition", The News, 16/10/12).
"It is a beautiful and fragile cliff – one of the gems of Mornington – so it seems strange that someone is able to clear it. It would only take a heavy rain and the whole gully would be awash."