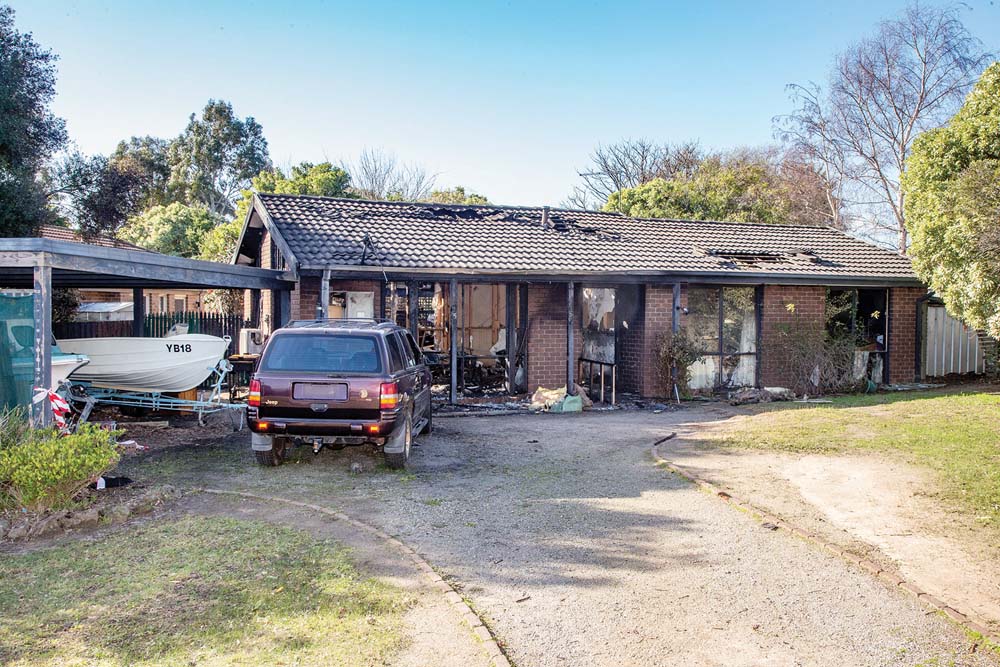 AN off-duty policeman has been recommended for a bravery award after dragging a Somerville man from his burning house on the afternoon of Friday 29 June.
The detective senior constable, who formerly worked at Mornington police and is now at Dandenong Sexual Offences Unit, was walking his dog in Rex Court about 3.40pm when he saw smoke coming from the roof. Running to the front door he peered inside and heard a faint call for help.
The detective (who does not wish to be identified) said he "thought something was not right" when he saw smoke coming from the roof of the house.
"At first I thought it might have been coming from a faulty air-conditioner on the roof, but when I ran to the front door and looked inside I could see lots of flames and smoke and heard the crackling," he said.
"Then I heard someone calling for help and realised the urgency and that there was no time to lose.
"I kicked in the door and ran inside and saw the silhouette of a man lying on the floor having fallen out of his wheelchair. He was calling out to me, saying 'Here I am'.
"I asked him if there was anyone else inside and he said 'no'. I thought he may be confused but he said there was no one else and I got him outside and called 000 and notified the neighbour next door.
"I felt a sense of relief that it was over and was pleased that I had been able to help. He was a very lucky man that I had been walking by."
It is understood the man had fallen asleep in front of the stove while cooking and been overcome by smoke when the kitchen caught fire.
Firefighter Geoff Gommers, of Somerville CFA, said the house was "40 per cent involved" when crews rushed to the scene 10 minutes later. Power lines were sparking and the entire front of the house was ablaze. The fire took 45 minutes to bring under control and another two hours to fully extinguish.
CFA crews managed to save two boats and a shed, as well as jewellery, mementoes, and two wheelchairs from inside the house. One electric mobility scooter was lost.
Firefighter Gommers said he was recommending the detective for a bravery award. This was confirmed by Somerville CFA Captain David O'Brien who said the policeman had "made a really good effort".
"I've just completed the paperwork for the award and sent it to district headquarters and they will make the recommendation."
Hastings Senior Sergeant Shane Pola also commended the policeman's efforts in saving the man's life. "He did very well," he said. "He was in the right place at the right time to help."
A fire investigator had been requested to examine the scene next morning.
CFA stations launched a residential fire safety campaign on Wednesday 20 June to raise awareness of fire safety around the home in colder months.
Across Victoria, CFA crews attended 467 preventable house fires last winter – up 15 per cent on other seasons. Unattended cooking is the single biggest cause of fire in the home throughout the year, with heating-related fires up over winter. CFA areas recorded 121 chimney fires and 29 fires related to wood-fuelled heating.
Preventable fires also started when clothes were left to dry too close to the heat source, in clothes dryers, and from candles.
So far this season, CFA fire investigators have attended fires caused by candles left unattended close to furniture, cooking left unattended, embers from open fireplaces falling onto carpet, and portable heaters left too close to towels.
CFA Chief Officer Steve Warrington warned that there was no "off-season" when it comes to fires. "Winter is a time where we're spending more time inside keeping warm by enjoying an open fire and a home-cooked meal or cranking up the heater," he said.
"It's also when we have to be most vigilant, as there are more residential fire risks within the house. Now is the time to check electric blankets and heaters. If there is a chance something is faulty, don't take the risk."
First published in the Southern Peninsula News – 10 July 2018