OBITUARY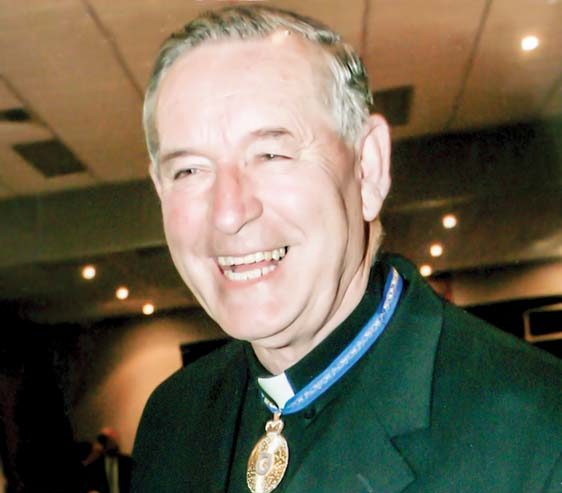 John Aylmer Leaver AO RFD ED
1930-2018
School chaplain
THE Reverend John Aylmer Leaver AO RFD ED died on 15 May at the age of 87. It was estimated that more than 900 attended the memorial service which was held at The Ansett Hall, Peninsula Grammar, on 24 May. Best known as the chaplain at Peninsula Grammar, a position he held for 24 years, the Rev Leaver also played a key role in the setting up of a number of Christian schools and he was a long-time chaplain in the Army Reserve. In 2000 he was awarded the AO for his services to education and his work in the community.
Stuart Johnston, principal of Peninsula Grammar, gave the welcoming address and eulogies were given by The Right Reverend Dr Paul Barker, Bishop of the Jumbunna Region, the Anglican Diocese of Melbourne; Brigadier Doug Perry  OAM RFD ED ; and Stephen Higgs, executive general manager  of Victorian Ecumenical System of Schools. The homily was given by the Rev Roger Rich. Family tributes were provided by daughter Susan Collopy and grandson Charlie Collopy. This obituary is based on the addresses  given by the various speakers.
Studies and Marriage
John Leaver was born on 29 August, 1930 to Esmond and Dorothy Leaver. At the time John's father was the Anglican priest at Myrtleford and the childhood of John and his two siblings (David and Laurel) was spent moving around the Diocese of Wangaratta. This included time in Wodonga, Violet Town, Alexandra and then Seymour; many hours were spent in local swimming pools and consequently John became a strong swimmer. He was also a member of junior cricket and football teams.
In 1941 John became a boarder at Ivanhoe Grammar School. He embraced all that Ivanhoe had to offer but still enjoyed his school holidays: swimming in the Goulburn River at Seymour, attending the local movie theatre on Friday nights, and reading book after book. Even books on the banned list were sought out. In his final year at Ivanhoe John was a school prefect, captain of the boarding house, the debating team and tennis team as well as librarian and editor of the school magazine. On matriculating he became an active member of the Old Ivanhoe Grammarians, remaining true to their school motto: Faithful even unto Death.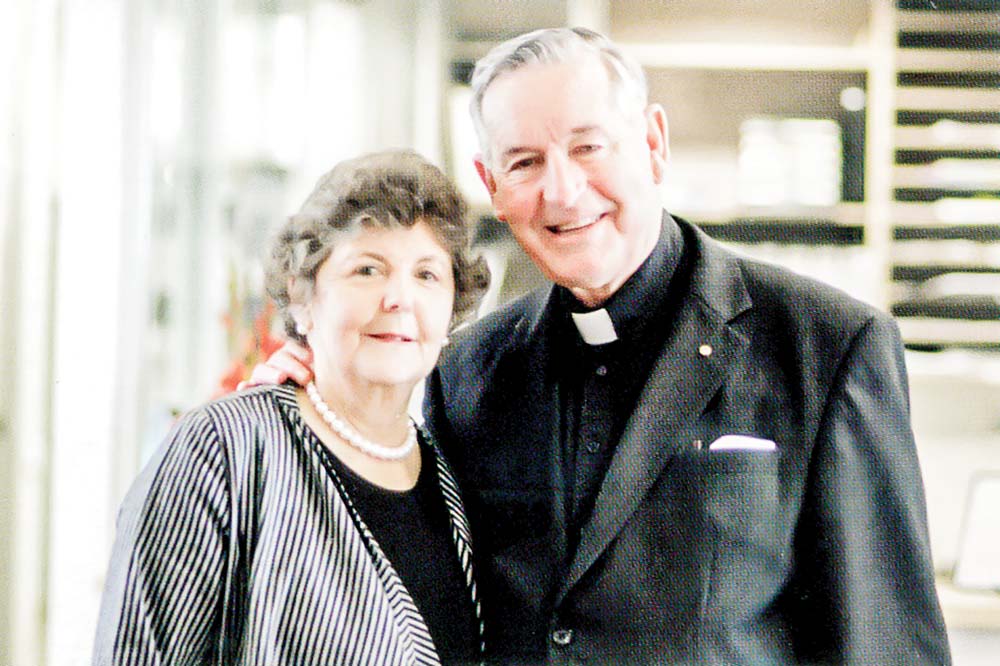 John's first job was with the Commonwealth Oil Refinery as a junior clerk, then as an assistant librarian at the University of Melbourne (where books were plentiful), and then the Royal Insurance Company as an insurance clerk. After much soul searching, John enrolled for theological studies.
In 1956 the Rev John Leaver took up his first appointment at St Peter's, Murrumbeena; it was an active parish with Sunday school, youth groups and a tennis club. The church's annual revue was being directed by a talented young teacher from Korowa Girls Grammar School, Wendy Tonks. With the assistance of his brother's yellow MG , John started courting Miss Tonks which led to their marriage on 5 February, 1960.
Wherever they went, whether it was Lancefield, Seymour, Maryborough or Mt Eliza they worked as a team with Wendy's music complementing John's ministry as parish priest and chaplain. The "John and Wendy show" was always a time of caring and sharing, and support for all ages and all backgrounds.
Christian Education
It was during John's time at Maryborough that he started his incredible contribution to education. In 1972 the local Catholic priest got in touch with him: could he encourage Anglicans to send their children to St Joseph's Secondary College to avoid its impending closure? John realised that if all churches supported a ecumenical school, its future would be secure. As a result Highview College was established in 1974.
This led to Braemar College in Mt Macedon in 1975, Bayview College in Portland in 1977 which grew from the struggling Loreto convent school, followed by Newhaven College on Phillip Island, Beaconhills College (Pakenham), Overnewton College (Keilor), Christian College (Geelong), Casey Grammar (Cranbourne), Hume Anglican Grammar (Craigieburn), Trinity Albury, Trinity Wodonga, Cathedral College (Wangaratta), Moama Anglican Grammar, and, more recently, Balcombe Grammar, Mt Martha. All were initiated or assisted by the Rev John Leaver.
John initially formed the Association of Ecumenical Schools then, in 1996, the Victorian Ecumenical System of Schools with himself as executive officer. Today there are 14 schools which he had a hand in founding and another 12 members of VESS which have benefited from the system. This is a phenomenal record of benefit to young people, and the advancement of Christian education.
Peninsula Grammar School
Meanwhile, in the Easter of 1974, John, Wendy and their two daughters (Jane and Susan) arrived on the Mornington Peninsula as John had accepted the role of chaplain to both Toorak College and The Peninsula School (as it was then known). With the support of the two school he also became the founding priest of the Parish of Mt. Eliza North. It was in this role that John's selflessness became widely known. He worked tirelessly to unite the community in a shared vision of faith and hope. Worship was held in The Ansett Hall  and so began the first school-based parish in Australia. In all of these activities he was ably supported by Wendy; they led by example, with grace and dignity, and shared an unwavering belief in their faith.
As the school chaplain John involved himself in a wide range of activities from worship services  and impassioned addresses at assemblies to conducting the "Holy Donut" stall at the school fete. During his 24 years as chaplain he touched the hearts of so many young people and their families and maintained a close connection with many of them after his retirement. When one of the speakers at the service asked for a show of hands of those who had been baptised or married by John, at least 400 responded; in some instances both hands were raised.
John Leaver's standing at Peninsula Grammar was  summed up by Stuart Johnson: "He was a loyal friend, a role model, an entrepreneur, a teacher, a confidant, an adviser and a colleague. His memory will live on through the brightness that he brought to our community, the selflessness of his giving to others, and the time that he spent ensuring that all of us, here today, could unite and share our faith, our hope, our love together."
In 2000 the  Rev John Leaver was awarded the AO for his services to education and his work in the community. But he still worked tirelessly for those causes in which he believed. One of his last projects was his involvement in the establishment of the Abacus Learning Centre in Hastings; a school for children with autism spectrum disorder on the peninsula. Working with this group of parents who had a vision to enable their children to reach their fullest potential, and to observe the development of the children in the program, would be one of John Leaver's most rewarding contributions.
Army Reserve
John Leaver enlisted in the Army Reserve as a chaplain in July 1959, and retired after 26 years service with the rank of Lieutenant Colonel. At the time of his enlistment he was the vicar at Seymour and consequently his first posting was to Puckapunyal. For most of his service in the Army Reserve however, he was attached to 2nd Field Regiment, a reserve artillery unit. There he established a reputation for seeing that the hierarchy was made aware of any errors, shortcomings, or injustices and then ensuring that appropriate corrective action was taken. His success in this role led his fellow reservists to abandon the old expression "pulling strings" in favour of "pulling leavers".
Even in retirement John continued to minister and mentor his military colleagues in many ways and revelled in the ongoing social and ceremonial contact, from the Peninsula Grammar cadet unit to the full suite of formal and informal military functions, including the Anzac Day services at RSL Park.
Family
It would be remiss not to mention John Leaver's devotion to his family. Their home was always happy and John and Wendy's daughters, Jane and Susan, were taught the importance of generosity and kindness, friendship and love, respect and humility. There was also a need for determination and perseverance, as well as a thirst for knowledge and learning. His ability to read five books at the same time was quite incredible; to be able to retain the information was even more amazing. Guests would always be amused at the built-in book rack in the toilet; John's explanation was "It's the only room where I can get any peace".
The girls were encouraged in their chosen careers (teaching and pharmacy) and this support has been extended in more recent times to John's grandchildren: Alex., Georgia, Emily and Charlie.
The grandchildren have said: "We are more than fortunate and proud to have had the joy of having him in our lives as our Grandpa. We will miss him every day, but know he will be watching over us for the rest of our lives. We loved him so much."