SOCCER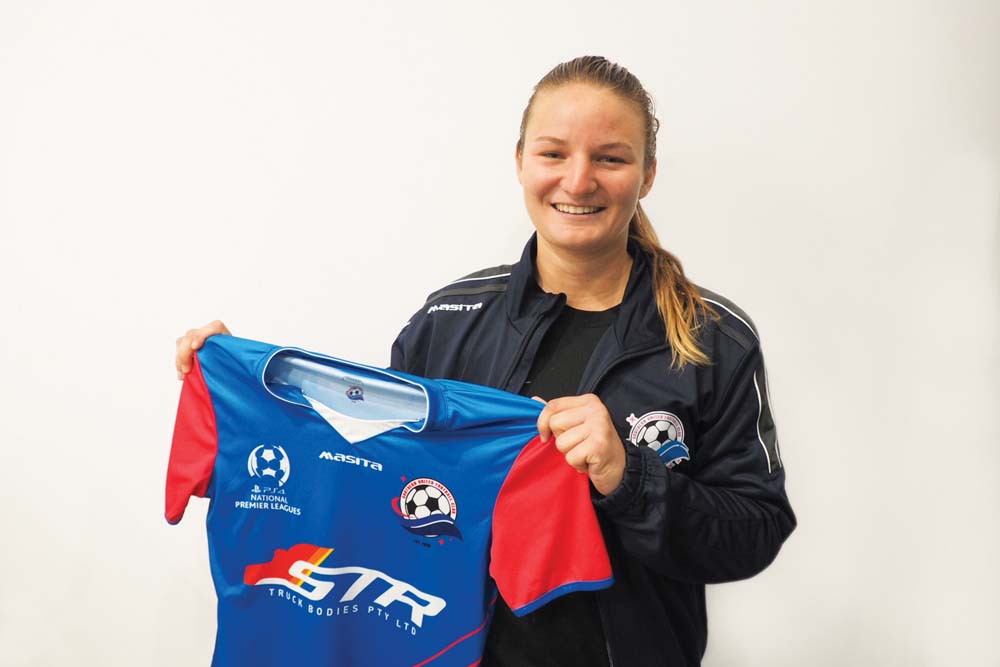 LOCAL NPLW club Southern United has signed American striker Michaela Dooley to a two-year deal with a one-year option.
Dooley arrived in Melbourne last week and has trained with her new teammates and Southern hopes to finalise her international clearance in time to face Alamein next weekend.
Dooley's signing is a major coup as she has been in sparkling form for Swedish club Skövde KIK and had been approached by a Queensland-based club who offered her $2500 a month, a job and free accommodation.
The 23-year-old was born in San Diego, California but grew up in Scottsdale, Arizona and the former University of Kentucky star admits that the Queensland offer was attractive.
"I was very tempted to take it but it was an offer to finish off the rest of the season then re-evaluate after that and I was looking for something with more stability, something more of a long-term commitment," Dooley said.
Southern head coach Aaron Myatt played a crucial role in Dooley's decision to join.
"He wasn't pushy. He was great on the phone and was a pleasant person to work with and if he couldn't answer my questions he would go away and find the answer then get back to me.
"He let me take my time, ask as many questions as I wanted and helped me work through the whole process."
Another factor in Southern's favour was that Dooley's junior club back in the US was SC Del Sol which was a development club with an emphasis on nurturing its own talent.
Dooley was able to draw parallels with Southern and it didn't take long for her to buy into the Myatt mantra that the senior team would be a powerful outfit down the track.
Her three-month stint in Sweden netted seven goals in 13 games and a host of assists, an impressive return given that she started in a central defensive role before assuming the responsibilities of an attacking midfielder.
Dooley is relishing the prospect of being in the shop window as she has W-League ambitions and a CV that suggests she has the ability to match.
She played for Team USA at last year's world university games in Taiwan and Myatt sees her as a pivotal part of his plans for the senior squad.
"For the last two months her games (in Sweden) have been available online so that gave me a good opportunity to assess her and she is the type of player you can build a side around," Myatt said.
"Michaela is still developing as a player and as she grows the team will grow too."
As Southern's on-field plans begin to take shape the club has also been active off the field as shown by the recent appointment of Harry Chalkitis as technical director.
Chalkitis has an impressive résumé in Victorian men's soccer and is a former head coach of the state's National Training Centre women's program.
The current jewel in Southern's crown is its under-14 squad and despite losing 1-0 to Calder on Sunday it still heads the table and is eyeing a second successive championship.
The under-12s won 2-1 with Rhiannon Kelleher scoring for Southern, the first from a free-kick and the second a sweetly timed left-foot shot.
The under-16s lost 4-1 with Jasmine Ristevski scoring for Southern.
In NPL2 news Langwarrin drew 1-1 with Springvale White Eagles at Lawton Park on Saturday.
Langy dominated the first half despite losing Lewis Foster and Michael Kariuki after 20 minutes to knee and rib injuries respectively.
John Kuol calmly slotted the ball home to give Langy the lead in the 26th minute after Liam Baxter's slide-rule pass.
Baxter thought he'd increased the lead just before the interval but his bullet-like header was ruled offside by the assistant referee in a decision that mystified players and spectators alike.
But White Eagles took control early in the second half and Langy was made to pay for leaving Delamo Pharoe unmarked in the box in the 51st minute.
In the final analysis it was a valuable point for both sides.
Defender Andy McIntyre told Langwarrin after the match that he was leaving.
McIntyre had spent five years at Lawton Park and wants to wind down before holidaying in the US in a few weeks' time.
In State 1 South-East news Mornington ran out a convincing 4-0 winner over a depleted St Kilda Celts side at Dallas Brooks Park last weekend.
Sammy Orritt and Max Etheridge had good chances early in the contest before both were involved in the opening goal in the 24th minute.
Etheridge's shot from the right of the area was blocked by the foot of St Kilda keeper Remy Rey-Lescure and Orritt smacked the rebound which Keegan Ziada got a foot to deflecting it into goal.
Two minutes into the second half St Kilda failed to clear an Orritt cross and Ziada was allowed to take four touches inside the area before slamming home a low strike from 10 metres.
Substitute Curtis Hutson combined with Andre Bennett in the 83rd minute with Hutson's far post cross headed back into the goalmouth by Orritt and Etheridge buried his close-range shot to make it 3-0.
It was a stroll for the home side now and Etheridge struck again in the 89th minute after being sent clear by Hutson.
In State 2 South-East news Peninsula Strikers lost 5-0 at home to title-chasing Knox City last weekend while Frankston Pines lost 3-1 away to Old Scotch.
Strikers' central defender Alex van Heerwarden was sent off in the 19th minute and Knox City's scorers were Mathew Hames (2), Grant Lane, Koray Suat and Josh Calle.
Jeran Cerik opened the scoring for Old Scotch in the 8th minute and a back post header from Kurt Wagner-Goldsworthy in the 50th minute made it 1-1.
But four minutes later Sam Shearer made it 2-1 and substitute Ryan Hughes was only on the pitch for two minutes before rounding off the scoreline in the 67th minute.
Pines' substitute Will O'Brien was given a straight red card in injury time for abusive language.
In State 3 South-East news Skye climbed into second place after a comfortable 3-0 away win at Dingley.
The club went into the clash without top scorer Caleb Nicholes who was suspended.
The first half was a battle on a poor pitch and Skye's best chance came five minutes from half-time when Cam Leopold's free-kick found Daniel Attard whose effort struck the crossbar.
The second half was dominated by Skye and a 10-minute goal spree kicked off in the 53rd minute when stand-in skipper Jason Nowakowski got on the end of a John Andrinopoulos cross and finished well to give Skye the lead.
In the 60th minute, Skye doubled its lead when Attard's header came back off the post and Nowakowski tapped in from close range for his second.
Attard got on the scoresheet a couple of minutes later when he hammered home a loose ball in the box following a Mitch Blake cross.
Skye faces relegation-threatened Noble Park United at home next weekend in the Chris Attard memorial round.
Harry McCartney reports that Seaford United lost 2-1 at home to Whitehorse United last weekend.
Jet Fisher pounced on a goalkeeping error from Seaford's Jimmy Zafiriou in the 29th minute to open the scoring.
Referee Mike Zha awarded a controversial penalty to Whitehorse United in the 42nd minute after what looked like a good tackle by Tristan Stass and Nham Than gave the visitors a 2-0 half-time lead.
Seaford huffed and puffed in the second period but the best it could come up with was a Dylan Waugh consolation goal in the 93rd minute.
In State 4 South news Baxter had to settle for a point away from home after its 1-1 draw with Noble Park last Saturday.
Baxter coach Francis Beck was in goal as regular custodian James Foster was on holiday but Beck was given no chance when Alessandro Stazio volleyed home in the 32nd minute.
Former Chelsea and Peninsula Strikers wide midfielder Adrian Pace made his Baxter debut and equalised in the 41st minute when an attempted clearance cannoned off him and into goal.
Both sides created chances in the second half but couldn't take them.
In State 5 South news Aspendale tuned up for this weekend's clash with Somerville Eagles with a 3-0 home win over more fancied Pakenham United last Saturday.
Domenic Paul opened the scoring in the 6th minute, Alex Apostolopoulus gave Aspendale a two-goal cushion in the 25th minute and a second from Paul in the 38th minute had the home team in control at the break.
The second half was marred by two send-offs with Aspendale's Dylan Lansford-Povey sent off in the 79th minute and being joined on the sideline by Pakenham substitute Garry Mousaco in the 85th minute.
Aspendale's best were Paul, Sam Timuska-Carr and Pal Calvino.
Next weekend's games:
SATURDAY 3pm: Moreland City v Langwarrin (Campbell Reserve), Mornington v Casey Comets (Dallas Brooks Park), Brandon Park v Frankston Pines (Freeway Reserve), Berwick City v Peninsula Strikers (Jack Thomas Reserve), Skye Utd v Noble Park Utd (Skye Recreation Reserve), Middle Park v Seaford Utd (Albert Park Field 16), Baxter v Endeavour Utd (Baxter Park), Aspendale v Somerville Eagles (Jack Grut Reserve).
SUNDAY 3pm: Alamein v Southern Utd (H.A. Smith Reserve).