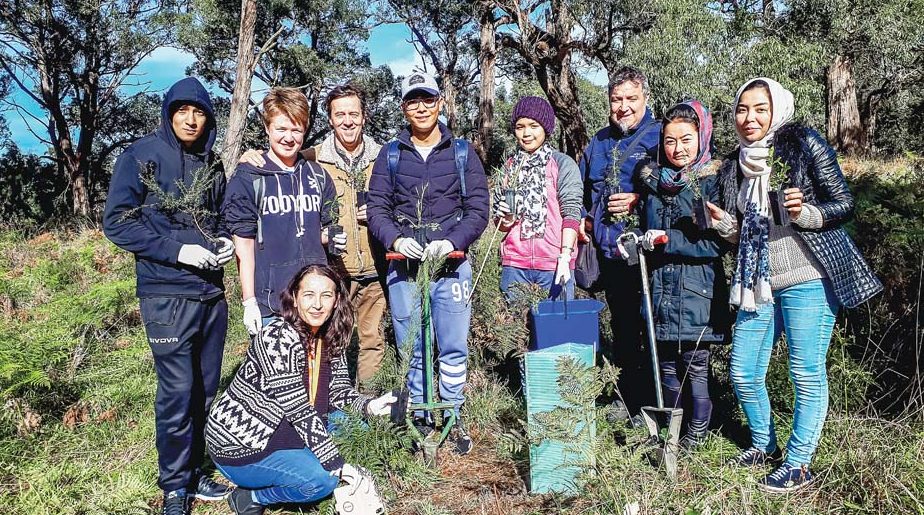 A BUSLOAD of 18-25-year-old students from the Centre for Multicultural Youth visited Main Ridge on a brisk morning last week excited at the prospect of planting trees – and perhaps seeing their first kangaroo.
The event was run by Ucan2 multicultural youth worker Sarah Williams and Mornington Peninsula Shire land care facilitator Jacqui Salter.
Ucan2 supports young, newly arrived refugees and migrants.
Ali escaped persecution and arrived in Australia in 2015. He saw the trip to the peninsula as "our best excursion ever … I felt like we were a family going on a trip to nature – all the sights, smells and experiences were new to us".
Youth worker Sarah said the students saw kangaroos – "things I took for granted growing up in Australia".
"The best part was we got to care for the environment and enjoy nature. It was a therapeutic and healing experience."
Peninsula Transport Assist driver Geoff picked up the group at Frankston station, drove them to Main Ridge and dropped them off at Narre Warren, with a stop to watch some kangaroos.
The planting was part of the Mornington Peninsula Landcare Network's Greens Bush to Arthurs Seat Biolink. The $300,000 three-and-a-half year project was financed by the state government through the Port Phillip and Western Port Catchment Management Authority.
"With the aid of local schools and community groups, we've managed to plant more than 15,000 indigenous plants this season," project coordinator Chantal Kelly said.
Ms Kelly said residents could contribute to the Greens Bush to Arthurs Seat biolink during the Planet Ark National Tree Day, Sunday 29 July, at Arthurs Seat.
To register visit treeday.planetark.org/site/10018886
First published in the Southern Peninsula News – 24 July 2018