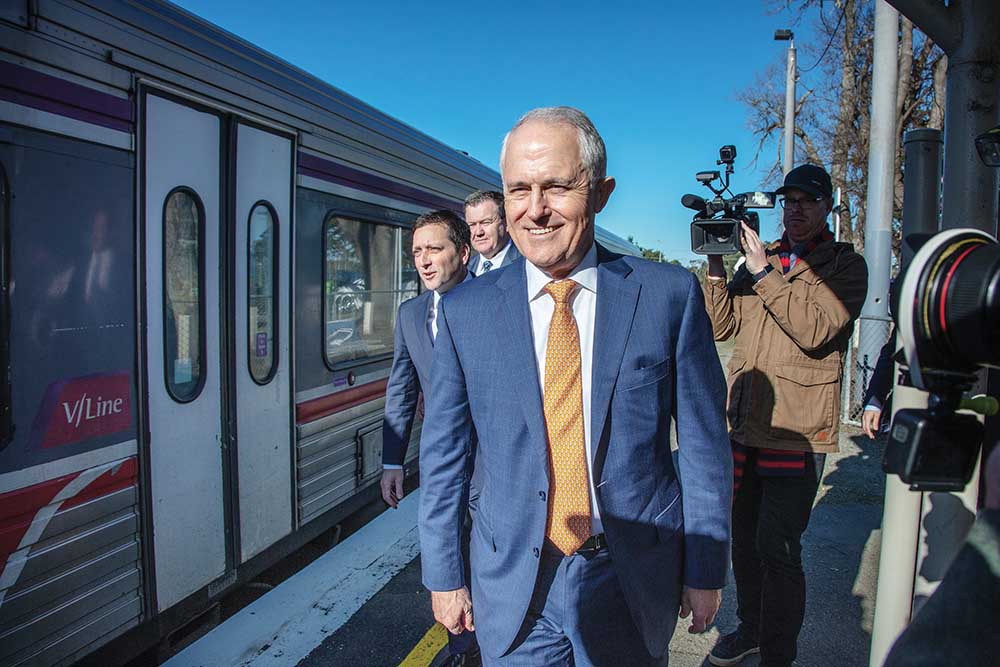 LIBERAL politicians were out in force at Baxter train station last week spruiking a $450 million plan to electrify the Frankston line to Baxter.
The announcement will come as a disappointment to Mornington Peninsula Shire Council which in May announced that it wanted the line electrified to Hastings.
The shire says Baxter – which lies within its municipal boundary – would be an unsuitable terminus for the electric train service.
An "advocacy paper" prepared by the shire says moving train stabling and maintenance and car parking "down the line" to Baxter "appears to be primarily to free up land in Frankston for development".
Making land available at Baxter would require "pushing out the Urban Growth Boundary and encroaching on the Mornington Peninsula Green Wedge".
"Electrification would offer minimal benefit to residents of the Mornington Peninsula, at an unacceptable cost," the shire has stated in a letter to the state and federal governments.
At that stage the shire, which felt it had been left out of the planning to electrify the line, said it was "imperative" that it be included in any future discussions ("Shire off line over train" The News 22/5/18).
However, it was Baxter station that provided a platform on Tuesday (17 July) for Prime Minister Malcolm Turnbull and state opposition leader Matthew Guy to make the pre-election spending promise alongside other Liberal federal and state politicians.
The state election in Victoria will be held in November this year and a federal election must be held by November next year.
Mr Turnbull told an assembled media pack that an eight-kilometre electrification extension beyond Frankston to Baxter is "a hugely important piece of infrastructure".
Under the Liberals' plan, electric trains will run to Baxter, although diesels will still travel along the rest of the unreliable line to Stony Point.
The plan also includes new stations at Frankston East, near Frankston Hospital and Monash University's peninsula campus, and at Langwarrin.
Work would begin next year.
"A new station at Frankston East will improve access to Frankston Hospital for patients and families as well as health professionals and it will also and help students get to the local campus of Monash University," Mr Guy said.
"There are two things people in Frankston and the Mornington Peninsula should know, firstly that the Liberals will duplicate and electrify the rail to Baxter and second, Daniel Andrews and Bill Shorten won't."
The Labor state government is undertaking a federally-funded business case study on the proposal and the state or federal Labor parties are yet to confirm they will electrify the rail to Baxter if in government after the next elections.
"We hope state and federal Labor get on board soon," president of the lobby group Committee for Greater Frankston Fred Harrison said.
Victorian Public Transport Minister Jacinta Allan did not respond to questions about the progress of the business case study or any Labor commitment to the project.
Frankston mayor Cr Colin Hampton, a Labor Party member, said electrification to Baxter "will mean people living further up the line or from the peninsula will be able to … commute directly to Monash University, Frankston Hospital and Frankston Private Hospital, Chisholm TAFE or directly into Melbourne".
Federal Dunkley Liberal MP Chris Crewther, whose ultra-marginal electorate will lose the northern part of Baxter to neighbouring Flinders at the next federal election, was among the Liberal politicians at Baxter last Tuesday. Flinders MP Greg Hunt, whose electorate will include Baxter, was in Mayo in South Australia campaigning for Liberal candidate Georgina Downer.
Mr Hunt last month said it was vital to protect and retain the Mornington Peninsula Green Wedge as a major health, conservation, agricultural, economic and recreational environment for future generations.
Speaking at a "green wedge summit" organised by the shire, Mr Hunt said "the green wedge zones are not just a policy for me, they are a family legacy. My late father was instrumental in implementing green wedge zones across Melbourne whilst he was a minister in the state government and I want to ensure that these are maintained".
Mornington Peninsula Shire mayor Cr Bryan Payne, a Liberal Party member, welcomed a pledge by the Liberals made on the day the Baxter line project was announced to commit $2.5 million each year to run more Route 788 bus services between Portsea and Frankston.
"Currently the Route 788 bus carries over half a million passengers annually with current frequencies from 45 minutes to 100 minutes," Cr Payne said.
– with Keith Platt