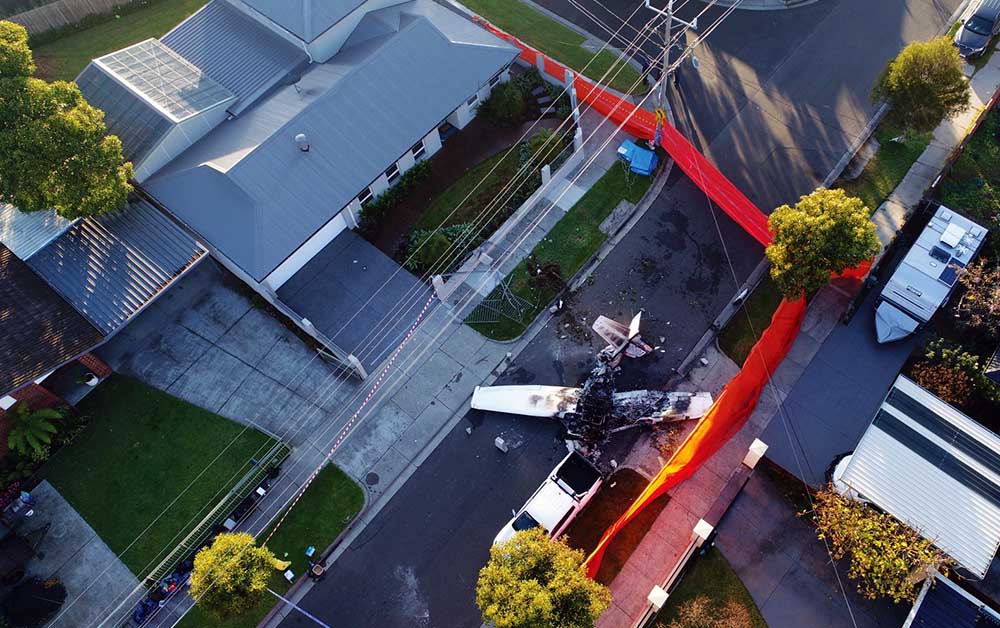 A PRELIMINARY report into the fatal plane crash in Mordialloc last month has found the single-engine Cessna 172 was making its first flight since an engine replacement.
The Australian Transport Safety Bureau (ATSB) is investigating the cause of the crash that killed pilot Anthony Liddell, 50, when the plane crashed onto Scarlet Street, Mordialloc at about 5pm on Friday 8 June.
The Mount Martha resident, an employee of a maintenance company, was piloting the Cessna as the sole occupant after scheduled maintenance.
In its preliminary report released on 18 July, the ATSB said Mr Liddell broadcast an "engine failure" mayday to air Moorabbin Airport traffic control just before the plane came down in Scarlet Street narrowly avoiding houses in the residential area.
The engine was tested on-ground before the fatal flight.
"The aircraft initially contacted a power line and fence before coming to rest on a residential street against a parked car," the ATSB report stated.
"The pilot was fatally injured and a post-impact fuel-fed fire destroyed the aircraft. There was also damage to a residential property and the parked car."
The Cessna was built in 2006 and had 6348 hours in service and was used mostly for pilot flight training.
Civil Aviation Safety Authority (CASA) investigators, overseen by the ATSB, did not find evidence of engine mechanical failure. Damage to the plane's propeller "was consistent with the engine not producing power at the time of impact".
Investigations are ongoing ahead of the release of a final report into the plane crash.
"However, if any critical safety issues are identified during the course of the investigation we will immediately notify the relevant parties so that appropriate safety action can be taken," ATSB transport safety executive director Nat Nagy said.
The Cessna did not have a flight data recorder or cockpit voice recorder and it was not mandatory for either recorder to be installed in that type of aircraft.