SOCCER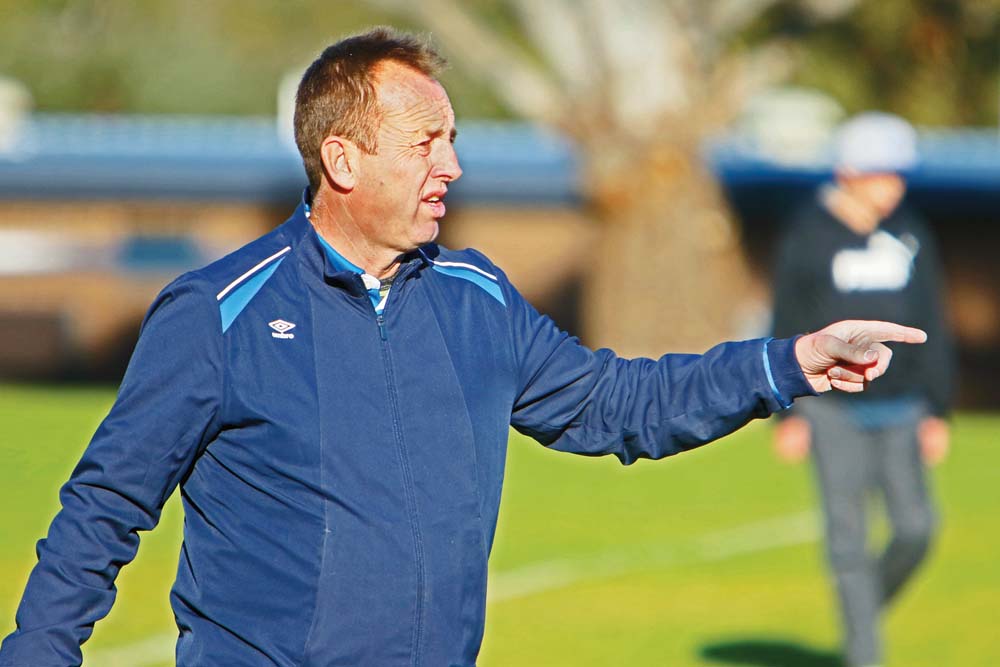 BAXTER teeters on the edge of the State 4 South relegation abyss after the controversial abandonment of Saturday's clutch away fixture against Hampton Park United.
Baxter was losing 2-0 in the first half when the decision of referee Zhihao Lu to give Baxter striker Liam Kilner a second yellow card triggered a reaction that saw his brother and Baxter captain Owen Kilner also sent off.
Their father and Baxter senior coach Roy Kilner believes that he also was sent off as Saturday's clash descended into farce.
Referee Lu abandoned the match in the 39th minute and Roy Kilner claims that Lu cited abuse and threatening behaviour from both sides as the reasons.
It's understood that the allegation that will be levelled against Owen and Roy Kilner is that they directed offensive language towards the match official, which the family patriarch will dispute at the tribunal.
And he may have a powerful ally in assistant referee and former Baxter captain Frank Osei-Ntim.
"I didn't make the comment that the referee claims I made and big Frank thought that the comment didn't come from me but from someone else on our bench," Roy Kilner said.
However, Lu is an experienced referee having officiated at FFV matches for over 10 years and has been an assistant referee at NPL level so Baxter has a mountain to climb if it's to convince the tribunal that Lu got it wrong.
In NPL2 East news Langwarrin's 2-1 away win over Whittlesea Ranges on Saturday looks to have secured the club's place in the elite competition for another season.
With a threadbare squad mainly due to suspension veteran Langy boss Gus Macleod gave Andy McLean the task of running the front line and the big Scot didn't let him down.
McLean was at the back post to head home a Boris Ovcin cross in the 15th minute but a long-range strike from Jose Luis Ramires Soto in the 18th minute made it 1-1.
In the 37th minute, a rare glancing header from Ovcin from a Viktor Medini free-kick restored Langy's lead.
The second half was an arm wrestle although Whittlesea put Langy under intense pressure for the last 15 minutes but couldn't break through.
In the 97th minute, the home side was reduced to 10 men when substitute Matthew Iuliano received a straight red.
Langwarrin's under-20s lost 3-1 but Langy's best was 16-year-old Brodie Jones while debuts were handed to Dylan Fisher, 15, and Noah Green, 16.
As we went to print US import Michaela Dooley was due to make her debut for local NPLW outfit Southern United against Bulleen at Monterey Reserve on Sunday.
Earlier in the day Southern's under-12s beat Bulleen 3-2 with Emilia Ingles scoring twice for Southern, her second a header following a Lauren Riha corner.
Southern's other scorer was Rhiannon Kelleher from a free-kick.
The under-14s maintained their three-point lead at the top of the ladder with a 2-1 win thanks to goals from Rhys McKenna.
Southern's under-16s lost 2-0 but striker Haylea Porter is having a remarkable season with 15 goals in 20 games in a side near the foot of the ladder.
She is second on the league's leading scorers' list behind local teenage prodigy Alana Murphy.
In State 1 South-East news Mornington scored three goals in the first 18 minutes eventually running out a comfortable 4-1 winner over South Springvale at Warner Reserve on Saturday.
Max Etheridge opened the scoring with a header amid claims that the ball had already crossed the line following a Sammy Orritt shot that came off the bar.
Keegan Ziada was at the back post to head home an Orritt cross a few minutes later and a second Ziada goal ensured that the visitors were in cruise control at half-time.
Omar Guardiola made it 4-0 in the 61st minute before Jason Ricciuti scored for the home side in the 84th minute.
In State 2 South-East news Frankston Pines defied the odds by toppling promotion candidate Knox City 3-1 at Monterey Reserve on Saturday.
Pines gaffer Paul Williams had recently switched experienced defender Lewis Potter into an attacking midfield role and in the 7th minute a cross from the right found Potter who slotted the ball past Knox keeper Colin McCormack from 10 metres.
Two minutes into the second half another Potter strike made it 2-0 after a Ben Millward cross from the right was dummied by big Ioasa Saemo.
A penalty converted by Paul McEvoy in the 77th minute after Ross Robertson handled inside the area gave Knox some hope but Yosoph Zara's 90th-minute free-kick sealed the visitors' fate.
The match ended on a sour note when Enes Sivic of Knox and Saemo were red carded in injury time.
A few kilometres away Peninsula Strikers continued their late bid for survival with a 4-2 home win over Mooroolbark.
Against the run of play, Mooroolbark was awarded a penalty in the 33rd minute after Alex van Heerwarden handled and former Langy striker Sam Klepac converted from the spot.
Five minutes later Strikers won a penalty but van Heerwarden hit the post and the home side had to wait until first-half injury time to level thanks to Nathan Smith after great lead-up play by John Prescott.
Strikers dominated the second half and hit the front in the 55th minute thanks to a Danny Brookes free-kick.
But Mooroolbark hit back in the 80th minute when Tom Hawkins was ruled to have fouled an opponent inside the area with Klepac nabbing his second from the spot.
Brandon Jansz had put in a tremendous shift and was rewarded in the 83rd minute after chasing down a long ball and opening his account for Strikers.
A minute later Prescott strolled past three opponents and finished well to round off the scoreline.
Harry McCartney reports that Seaford United lost 3-0 at home to local rival Skye United in their State 3 South-East derby on Saturday.
Skye opened the scoring after just six minutes when a free-kick by Mark O'Connor nestled in the right-hand side of the Seaford net.
After Caleb Nicholes made it 2-0 in the 29th minute, the wheels seemed to fall off for the home side and Skye dominated for the rest of the half.
Although Seaford had their chances in the second period Skye was the better side and when Tom Pollock received a red card in the 83rd minute Seaford was staring down the barrel.
The final nail in the Tigers' coffin came in the 88th minute with a clinical finish from substitute Chris Driver after a one-two with Nicholes.
In State 5 South news title challengers Somerville Eagles and Old Mentonians had to settle for a point each after drawing 1-1 at Tyabb Central Recreation Reserve on Saturday.
Somerville player-coach David Greening struck the bar in the 5th minute and three minutes later the visitors hit the front.
A slick interpassing move down the left between Chris Gibson and James Hilton ended with the latter squaring the ball for striker Marcus Spivey to score from close range.
Old Mentonians looked dangerous on the break while also keeping a close check on Greening and making life hard for the league's equal leading scorer.
Gibson's low shot in the 19th minute was well saved by Somerville keeper Brad Klarenbeek and five minutes later a Harry Chapman corner was headed firmly by Ash Scholes but wide of the mark.
In the 41st minute Old Mentonians failed to clear following a corner and although Jarryd Lymer did well to chest the ball down he sent his volley over the bar.
Despite missing a host of regular starters Somerville kept pressing for an equaliser and eventually it came and there are no prizes for guessing who scored.
In the 78th minute, Greening was given enough time on the left of the area to pick his spot and his pinpoint sidefoot volley sent the ball past Old Mentonians keeper Chris Gibbs.
The final act in this contest was a header from Chapman who sent the ball just wide as a collective groan came from the home team fans.
Fellow State 5 South side Aspendale Stingrays defeated Drouin Dragons 3-1 at home on Saturday with goals from Domenic Paul (2) and James Strong.
Aspendale's new changerooms at Jack Grut Reserve were officially opened last week with local, state and federal governments represented and an announcement of a state government grant to install floodlights at the venue is expected this week.
Next weekend's games:
FRIDAY 8.30pm: Monbulk Rangers v Seaford Utd (Monbulk Regional Soccer Facility).
SATURDAY 3pm: Langwarrin v Sunshine George Cross (Lawton Park), Mornington v Morwell Pegasus (Dallas Brooks Park), Berwick City v Frankston Pines (Jack Thomas Reserve), Skye Utd v Collingwood City (Skye Recreation Reserve), Baxter v Sandringham (Baxter Park), Somerville v Lyndale Utd (Somerville Secondary College), Aspendale v Old Mentonians (Jack Grut Reserve).
SATURDAY 3.15pm: Box Hill Utd v Southern Utd (Wembley Park).
SUNDAY 3pm: North Caulfield v Peninsula Strikers (Caulfield Park).