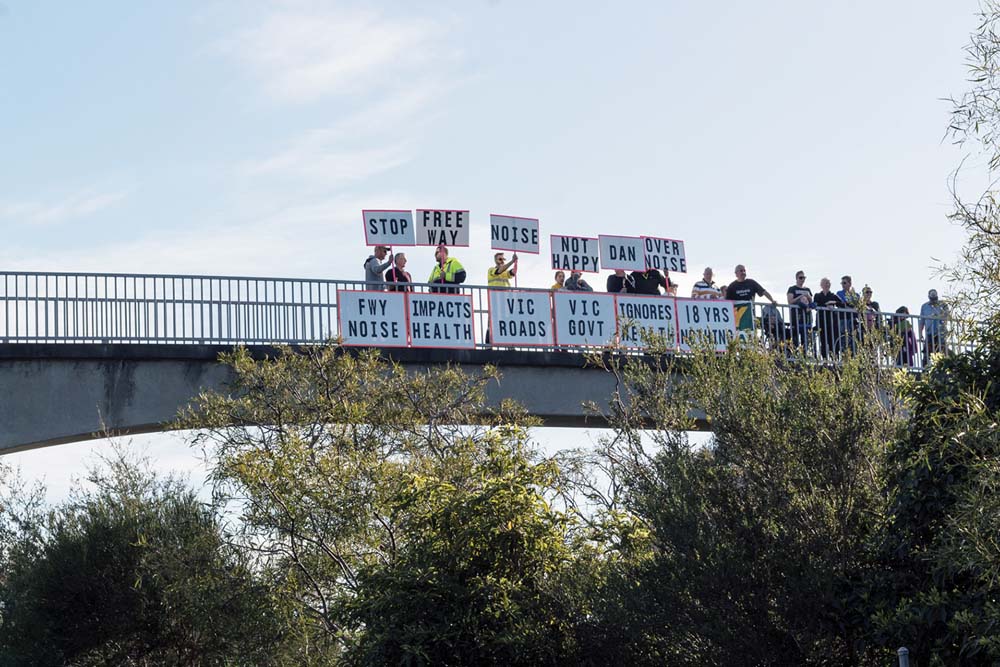 THE Sick of Freeway Noise action group aims to unite frazzled residents along the Mornington Peninsula Freeway from Safety Beach, Dromana, McCrae and Rosebud.
The community group is targeting noise from the freeway which it says causes sleep deprivation, stress, high blood pressure, depression and eroded living standards.
The group says noise level testing along several sections exceeds VicRoads' 2005 policy of 68dB. It says the noise pollution issue has been known for at least 18 years with residents pursuing VicRoads and respective state governments, with parliamentary records noting concerns as far back as May 2003.
"The traffic has significantly intensified since Peninsula Link opened in 2013, and yet both bodies still refuse to commit to effective noise attenuation," spokesman Dan Wright said.
"The area qualifies for noise attenuation works to address the health impacts on residents in an estimated 1500 homes, retirement villages, nursing homes, schools and businesses.
The group says the noise has become worse since vegetation was removed to install wire rope barriers along the freeway, reducing whatever noise abatement existed naturally.
Mr Wright said the noise impacts of increased traffic volumes on peninsula towns "was never considered in planning by the project authorities, notably Vic Roads".
"It starts at 4am and often goes until 11pm," he said.
Mr Wright said the noise issue "continues to be ignored despite volumes of letters to VicRoads and the Roads minister Luke Donnellan seeking action".
"We will pursue VicRoads and the respective Roads ministers and Health ministers to commit to addressing noise attenuation which we qualify for under the policy," he said.
"We will seek a real solution; we don't want 'political football' delaying this any longer.
"We will continue to apply community pressure on this health issue because our families deserve it; it is a health issue – not a lifestyle request."
Mr Wright said VicRoads was on record as conceding the area had a noise problem. "What is unclear is, where does the Mornington Peninsula sit in the queue among VicRoads' projects.
"We have waited long enough. We are sick and tired of the lack of transparency as to the funding priority. We are dismayed over the finger pointing between the departments and being dismissed in the responses we have received from all of them."
Mr Wright said noise attenuation works had been provided to other communities in the state via other projects with arguably weaker criteria or history. "It's extremely unfair. We are not going away."
VicRoads was contacted for comment.
First published in the Southern Peninsula News – 31 July 2018