NETBALL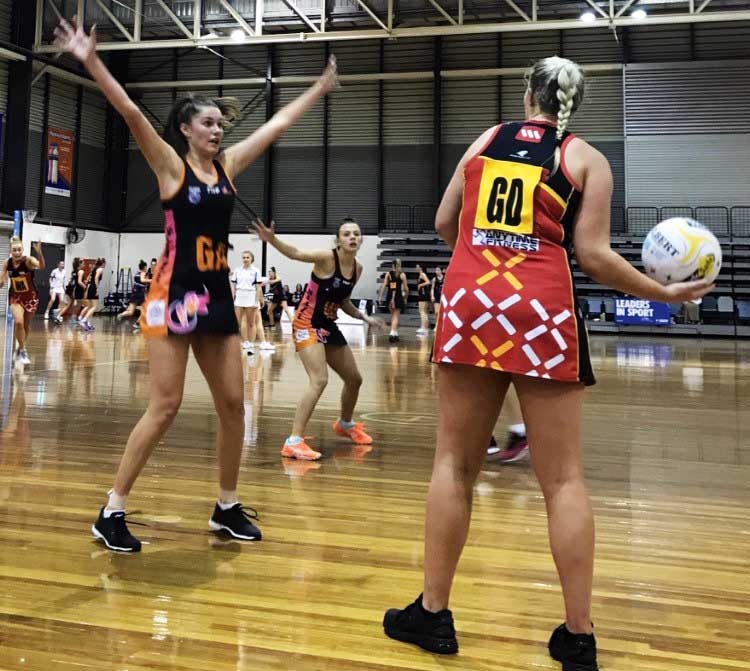 THE Peninsula Waves and Southern Saints suffered respective blows from the Geelong Cougars and Hawks Netball in round 14 of the Bupa Victorian Netball League.
Peninsula Waves struggled to match it with the Geelong Cougars as they run away with a 17 and 18-goal victory in the championship (49-66) and division one (45-63) games.
Jess Maher put in a top performance for the Waves in goalkeeper and goal defence, while her sister, Alex Maher, was also dominant in the division one match, shooting at an 87 per cent success rate in both goal shooter and goal attack.
The fourth-ranked under-19s Peninsula Waves side remains finals bound despite an 8-goal loss to the 2017 premiers and current second placed team, Geelong Cougars (44-52).
Sussu Liai was awarded the 3 MVP votes from the umpires after her performance in goal defence.
The Southern Saints suffered a similar fate against Hawks Netball with a seven and 11-goal defeat in their championship (51-44) and division one (53-42) matches.
The Southern Saints led by three goals in the championship game at quarter time, but weren't able to maintain the intensity that the Hawks bought. Kirsty Clark (goal defence) and Samantha Silvester (goal shooter) were both standout players on court.
In the division one game, the Hawks took an early lead and maintained the margin throughout the match despite a stellar fourth quarter performance where the Saints shot 14 goals to the Hawks' nine.
Ella Quinlan had an exceptional game, shooting 23 goals from 25 attempts (92 per cent success rate).
Similar to their championship match, the Saints had a promising start in their under-19s game, leading by one goal at quarter time. However, the Hawks were quick to correct their mistakes and eventually claimed the victory by 17 goals (51-34). Goalkeeper Mikaela Dakic put the Hawks shooters to the test and was voted the best Saint's player on court.
The Southern Saints will travel as visitors to Diamond Creek in round 15 to compete against DC North East Blaze, while the Peninsula Waves will host their one and only home game of the season against Boroondara Express on Saturday 28 July.