SOCCER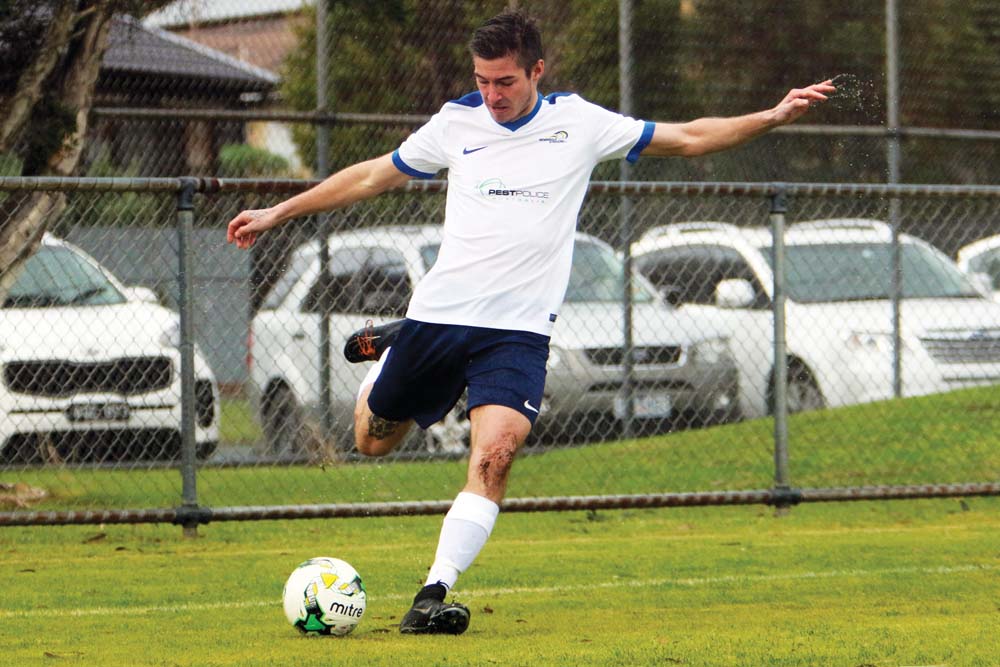 PENINSULA Strikers and Baxter defied the odds last weekend to claim vital points as they ramp up their battle to avoid relegation.
Strikers caused a minor upset by holding champion elect Doveton to a thrilling 2-2 draw in their State 2 South-East clash at Centenary Park while Mark Pagliarulo made his comeback for Baxter in its 2-0 away win over State 4 South rival Harrisfield Hurricanes.
Strikers stunned the visitors in the 8th minute.
Nathan Smith got free on the left and his shot was parried by Doveton keeper Stuart Webster only to fall to John Prescott but his strike was blocked.
Doveton failed to clear from the ensuing corner and big George Whiteoak smacked the ball home from close range to make it 1-0.
Strikers recently signed winger Alpha Turay from Morwell Pegasus and he should have increased the lead in the 40th minute.
Alex van Heerwarden, Smith and Prescott combined in a sweeping interpassing move that set up Turay but he decided to cut inside a defender before curling a left-foot shot wide of the post.
A Simon Mur header in the 45th minute proved easy pickings for Strikers' keeper Dilan Mery but it was a reminder of the threat posed by Mur and a sign of what was to come.
Doveton bossed the second half and Strikers struggled to keep possession and get forward.
In the 56th minute Doveton's Matthew-Michael Gyarmati got clear on the left and his cutback was laid off by Wayne Gordon for Mur to pick his spot and scores were level.
A Mur classic in the 83rd minute put the Doves ahead after the winger cut in from the left then curled the ball past Mery into the far corner.
But three minutes later it was 2-2 after Strikers' midfielder Danny Brookes connected perfectly with a free-kick from just outside the area sending the ball just out of reach of Webster's despairing dive.
Doveton would have grabbed all three points in the 89th minute had Josh Frame's strike not struck the bar with the rebound being hurriedly cleared.
The hero and the villain of Baxter's win over Harrisfield was Liam Kilner who scored both goals then received a second yellow card in the second half, his second successive send-off.
Harrisfield had no answer to the striking combination of Kilner and Baxter fan favourite Pagliarulo and the visitors controlled the contest for long periods.
Ben Meiklem hit the bar with a long-range strike in the 8th minute and Pagliarulo shot wide in the 12th minute.
A great run by Pagliarulo down the left in the 16th minute saw the big Scot cross to the far post for a tap-in by Kilner.
Baxter went further ahead in the 26th minute after a fine through ball by Alan Lipsett sent Kilner clear and he calmly slotted the ball past Harrisfield keeper Bobby Pejkovic to make it 2-0.
Just before the break Harrisfield's Con Bandis was given a straight red and when Pagliarulo was felled inside the box 10 minutes into the second half referee Mark Wajs pointed to the spot.
But Kilner smacked the ball onto the bar and Meiklem hit the rebound off the post.
The ball ended up near the touchline with Pagliarulo in possession and former Baxter player Edin Ali's lunging tackle earned him a second yellow with the home team now down to nine men.
Kilner's departure 10 minutes later didn't change the course of the contest as Baxter kept alive its hopes of climbing to safety.
In NPL2 news Langwarrin lost 3-0 to Murray United in Wodonga on Saturday.
Former Socceroo and Melbourne Victory legend Archie Thompson played for Murray but the first half was a drab affair on a heavy pitch.
Sean Pye broke the deadlock in the 55th minute with a shot from 12 metres after Mehdi Sarwari lost possession in midfield and the home side broke quickly.
Another quick break in the 87th minute allowed Zac Walker to make it 2-0 and five minutes into injury time Ash Dunn was too quick for a tiring Langy defence and he angled the ball past Langy keeper Robbie Acs.
In State 1 South-East news Mornington had to settle for a share of the spoils after its 2-2 away draw with Warragul United on Saturday.
Keegan Ziada and Andre Bennett scored for the visitors who twice came from behind.
Frankston Pines lost 4-1 at home to Mooroolbark on Saturday and is embroiled in the State 2 South-East relegation battle.
Sean Perrin, Dan Burrows, Max Solovyev and Sam Klepac scored for the visitors who led 2-0 at half-time with Pines' response coming via an own goal from Geogi Didumo.
Grant Madden has joined Pines and played for 60 minutes in Saturday's reserves match then came off the bench for the last 10 minutes of the senior match.
The Queensland midfielder walked in to the club last week asking for a game and immediately impressed the coaching staff with how comfortable he was on the ball.
In State 3 South-East news Skye United travelled to Cheltenham on Saturday to face Bayside Argonauts in another do-or-die clash in the race for second spot.
Following Monbulk's 4-2 win against Collingwood the night before, a win was a must to stay in the promotion race.
In tough conditions Bayside took the lead in the 35th minute when Nanton McGee's forward pressure forced the ball into the Skye net.
However four minutes before half time, Jack Gallagher's left-foot strike found the back of the net to make it 1-1 at the interval.
Teenager Gallagher is a midfielder but in a move that proved to be a masterstroke had been thrown into the forward line alongside Caleb Nicholes in the absence of strikers Mitch Blake (unavailable) and Daniel Attard (injured).
Rain, hail and a strong wind plagued the second half and turned the contest into a slogging affair.
Skye hit the lead courtesy of a smart finish by Nicholes but Bayside's Nic Milaresis equalised minutes later to cut short Skye's celebration.
And just when the game seemed certain to end in a draw Gallagher was put through by Nicholes into a one-on-one and his cool finish made it 3-2 to give Skye a precious three points.
Harry McCartney reports that Seaford United's battle to avoid the drop from State 3 South-East continued with a 2-1 home loss to league champion Boroondara-Carey Eagles last weekend but the severely depleted Seaford line-up stretched the titleholder for most of the contest.
Two goals in the last five minutes of the first half proved to be Seaford's undoing, the first from Josh Stadnicki who broke clear and dinked the ball over Seaford keeper Patrick Bretherton and the second from Lachlan Nicholls.
In the 86th minute a defensive header cannoned off Seaford striker Conor McFall and fell to LiNam Wang who tapped in from close range to set up an interesting final five minutes but in the end the visitors' class shone through.
Seaford has three matches remaining and two of them are against fellow relegation candidates Noble Park United and Dingley Stars so all is not lost for the local club.
Meanwhile Somerville's State 5 South title charge was put on hold when Saturday's home clash with Knox United was called off due to the pitch condition.
The game will now be played this Saturday and although Somerville's preference is to play at Tyabb Central Recreation Reserve the match may be played at Somerville Secondary College depending on the weather.
Somerville player-coach Dave Greening is aiming for his ninth straight league Golden Boot award and is locked in an intriguing battle with Rowville Eagles goal king Daniel Grigoruta.
Their duel took a remarkable twist last weekend when Rowville trounced Drouin Dragons 12-2 but Grigoruta only scored once putting him on 26 goals with Greening on 25.
Fellow State 5 South outfit Aspendale Stingrays lost 2-0 away to White Star Dandenong last weekend.
Goals in the 6th and 38th minutes to White Star's Dwane Heerah proved decisive.
Aspendale held its own in the second half against a more skilful and experienced opponent and Aspendale's best were Pal Calvino, Dan Barbour and Pat Diakogeorgiou.
In NPLW news Southern United was hosting Heidelberg United at Monterey Reserve on Sunday afternoon as we went to print.
Earlier in the day Southern's under-12s won 7-0 with goals from Eden McKeown (3), Taylen Wulf (2), Lauren Riha and Emilia Ingles.
FFV does not keep a league table at this underage level but if it did it seems certain that Southern would be one of the strongest sides in the competition having recorded 16 wins, three draws and three losses.
Southern's under-14s maintained their five-point lead on top of the table with a 2-0 victory over Heidelberg United.
The sides were locked at 0-0 at half-time but two minutes into the second period Ezel Duyar made a driving run into the area and was brought down.
Candy Kilderry's sweetly struck penalty conversion made it 1-0.
The contest was decided five minutes from time with a stunning solo goal from midfield maestro Alessandra Davis.
The diminutive dynamo weaved past a host of players as she charged into the Heidelberg area and rounded the keeper before stroking the ball into the unguarded net.
Southern's under-16s won 4-1 with doubles to Belinda Stojcevski and under-14s star Kilderry.
Next weekend is a catch-up round featuring just three local matches:
SATURDAY 3pm: Baxter v Dandenong Warriors (Baxter Park), Somerville Eagles v Knox Utd (TBC).
SUNDAY 3.15pm: Southern Utd v Bayside Utd (Monterey Reserve, U12s 9am, U14s 10.15am, U16s 11.40am, U19s 1.15pm).