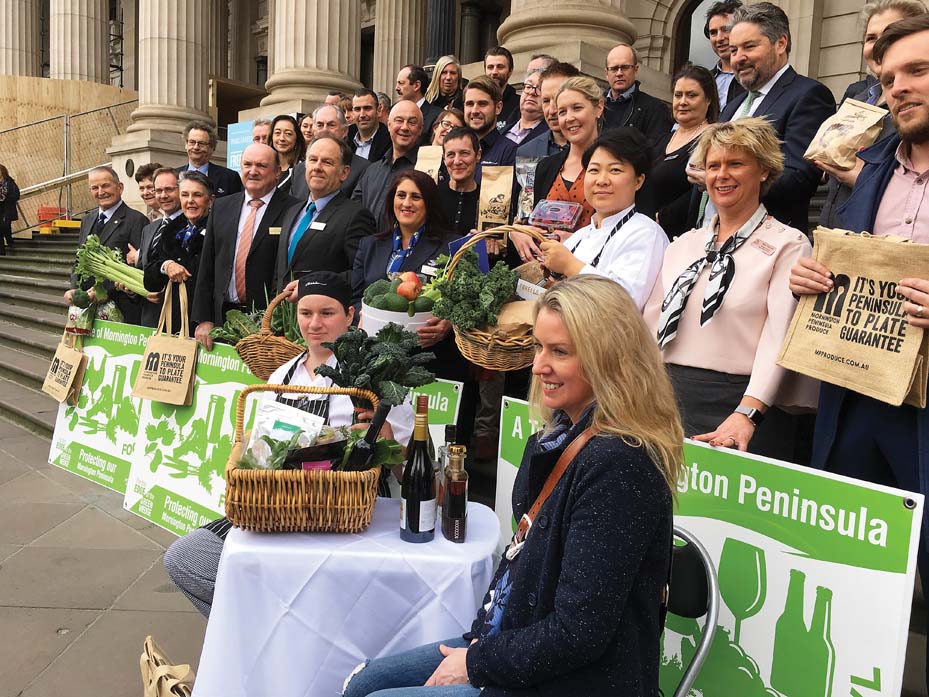 STATE politicians and some business leaders were given a tasteful look at the Mornington Peninsula last week by the mayor Cr Bryan Payne, councillors and farmers.
The team from the peninsula arrived at Parliament House bearing gifts of the types of produce available on the peninsula.
Named A Taste of Mornington Peninsula, the shire-sponsored promotion is based on tourism and farming being the "key … that underpins the employment of thousands of Victorians".
Along for the ride with councillors were vegetable growers, wine and cheese makers, brewers, tourism operators and apprentice chefs.
The peninsula's key food producing industries are vegetables, poultry, grapes and wine (there are more than 50 cellar doors and 25 farm gates), livestock and seafood.
Cr Payne said severe drought conditions across large areas of Australia "are a stark reminder of how important it is to protect our farming communities and the sustainability of agriculture across the country".
"[The] campaign highlights the importance of protecting the Mornington Peninsula Green Wedge which has bipartisan political support because of the vital role its unique environment plays in underpinning both tourism and agricultural activity," he said.
He said more than $1.1 billion was generated each year by agricultural production on the peninsula.
Cr Payne said more than seven million visitors came to the peninsula each year "to experience wine and food from 500 registered food hospitality venues with hospitality being one of the region's largest employers, employing over 4400 people".
"It is important to create a wider awareness both locally and internationally of the year-round attractions and tourism experiences including the growing farm gate agri-tourism sector," he said.
He said the Port Phillip and Westernport catchment was the second largest agricultural region in Victoria, producing at least 15 per cent of the total wealth generated from the state's agricultural industry from less than four per cent of the state's farm land.
The 51,204 hectare Mornington Peninsula Green Wedge, about 70 per cent of the shire, includes Point Nepean National Park, Mornington Peninsula National Park, Arthurs Seat State Park, and the Devilbend Park, as well as wetlands that are recognised by international treaties, notably the Ramsar agreement. Landscapes within the green wedge are classified by the National Trust.
Details: greenwedge.mornpen.vic.gov.au/taste-of-the-peninsula/
First published in the Southern Peninsula News – 14 August 2018