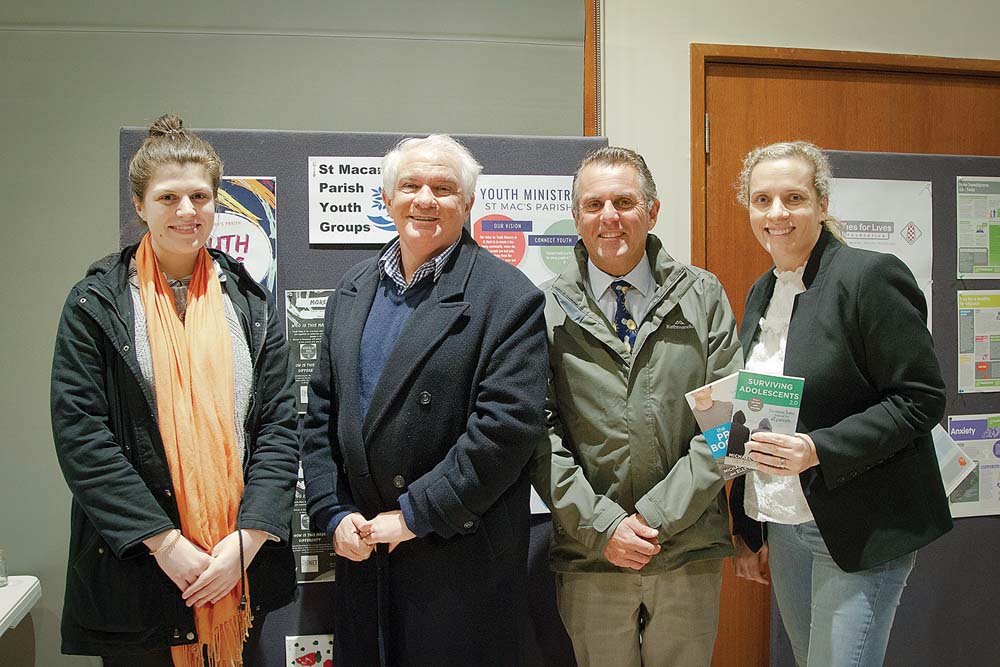 THERE was hardly a spare seat in the house as renowned adolescent and child psychologist, Dr Michael Carr-Gregg came to St Macartan's Primary School to talk on the art of parenting.
One of Australia's highest profile experts in the field, he is the author of 12 books, sits on the board of the Family Peace Foundation and the National Centre Against Bullying.
He is a contributor to numerous print publications, and is a regular on television and radio where he is often consulted about parenting and the raising of children.
The initiative, organised by the school's parents association, was open to not just parents of the school, but to all parents.
"While we really wanted the night to be useful for the parents of our school, it seemed a waste to limit such a great speaker to our parents only," said Stephen Foster of the school's parents association.
"We sold out, which was great, and we are proud that the money raised has been donated to three local charities".
Ties for Lives Foundation, Headspace Frankston, and St Macartan's Parish Youth Groups were all recipients of funds from the night.
The Ties for Lives Foundation, a local charity that run an awareness program to spot early signs of depression and anxiety, were recipients of a $1000 donation.
"We were delighted to be part of a fabulous information night initiated by the parents association", said Ties for Lives Foundation CEO David L. Wright.
"The opportunity to improve mental health literacy in our school community is key to supporting our young people. The night ties in with our work around Vitality Mindset: Building healthy habits mostly around relationships, food, sleep, exercise and meaningful pursuits."
The school's parents association is planning more fundraising events with their Community Market Day being held at the school on Sunday 28 October.
"This is a great community event with an emphasis on sustainability, local produce and craft", said Mr Foster.
"We invite other schools and community groups to be part of it. Money raised on the day will be donated to Vinnies".