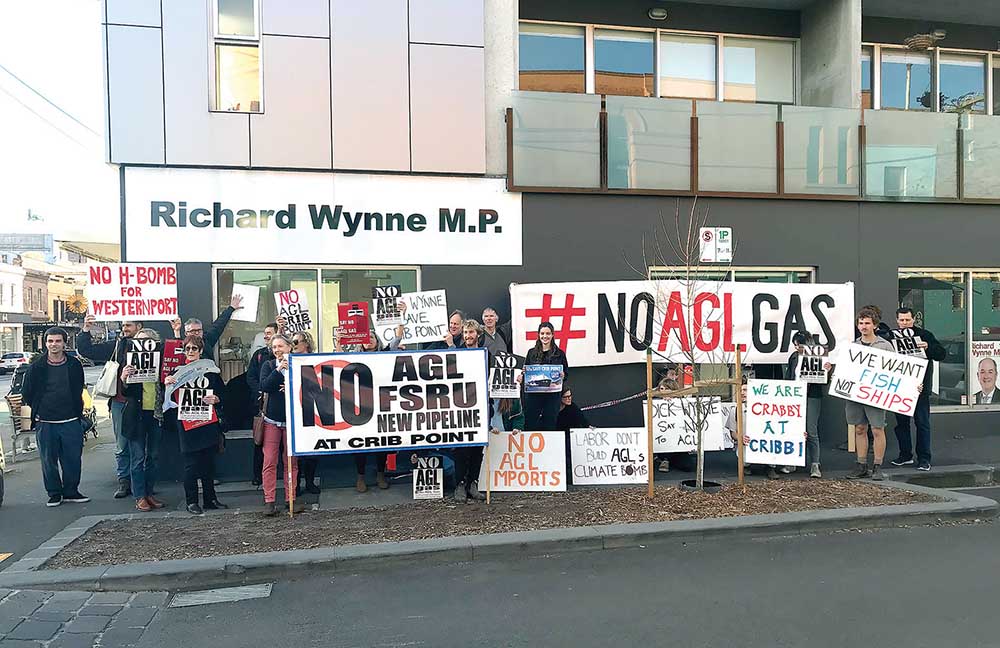 PORTS Minister Luke Donnellan has given the strongest indication yet that the state government is likely to approve AGL's plan for a floating gas terminal at Crib Point.
"I support the proposal to bring gas in through the port of Hastings," Mr Donnellan told state parliament on Wednesday 8 August.
Mr Donnellan said AGL's proposal to import gas would "shake out the marketplace in Victoria".
"As people know, there have been incredible increases in prices for gas across the board in this state, so we are very supportive of the AGL proposal. We are also very supportive of the employment that comes from that," he said.
Mr Donnellan also gave assurances that the plan would "go through a full environment effects statement process".
His support for AGL's proposal to turn liquefied natural gas back into gas before being piped to Pakenham came nine days before a protest against the plan outside the Fitzroy office of Planning Minister Richard Wynne.
Although AGL has said customers along the route of the pipeline will receive "discounts", it is running an advertising campaign with the message "No discounts. No tricks. Just low rates."
It has given no explanation why those living near the pipeline will receive cut rates.
Candy Spender van Rood, a spokesperson for the Save Westernport group, said the protest at Mr Wynne's office had been held to "to bring to [Mr Wynne's] attention the growing opposition in Western Port to AGL's gas import jetty proposal in Crib Point".
"He seemed to know about the fact that Western Port is a [internationally recognised] Ramsar designated wetland, and therefore environmentally sensitive," Ms van Rood said.
"When I asked him if he knew that nowhere else in the world was there a floating storage regasification (FSRU) unit within 1.2 kilometres of residences as well as so close to a bushfire-prone area, he seemed to not be aware of that fact.
Ms van Rood said Mr Wynne had also given assurances that "a full EES will be implemented when AGL presents its submission for the FSRU in Crib Point".
Mr Donnellan's comments in parliament followed questions by Ellen Sandell, Greens MP for Melbourne, about "why public money is being used by the Port of Hastings Development Authority to prepare land and infrastructure to support the AGL monster gas ship at Crib Point before it has even been granted planning approval".
"This project, frankly, is a disaster. AGL are trying to rush through an enormous, permanent floating gas ship at Crib Point in Western Port bay," Ms Sandell said.
"The bay would see a constant stream of heavy ships coming in to feed this new monster ship with imported gas.
"AGL want to pump huge quantities of heated and chlorinated water into Western Port bay, threatening internationally significant Ramsar wetlands and threatened species, and they want to trash valuable farming land by building a new and totally unnecessary pipeline.
"AGL are simply looking to make a quick buck with no regard for the community, no regard for the environment and certainly no regard for our climate."
Ms Sandell said an EES "needs to be incredibly rigorous".
"However, the community does not have a lot of faith in this government because they seem to be bending over backwards to help AGL and support the project."
Ms Sandell said the Greens "have a plan to move the state beyond gas, and it is really about time the other parties saw the threat of climate change and jumped on board".
Liberal MP for Mornington Neale Burgess and his federal colleague, MP for Flinders Greg Hunt, have both said they are opposed to the FSRU at Crib Point.