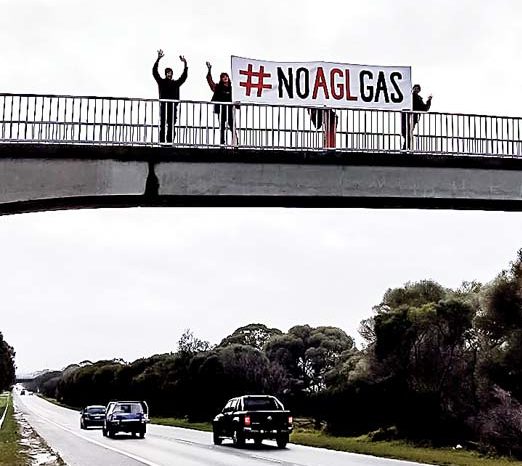 MOTORISTS travelling on Peninsula Link last Wednesday morning were confronted by new road signs.
But rather being instructed about regulating their speed or on which side of the road to drive they were being told that AGL's plans for a floating gas terminal at Crib Point should be scrapped.
Banner held aloft on a bridge spanning the highway proclaimed "Save Westernport" and "#NoAGLgas".
Jack Dewhurst of the Peninsula Environment Action Network said the floating gas terminal and "hundreds of gas ships coming in and out of the harbour would expose the entire ecosystem to environmental destruction, pollution, invasive species, and potential gas plant explosions".
"To jeopardise Western Port's amazing environment that tourists come from across the world to visit is to jeopardise many local communities economic survival," he said.
AGL's plans to moor a 300 metre long floating storage and regasification unit (FSRU) to convert imported liquefied natural gas (LNG) before being piped to Pakenham.
"What many people don't realise is how destructive this project will be. In order to process the gas the floating gas plant takes in seawater, uses it in the conversion process, the dumps it back out into the bay," Mr Dewhurst said.
He said the process would use up to 450,000,000 litres of water a day. The chlorinated water would then be pumped back into the bay seven degrees below the bay's regular temperature.
"All of these factors endanger the local environment," Mr Dewhurst said.
"We [held the banners] to show that AGL does not have the social licence to build this plant.
"The state government has acknowledged that there is no gas shortage, and so there is no reason for the community to be saddled with this white elephant.
It is destructive and unnecessary, and we as community members are calling on [the Premier] Daniel Andrews to do the right thing by Western Port and reject the proposal."
First published in the Southern Peninsula News – 28 August 2018