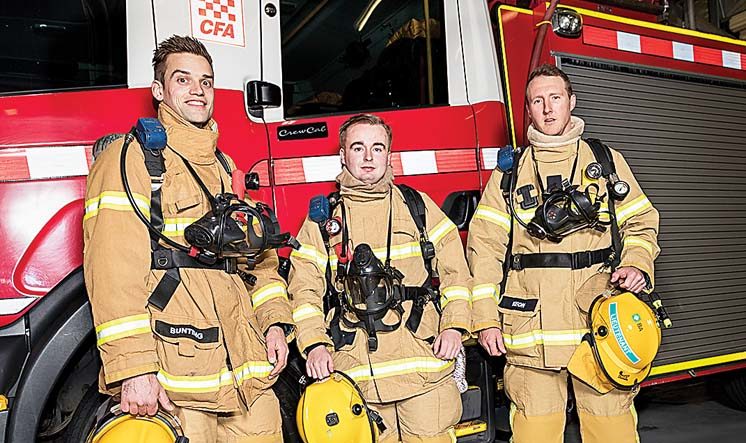 IF running up 28 floors at Crown Metropol Hotel, Southbank, wearing 25kg of turnout gear and breathing apparatus makes you breathe uneasily, spare a thought for three very fit Mornington firefighters.
Lieutenant Nick Keon and firefighters Sam Bunting and Travis Dixon are gearing up to represent their brigade in the fifth annual Melbourne Firefighter Stair Climb, Saturday 1 September.
Bunting has been a firefighter at Mornington for eight years and is making his third climb, but for novices Dixon, who has been at Mornington for three years, and Keon for one, this first attempt is a leap into the unknown.
To prepare for such a gruelling event, the firefighters train daily in the gym and at the 1000 Steps Walk at Ferntree Gully.
"It's going to be very challenging," Dixon said.
"We will be wearing all our gear – including our boots – but we are very comfortable in them so that should not be a problem."
Dixon said he hoped to complete the stair climb in four minutes 30 seconds – slightly more than the record of three minutes 23 seconds.
The event aims to raise $700,000 for the Black Dog Institute and Lifeline to improve support services, fund research, remove stigmas and raise awareness of mental health issues, such as depression, post-traumatic stress disorder and suicide, especially for those within the emergency service and defence communities.