SOCCER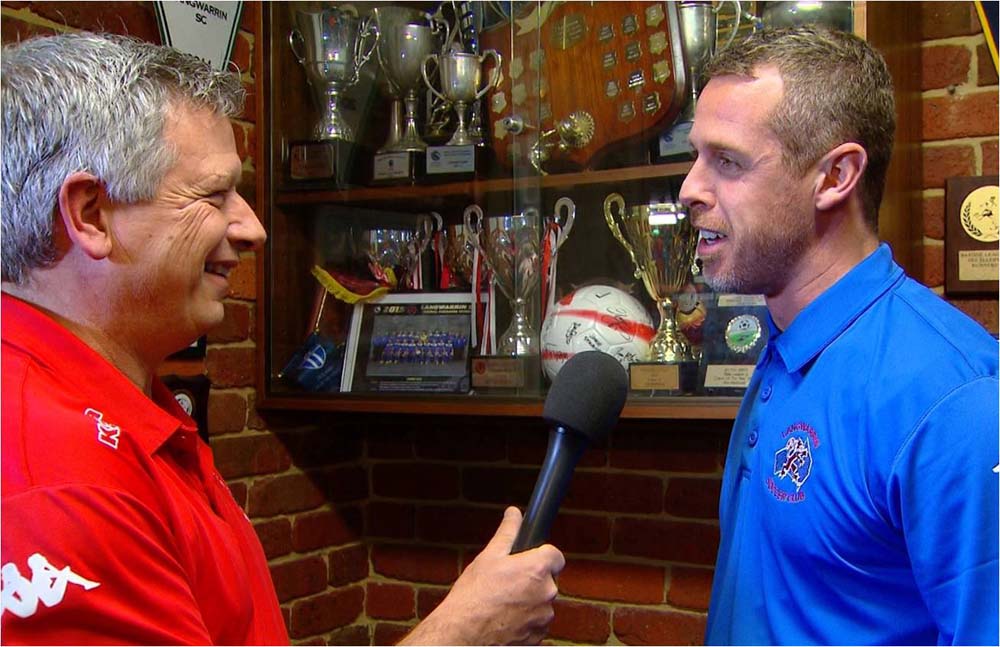 LANGWARRIN stunned Victorian soccer circles last week when it named former Socceroos assistant Scott Miller as its new head coach for the 2019 NPL2 season.
The video announcement on social media attracted more than 8000 views and the Herald-Sun reported the appointment online.
The former Fulham assistant and Newcastle Jets head coach returned from Denmark last year where he worked as an assistant coach at Aalborg BK.
Miller, 36, is one of the highest credentialled coaches in Australian soccer and is contracted to Fox Sports as a football analyst.
He holds an AFC Pro Diploma and a UEFA A Licence as well as tertiary degrees in sports science and sports psychology.
"Langwarrin has given me the opportunity to build a football club," Miller said.
"Being a head coach isn't just about the first team it's about instilling player and coaching development as well.
"I'm a young coach and I'm still developing and I'm really excited at this opportunity particularly at this football club but also the opportunity this provides me to get back into football in Australia and to support the game."
Miller played for Langwarrin as a junior and his father, Doug, is a former senior player.
Miller was present as Langy crashed 4-0 on Saturday away to Eastern Lions and he watched the match with current Peninsula Strikers coach Jamie Skelly who is understood to be a candidate for the role of Miller's assistant.
Miller has a tough call to make given that the club is keen to promote from within and current under-20s coach Kevin "Squizzy" Taylor also is a candidate.
Alistair Wallace is expected to fill the role of high performance manager.
And while Langy stole the spotlight Mornington was replacing Dale White as head coach with former star striker Nick Waite for the last three games of the season.
It was an acrimonious split after White learned a fortnight back that he wouldn't be appointed for 2019.
After consulting senior players the club decided last week that White's position had become untenable and the decision was taken to replace him.
Mornington won 1-0 at home last weekend against Caulfield United Cobras to move into third spot in State 1 South-East.
A stunning 30-metre free kick from Andre Bennett in the 34th minute rocketed over the head of the Caulfield keeper and into the top near corner.
In NPLW news Southern United is set to benefit from use of a new multi-purpose facility officially opened recently at Carrum Downs Reserve.
The project has been jointly funded by Frankston City Council ($2.7 million), the Victorian Government ($1.05 million), a Melbourne Waters Living Rivers Grant ($55,000) and the Carrum Downs Junior Football Club ($50,000).
Southern United has pledged to contribute $50,000 (over seven years) following the completion of a synthetic sports field with construction due to start later this year.
The synthetic pitch will be the first of its kind in the Frankston Council area.
Southern's senior side was at home to Geelong Galaxy United as we went to print on Sunday.
Earlier that day the under-12s won 7-0 with goals from Lauren Riha (2), Emilia Ingles (2), Rhiannon Kelleher (2) and Eden McKeown.
The under-14s drew 0-0 and blew a chance to wrap up the title as second-placed Calder United drew 2-2 with Bulleen.
That leaves the Southern youngsters with a five-point lead with just two games to go.
The under-16s lost 2-1 with Oakley Sunkel-Lozell scoring for Southern.
In State 2 South-East news Peninsula Strikers continued to win their fight against relegation when they won 2-0 away to Doncaster Rovers last Friday night.
The visitors dominated for long periods and goals from Nathan Smith in the 56th minute and John Prescott nine minutes later enabled Strikers to move two points clear of the drop zone.
A win against Heatherton United at Centenary Park next weekend will secure the club's State 2 status.
Meanwhile Skye United blew a chance to snatch second spot in State 3 South-East when it lost 3-1 at home to Whitehorse United on Saturday.
Monbulk's 2-2 draw with Bayside Argonauts on Friday night had opened the promotion door for Skye but the home side was disappointing against an opponent in the bottom half of the table.
Substandard defending and the lack of a cutting edge proved Skye's undoing as Whitehorse ran out a 3-1 winner.
In the 9th minute Nhan Than took advantage of Skye's defensive hesitancy to put Whitehorse 1-0 up from point-blank range.
Skye should have been awarded a penalty in the 25th minute after striker Caleb Nicholes was tripped by Whitehorse defender Liam Coulter but play was waved on.
Two minutes later a goalmouth scramble saw the ball fall to Nicholes whose close-range shot was blocked and the ball was eventually cleared.
In the 53rd minute Skye's defence was in disarray again and the benefactor was Josh Gordon who slotted the ball past Crook to make it 2-0.
Whitehorse keeper Michael Van Eijk lost sight of Daniel Walsh's long-range strike in the 65th minute merely flapping at the ball as it went in over his head and suddenly it was game on.
But Jet Fisher dented Skye's promotion hopes when he capitalised on an excellent break down the left by Anthony Fulfarro in the 86th minute.
Fulfarro's shot struck the bar and Skye failed to clear allowing Fisher to score from close range.
A Philip Ball tap-in right on half-time was enough for South Yarra to overcome visitor Seaford United 1-0 on Saturday and condemn Matty Morris-Thomas's men to a bottom two finish in State 3 South-East.
With two games left the best Seaford can hope for is to finish second last and avoid the drop due to the knock-on effect of the withdrawal from competition of Morwell Pegasus in State 1 South-East.
In State 4 South news Baxter was hoping that its fight against relegation would receive a boost as FFV was expected to uphold the club's protest against the previous week's 2-2 home draw with Dandenong Warriors.
Langwarrin under-20s player Tuach Ter played for Warriors wearing the number 21 strip and was listed as Thor Kong on the official teamsheet.
Members of Langy's coaching staff were at the match and identified Ter and Langwarrin notified FFV last week of the youngster's indiscretion.
FFV is expected to record a 3-0 result in favour of Baxter and is considering charges against the player and Dandenong Warriors.
On Saturday Baxter drew 1-1 at home against Keysborough with the visitors equalising in the 94th minute.
Baxter led in the 67th minute thanks to a low shot from Mark Pagliarulo from the edge of the area following a Ben Meiklem cross but a Dan Disseldorp handball late in injury time allowed Nathan Calle to level from the ensuing free-kick.
In State 5 South news Somerville Eagles thrashed Bunyip District 7-0 at Tybabb Central Recreation Reserve on Saturday with hat-tricks to Louis Griffiths and Somerville player-coach Dave Greening and a first senior goal for Matt Curd.
With two games to go just two points separates the top five sides and the race for promotion seems certain to go down to the wire.
Greening is trying to win his ninth straight league Golden Boot award and is now three goals ahead of Rowville Eagles' ace Daniel Grigoruta.
Aspendale lost 2-0 to Lyndale United in Saturday's State 5 South fixture at Jack Grut Reserve with James Collard sealing the home side's fate with goals in the 3rd and 9th minutes.
Aspendale's Pat Diakogeorgiou and Lyndale substitute Marko Matosevic were sent off in the 85th minute and Aspendale best were Sam Timuska-Carr, Pal Calvino and Matt Corra.
Next weekend's games:
SATURDAY 3pm: Langwarrin v Nunawading City (Lawton Park), Eltham Redbacks v Mornington (Eltham North Reserve), Frankston Pines v Doveton (Monterey Reserve), Peninsula Strikers v Heatherton Utd (Centenary Park), Middle Park v Skye Utd (Albert Park Field 16), Seaford Utd v Dingley Stars (North Seaford Reserve), Sandown Lions v Baxter (Ross Reserve), Somerville Eagles v Endeavour Hills Fire (Tyabb Central Recreation Reserve), Rowville Eagles v Aspendale (Park Ridge Reserve).
SATURDAY 4.15pm: South Melbourne v Southern Utd (Lakeside Stadium).