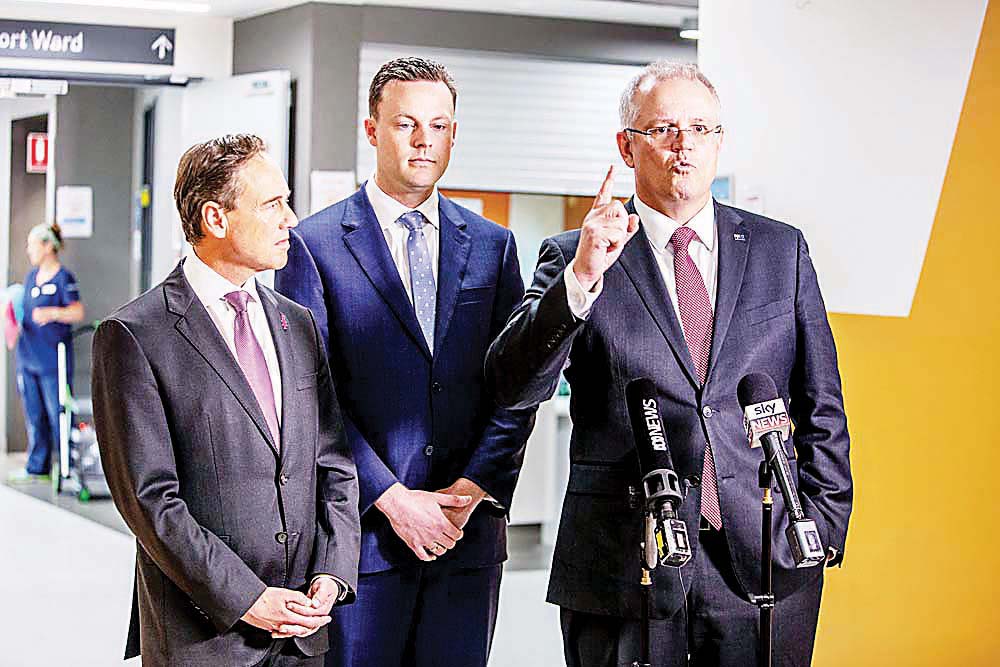 A BRUTAL week in Canberra as the Liberal Party bickered over its leadership has seen local federal MPs support different potential leaders.
Dunkley MP Chris Crewther nailed his vote publicly to incoming prime minister Scott Morrison who defeated Peter Dutton 45-40 in Friday's second Liberal party room leadership spill.
Flinders MP Greg Hunt kept a lower profile but it was widely reported he was positioning himself to run as deputy to Mr Dutton.
Mr Hunt started the week as both Health Minister and "a supporter" of Prime Minister Malcolm Turnbull and ended the week outside of cabinet losing a bid to become deputy Liberal Party leader.
Mr Hunt voted for challenger Mr Dutton in the first leadership spill ballot on Tuesday morning, then pledged loyalty to "the Prime Minister" in Parliament on Wednesday, before again voting for Mr Dutton on Friday.
The Flinders MP handed in his resignation letter as Health Minister to Mr Turnbull on Thursday morning citing "an irretrievable loss of support for the leadership and loss of Party unity within both the Ministry and broader Party Room".
Mr Hunt's decision not to support Mr Turnbull in the first leadership spill vote on Tuesday came three years after he told The News he believed in cabinet loyalty during leadership votes.
When Mr Turnbull ousted Tony Abbott as prime minister in September that year, then environment minister Mr Hunt said: "I supported Malcolm Turnbull when I was a member of Mr Turnbull's shadow cabinet in 2009 and equally, as a matter of deep personal principle and duty, I remained loyal to Mr Abbott as a member of his cabinet and voted accordingly."
Questions sent to Mr Hunt's office asking why he did not vote for Mr Turnbull as party leader while in cabinet last week went unanswered before publication deadline.
Fellow federal Liberal MP Mr Crewther publicly expressed support for Scott Morrison before Friday's leadership spill vote.
"If there is a party room meeting, a spill motion is successful, and the PM chooses of his own volition to resign and not contest, then there would be an open contest," Mr Crewther wrote on Facebook on Friday morning before the vote.
"In that situation, I would support Treasurer Scott Morrison for the leadership."
Mr Crewther said he voted for Mr Morrison because "he is a man of principle, faith and values" who "will best unite conservatives, moderates and those in-between in the party room, in the Liberal Party, and in the wider community".
Mr Hunt was widely criticised for voting for Mr Dutton on Tuesday morning before publicly backing Mr Turnbull the following day in Parliament .
"I do support the Prime Minister. Let me be absolutely clear," Mr Hunt said in Parliament before the second leadership vote.
In the immediate aftermath of the 45-40 vote in favour of Mr Morrison, ABC News political editor Andrew Probyn said Mr Hunt's "integrity" over the past week was "questionable".
Mr Hunt put his hand up to be deputy leader to Mr Morrison in Friday's party room votes, but lost up to Josh Frydenberg.
Former deputy leader Julie Bishop was eliminated in the first ballot to become prime minister before Mr Dutton and Mr Morrison faced off to be leader of the federal Liberal Party and prime minister.
On Friday afternoon, Mr Hunt released a media statement praising Mr Morrison and Mr Frydenberg as "great friends". Mr Hunt may be offered a ministry position in the Morrison government.
First published in the Southern Peninsula News – 28 August 2018