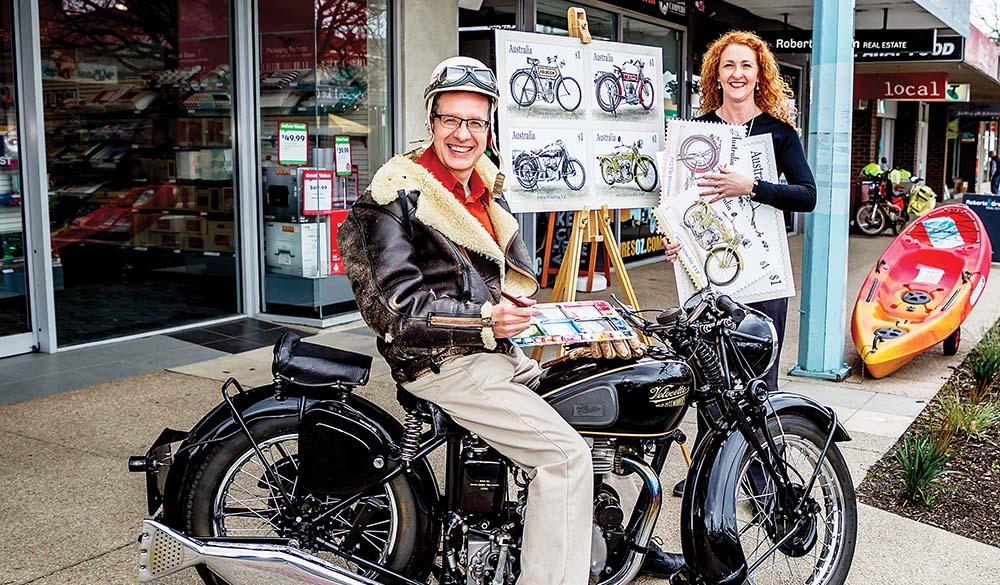 YOU could say Hastings artist Mike Harbar has been given the stamp of approval, or perhaps painted himself into a corner …
Either way, the Classic Lines Artist is thrilled with his appointment by Australia Post as its next stamp artist.
Harbar's pen and watercolour depictions of four classic Australian motorcycles: 1904 Kelecom, 1912 Precision, 1919 Whiting V4 and 1923 Invincible Jap, will set veteran and vintage bike enthusiasts' hearts racing next month – much like the iconic bikes.
The artist, who trained as an industrial designer, emigrated from England in 2000. "I'd always drawn cars, bikes, boats and planes as a hobby even when I was at school, but my career really took off when I was asked by an early client: 'Can you draw me a car?'
From there, in his adopted country, Harbar began a "steep learning curve" in a world where local motor sport legends Harry Firth, Peter Brock, Bob Jane and Allan Moffat reigned supreme. It was a transition he relished. "Now I know all the classic Australian cars," he said. "I've only got to see a small part and I know them."
Harbar produces illustrations for hundreds of private clients world-wide, using his understanding of basic engineering principals to complement his artwork's flowing lines. He also produces commissioned artwork for magazines and club events, and is the featured artist for Motor Classica.