SOCCER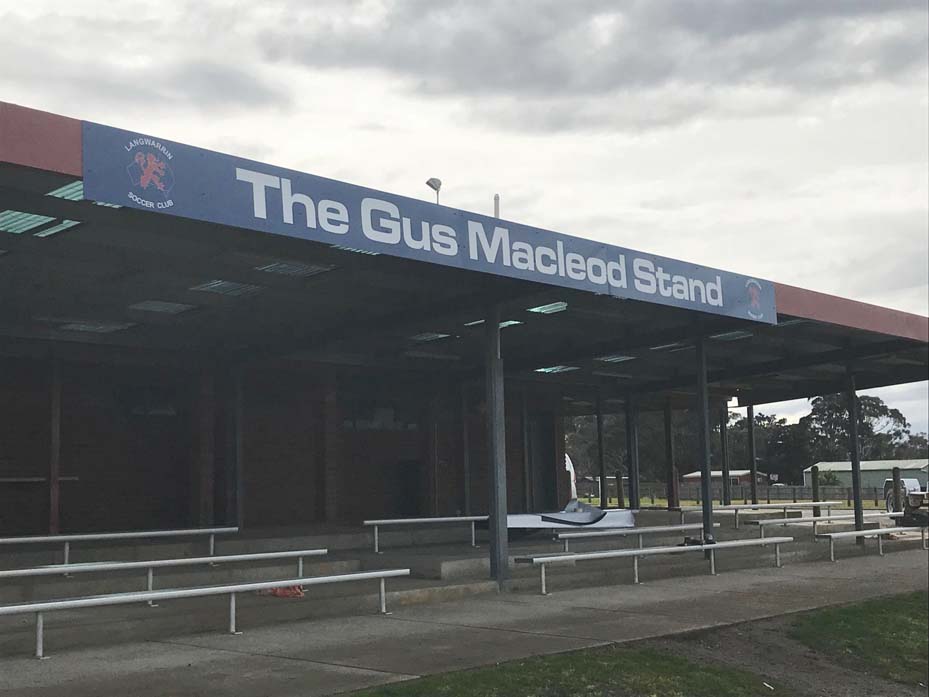 WHILE Langwarrin was unveiling The Gus Macleod Stand at Lawton Park on Saturday Peninsula Strikers were securing their State 2 South-East status.
Macleod has held the reins at Langy for 20 years and in his final home match watched his side come from behind to snatch a 1-1 draw against already relegated Nunawading City.
Big reputations and a big budget have not saved the visitors who featured former A-League stars Ben Khalfallah and Massimo Murdocca, the former playing as sweeper while Murdocca took up a central midfield role.
After a goalless first half the deadlock was broken in the 61st minute when a long Khalfallah free-kick fell to Borbor Sam who turned past Lloyd Clothier before striking a low shot past Langy keeper Robbie Acs from the right of the area.
Four minutes from time Langy midfielder Paul Speed took aim from outside the area and his blocked shot fell for teammate Luke Burgess whose close-range volley levelled the scores.
Straight from the restart Nunawading fashioned the best chance of the contest when Sam squared for what should have been a simple Murdocca tap-in but somehow Brendan Richardson blocked the ball on the line and it was scrambled clear.
A minute later John Kuol shot wide from the left of the area and that was Langy's last chance to end the day on a winning note.
Strikers defeated fellow relegation battler Heatherton United 3-2 at Centenary Park on Saturday in dramatic circumstances.
Ali Sanad was the benefactor of an error from Strikers keeper Dilan Mery in the 20th minute but John Prescott's seventh goal since signing from Casey Comets nine weeks ago made it 1-1.
Two minutes into first-half injury time Alpha Turay's cool finish gave the home side a 2-1 lead at the break.
A Sanad volley in the 60th minute made it 2-2 and set up a tense finish and it was left back Sam Luxford who became an instant hero in the 87th minute when he beat several opponents before slotting home a left-foot shot.
The goal sparked wild celebrations among Strikers' long-suffering fans and when the final whistle sounded what seemed fanciful a few weeks ago had become reality.
"A massive congratulations must go to Jamie Skelly and his coaching staff of Joe Donaghy and Ben Caffrey who took on the job when everyone had written us off," Strikers president Trevor Johnston said.
"Our club will forever be indebted to them and what they have brought to us in such a short period of time."
In State 1 South-East news Mornington went down 2-1 away to Eltham Redbacks on Saturday.
Josh Valadon put the visitors ahead in the second half but goals in the 71st and 81st minutes from Dejan Milevski and Lachlan Hogben gave the home aside a crucial three points in its fight to avoid relegation.
Meanwhile Gary Hodgson stepped down as president of Frankston Pines last week after seven years at the helm.
Hamdija Osmancevic is interim president and is expected to stand for the position at the club's AGM on Thursday 27 September at the Monterey Reserve clubrooms.
His son Amir plays with Northcote in the NPL and is tipped to join Pines for the 2019 season along with some other high-profile recruits as the club targets promotion.
Pines aims to build a significant war chest for next season and Alistair Webster, who joined the committee this season, is believed to be raising sponsorship with a figure of $100,000 being bandied about as a playing budget.
Hodgson, Steve Spencer, Patrick Duffy, Matt Murray and Tommy Mitchell are expected to again be part of the new committee but Pip Hodgson is having a well-earned break.
Other newcomers may join the committee and the club is keen to revive its junior wing.
Right now though Pines has a battle on its hands to avoid the drop after Saturday's 7-0 home loss to State 2 South-East champion Doveton and this weekend's away clash with Doncaster Rovers looms as a must-win.
In State 3 South-East news Skye United's State 2 promotion push officially ended last weekend with a 3-0 loss away to Middle Park.
Harry McCartney reports that Seaford United blew a chance to move off the bottom of the State 3 ladder when it could only draw 1-1 with fellow battler Dingley Stars at North Seaford Reserve on Saturday.
In the 15th minute a long ball from Dion Brown took an awkward bounce and was pounced on by Dylan Waugh who put the home side ahead.
Dingley equalised in the 32nd minute when it got forward in numbers and Kerem Akyala finished off a good interpassing move.
The visitors dominated the first 20 minutes of the second half but the Tigers clawed their way back and in the last 20 minutes peppered the Stars goal but to no avail.
In State 4 South news Baxter led twice away to Sandown Lions but eventually went down 5-2.
Stuart MacKenzie and Ben Meiklem scored for Baxter but the Lions came roaring back with a Tevin Mwenenjawa hat-trick and goals from Matt Thowat and Dobuol Kong.
The result keeps Baxter in the relegation scrap and it faces title-chasing Springvale City at Baxter Park this weekend.
Championship and promotion aspirations are on the line for Somerville Eagles going into the final round of the State 5 South season.
That's due to an injury time winner from Ash Scholes as Somerville downed Endeavour Hills Fire 2-1 last weekend.
Endeavour defender Laurent Coralie was sent off in the 20th minute but the 10 men took a shock first-half lead when Eid Sarwari went down inside the area and Johanes Negassi converted from the spot.
Somerville dominated the remainder of the contest but couldn't break through until the 83rd minute when Bjorn Kutschera tackled an opponent and the ball looped over Endeavour keeper Joshua Permal for the equaliser.
Somerville laid siege to the Endeavour goal but just when a draw seemed inevitable a Scholes header kept the local side's dream alive.
Aspendale may have derailed Rowville Eagles' promotion chances after a come-from-behind 2-1 away win last weekend.
The visitors' depth was tested due to injuries and a number of teenagers were thrown into the fray.
Rowville's star striker Daniel Grigoruta put his side ahead in the 9th minute but Domenic Paul equalised in the 15th minute and was rewarded for a superb run in the 83rd minute with the winner.
Rowville's Ruben Ichim was sent off in the 88th minute for violent conduct but Aspendale was able to maintain its composure until the final whistle.
In NPLW news Southern United's stellar under-14s made it back-to-back titles when they defeated Bayside United 1-0 last Wednesday night in a catch-up match at Kingston Heath Soccer Complex.
Danica Vukcevic scored the winner in the 11th minute and the squad now turns its focus towards another finals campaign in a bid to repeat last season's championship and Grand Final successes.
Last weekend the champions beat South Melbourne 3-1 at Middle Park to strike a psychological blow against a potential finals opponent.
Alex Jones scored for Southern in the 9th minute but Maxine Diblasi equalised five minutes later.
Rhys McKenna put Southern in front nine minutes into the second half and Jones rounded off the scoreline in the 53rd minute.
Southern under-12s hammered South Melbourne 6-1 with goals from Eden McKeown (3), Rhiannon Kelleher (2) and a first for the season from Jemma De Vos.
John Meads' squad has enjoyed an excellent year with 18 wins, three draws and three losses.
The under-16s lost 4-1 to South Melbourne with MacKenzie Hicks scoring for Southern while the under-19s lost 10-0 and the seniors 8-0.
Next weekend's games:
SATURDAY 3pm: Southern Utd v Senior NTC (Monterey Reserve, U16s 11am, U19s 1pm), Melbourne City v Langwarrin (LaTrobe University, Pitch 1), Mornington v Malvern City (Lawton Park), Mazenod v Peninsula Strikers (Mazenod College), Doncaster Rovers v Frankston Pines (Anderson Park), Skye Utd v Brighton (Skye Recreation Reserve), Noble Park Utd v Seaford Utd (Parkfield Reserve), Baxter v Springvale City (Baxter Park), Aspendale v Knox Utd (Jack Grut Reserve), Pakenham Utd v Somerville Eagles (IYU Recreation Reserve).