MPJFL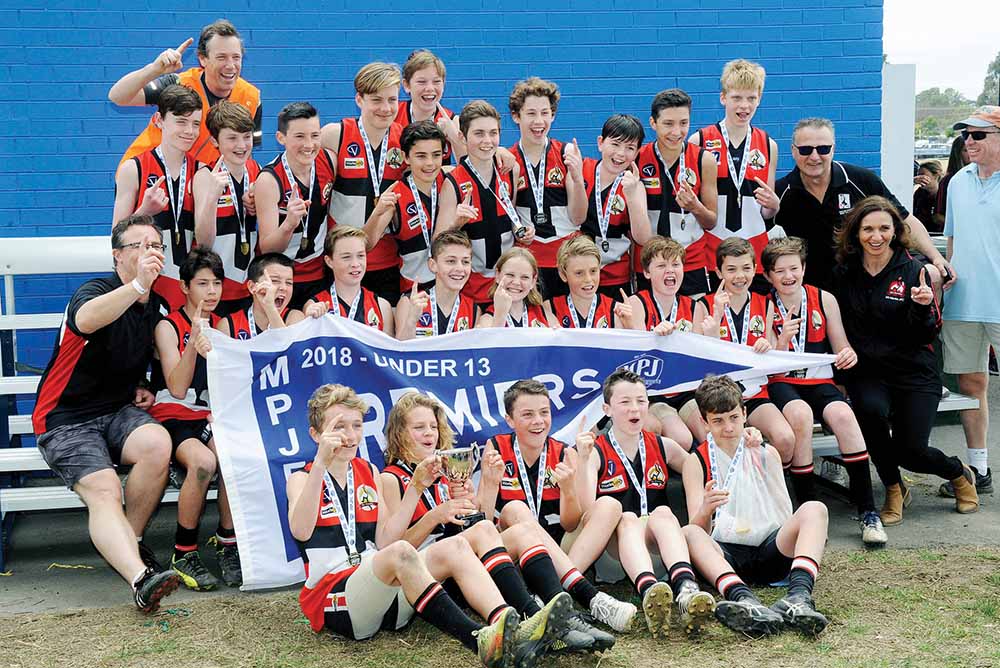 THE Mt Martha Junior Football Club had a massive hand in the Mornington Peninsula Junior Football League grand finals which were held over the weekend of Saturday 8 September in Pearcedale.
The Mounties relished the "perfect grand final atmosphere" over the two days, with five of their nine teams taking out their respective age-group grand finals.
There were three sides from the Frankston District Junior Football League (Mt Eliza, Frankston Rovers and Seaford) that also added to the occasion, with Mt Eliza also managing to claim the grand final victory in the under-18s Girls grand final over Mt Martha.
Mt Martha Junior Football Club president James Barrett said it couldn't have been a better weekend for the 18 grand finals to take place.
"It was brilliant football weather; the atmosphere was great, and it was a massive crowd with grand parents, friends and family all turning up to support and cheer on the juniors," Barrett said.
"The games were reasonably close and it was the first time for a lot of the girls to play in the grand finals."
Of the six Girls' grand finals, Mt Martha had four sides competing, with two of them scoring victories.
Barrett believes the under-11s Girls' side would have easily won the "best-dressed" award for the finals.
"They were super excited to get out there, and every one of them had their hair done up in black and red hairbands to support the club. It was fantastic."
Barrett said to have four sides make it through to the Girls' grand finals was a credit to the system that they have in place at Mt Martha.
"It comes down to the programs we've got for training as well as off-field behaviour," he said.
"Overall the overarching key to the Girl's program is to focus on their development and retention. We have about 120 girls in total so it would be great to see them back here again for next season."
As for having the three FDJFL sides in the league, Barrett said it was great to have the added competition to contend with.
"Mt Eliza is a fairly strong club and was a good adversary to have in the [under-18s Girls] league throughout the year," he said. "More competition is always better."
Over the two days, the MPJFL grand final winners were:
Under-11s Girls – Tyabb, Boys Navy – Red Hill and Boys White – Dromana ; Under-12s Boys Navy – Mt Martha and Boys White – Moorooduc; Under-13s Girls – Mt Martha, Boys White – Somerville and Boys Navy – Mt Martha; Under-14s Boys White – Rosebud and Boys Navy – Rye; Under-15s Girls White – Pearcedale/Baxter, Girls Navy – Mt Martha and Boys – Beleura; Under-16s Boys Navy – Mt Martha and Boys White – Dromana; Under- 17s Boys – Pearcedale/Baxter; Under-18s Girls Navy – Mt Eliza and Girls White – Seaford.