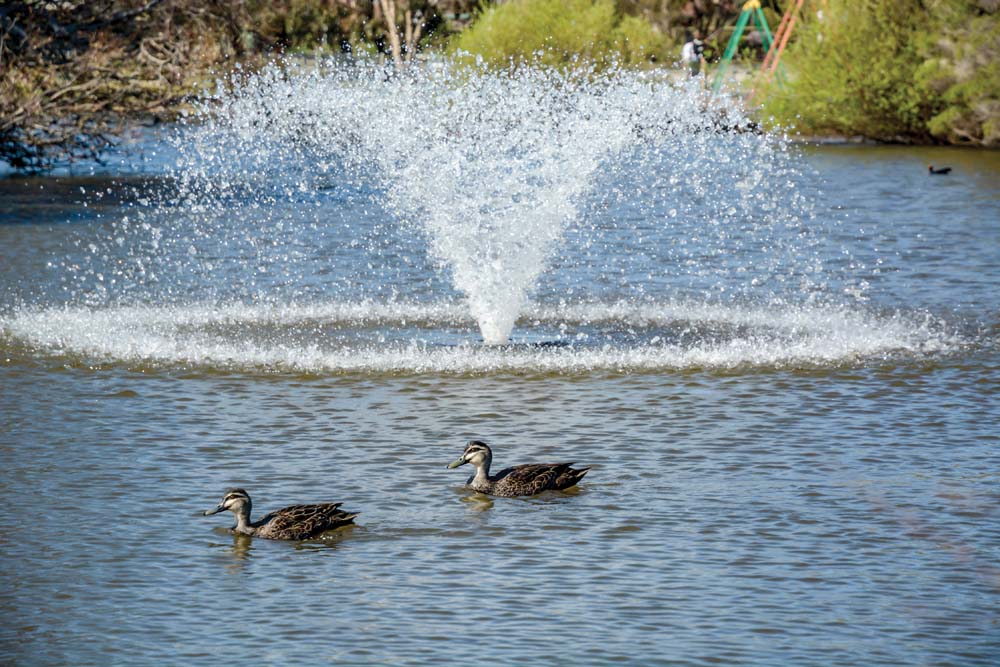 Water birds, calm on top and paddling madly underneath, appear happy and healthy in the clear water of two small lakes at Civic Reserve, Mornington.
Bobbing around in small wind-driven waves, the birds pass two fountains installed by Mornington Peninsula Shire to aerate the water.
Eighteen months ago the lake presented a different picture.
Hundreds of birds died in and around the lake from bacteria-produced toxins.
The four aerators appear to have done the trick, with Australian Wildlife Protection Council members reporting on the hatching and survival of many birds at the lakes.
On Thursday last a variety of water birds (wood and black ducks, chestnut and grey teals, purple swamp hens, dusky moorhens and coots) were evident in and around the water. A flock of sulphur-crested cockatoos noisily occupied the trees on the island in the lower lake.
Dog walkers exercised their pets in the adjoining leash-free area while holidaying children used the adjoining skatepark.
As well as aerating the water the shire has installed a sign warning against feeding the birds, a practice which results in "poor water quality".
"If you must feed the birds, small quantities of endive, spinach or grated carrot only."
Shire staff will continue to monitor water quality and health of birds over summer.