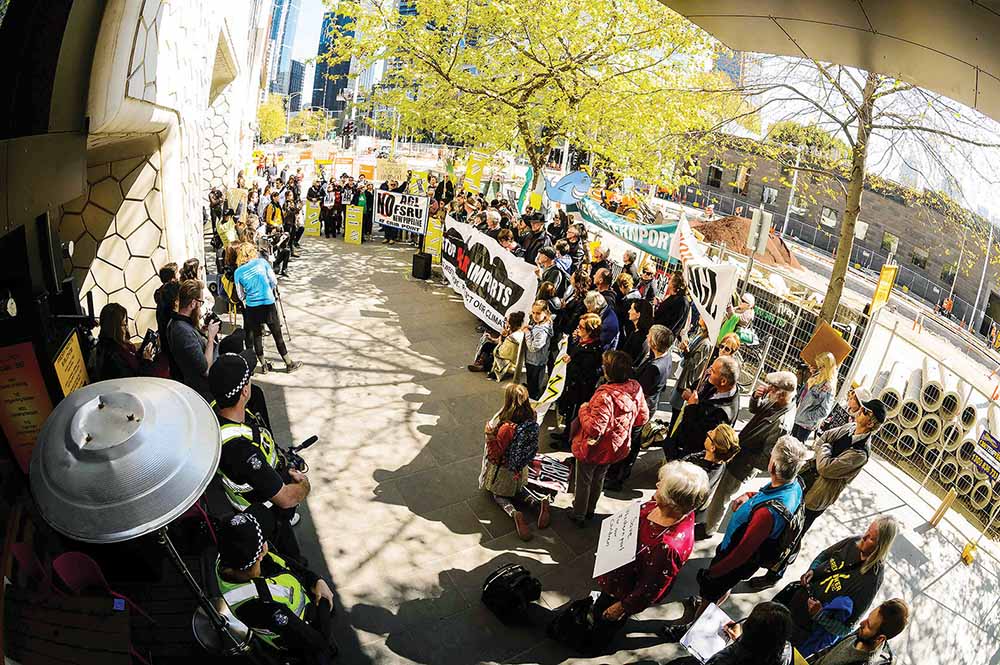 The gas import terminal proposed at Crib Point is part of power company AGL's $2 billion "electricity generation projects aimed at modernising and improving energy supply".
AGL chairman Graeme Hunt last Wednesday (26 September) named Crib Point as being one of these projects, along with wind farms at Coopers Gap and Silverton, gas-fired power stations at Barker Inlet and Newcastle and a coal-fired power station at Bayswater.
A protest, pictured, against the Crib Point floating storage regasification unit (FSRU) was held outside while Mr Hunt was speaking to shareholders at the company's annual general meeting in the Melbourne Recital Centre.
Several members of the Save Westernport group along with Environment Victoria's Mark Wakeham, using proxy votes, were able to raise questions at the meeting about safety aspects of the FSRU.
"This allowed us all, for the first time, to take our case directly to the whole AGL board, they were a captive audience," Rod Knowles, a retired MFB firefighter and Save Westernport member, said.
"Concerns were raised with the board over the safety of the floating gas terminal and the impact it will have on [Western Port's] internationally recognised Ramsar-listed wetlands."
Mr Wakeham asked the AGL board how the public could have faith in its ability "to manage such a complex and potential dangerous facility as an FSRU when during the week their licence to operate was threatened for not complying with government regulations".
The resulting $3 million fine "brings AGL fines to $5 million over the past 10 years for negligent, deceptive and misleading behaviour. Chairman Hunt agreed that 'AGL had to do better'."
Mr Knowles said a busload of protesters from Crib Point was joined by others outside the recital hall to hold banners and make "a colourful and rowdy demonstration".
"[With] AGL's bad safety record and their non-compliance with government regulations, an FSRU at Crib Point would be an accident waiting to happen," he said.
Inside the meeting Mr Hunt told investors that despite uncertainty "AGL continues to invest in energy supply that should enhance affordability and contribute to reliability, while enabling the long-term transition of our energy fleet to lower emissions technologies".
Interim CEO Brett Redman told the meeting that "safety, as always, is a core focus of AGL's people and I am pleased to say that having visited many of our sites in recent weeks, I am confident our safety culture is stronger than ever".
The meeting was told that AGL's after tax 2018 profit was $1.587 million, up from $539m in the 2017 financial year.
AGL and APA Transmission are still waiting for Planning Minister Richard Wynne to say if they will have to undertake full environment effects studies for the FRSU and a gas pipeline from Crib Point to Pakenham.
Phaedra Deckart, AGL's general manager of energy supply and origination, said the referrals handed to Mr Wynne on 11 September were "just one step in a long planning assessment process".
"In response to concerns raised by Environment Victoria and the local community the referrals have been submitted together to ensure the full impacts of the combined projects are considered," she said.
"The referrals provide a fulsome evaluation of the potential direct, indirect and cumulative impacts of the projects, in order to enable a comprehensive and integrated assessment of the projects.
"The project will create a new gas supply source, which will have the effect of providing much needed security of supply and placing downward pressure on prices."