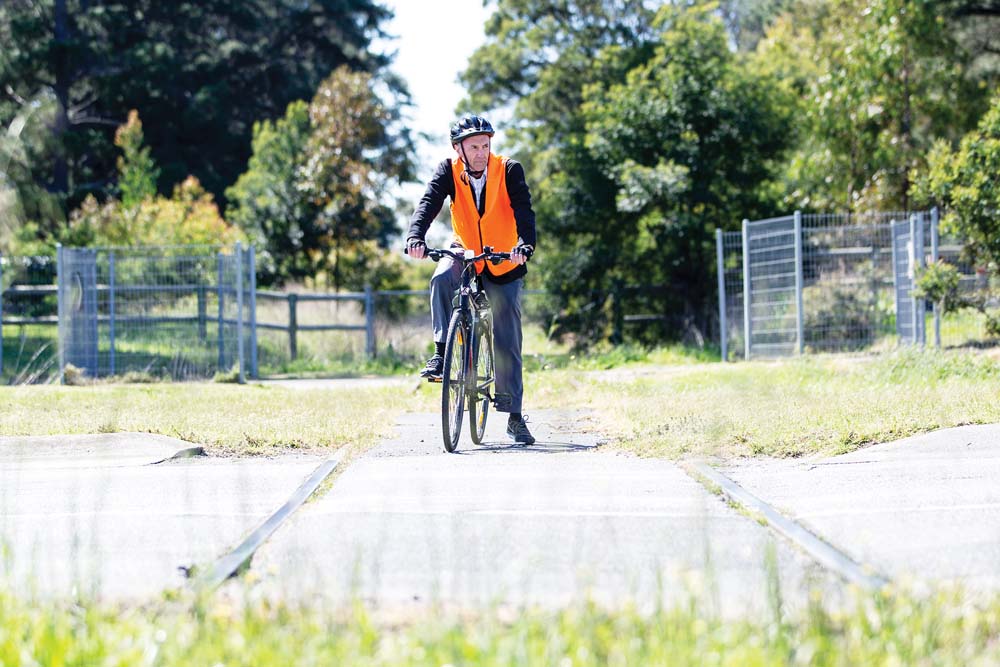 DEDICATED cyclist Graeme Rocke has a plan for a safe, easily accessible and environmentally responsible bike and foot path between the Peninsula Link Trail at Moorooduc with the Southern Peninsula Trail at Safety Beach.
Mr Rocke, 61, of Mornington, wants a commitment from political candidates to finance the project, either before November's state election or next year's federal election.
He says the path will make use of existing infrastructure where possible. A year will be needed for planning and two years for construction.
A member of three cycling groups, Mr Rocke said he considered four potential routes "all having many common elements with some variations".
But his preferred route "best satisfies the objective and goals" of the plan. Broadly, it follows the Mornington tourist rail line to the Mornington wetlands along existing paths where possible through to Craigie Road and onto Nepean Highway. At this point new work would be required to provide a safe path along Nepean Highway to Bruce Drive.
After Bruce Drive the path would run along existing roads around the back of Martha Cove to Safety Beach and then connecting with the Southern Peninsula Trail.
Three other routes are also up for consideration – along with Mr Rocke's opinions of their respective strengths and weaknesses.
He says the bike path project has four key benefits: linking the Melbourne CBD to the southern part of the peninsula along a safe trail; improving road safety for bike riders and schoolchildren; reducing traffic along Bungower Road; and, promoting the peninsula's attractions to visitors.
Mr Rocke's preferred route from Moorooduc railway station would need an "elevated pavement" or bridge over Balcombe Creek and the Melbourne Water pipe track and overpass at Bungower Road.
An underpass would be needed at the Bruce Road intersection with Nepean Highway.
Mr Rocke sees many safety and traffic improvements flowing from his preferred bike path by eliminating school crossings and getting riders off the roads.
"Integrating the Civic Reserve [Mornington] into the bike path would bring more people to this landmark Mornington asset," he said.
"The rose garden and art gallery could benefit, along with the other sporting facilities and, with a safe and interconnecting pathway, more people would walk or ride their bike.
"This would improve the fitness and health within our community and, hopefully, reduce the strain on our overloaded public health care system."
First published in the Southern Peninsula News – 9 October 2018