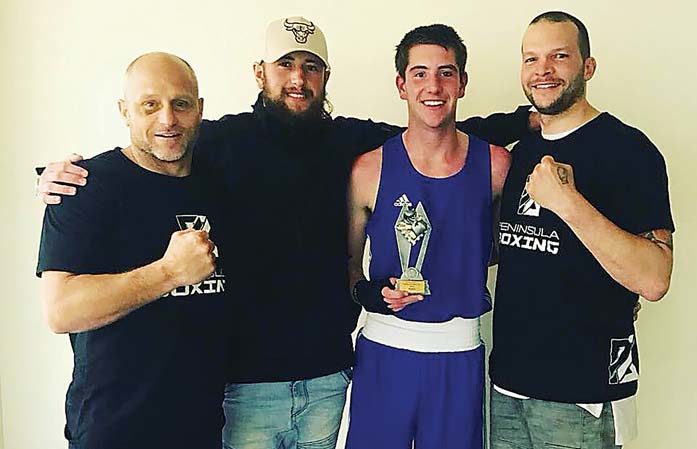 PENINSULA Boxers, Rueben Higgins and Bailey Seabourne, have walked away with two dominant victories at the Reggio Calabria Club on Sunday 16 September.
Seabourne made it a winning return to the sport after having more than two years out of the ring.
In his first time fighting as an elite boxer and under his new head coach Marcos Amado, Seabourne rose two weight divisions and easily accounted for his opposition, giving him a standing eight count before claiming the victory via technical knockout in the final round.
Peninsula Boxing head coach Marcos Amado said it was great to see Seabourne return a winner.
"He was given the option to return to boxing and he didn't want to be anywhere else," Amado said.
"He's set to represent Victoria in the 56kg division but he ended up going to the 64kg division to find a fight and he still stopped his opponent convincingly.
"It had been hard to find him an opponent as he's very experienced, a two time national champ, and everyone was just reluctant to get in the ring with him.
"His win will probably make it even harder now to get a fight unfortunately, but he's on the way up."
Rueben Higgins also claimed a hard fought victory over a tough opponent.
Amado said for a boxer of only three fights experience, he looked far more seasoned.
"He's undefeated since making his comeback."
Higgins then backed up his victory on Saturday 22 September in Tasmania alongside fellow Peninsula boxers, Christine Ng and April Franks.
Franks was first in the ring against a Tasmanian favourite and despite putting in a dominant performance, the final decision didn't go her way. Franks was further awarded as the most outstanding female fighter for her performance.
Amado was in disbelief following the split decision.
"What can I say apart from we won but didn't get the decision," he said.
"I hate losing like this as it strips her of all the hard work that has gone into the preparation but we will move forward and use this as another motivation to work harder at our goals.
"Hopefully we'll meet the same opponent on neutral ground down the track."
Higgins backed-up his victory the week prior, with another dominant display of controlled aggression against a man nine years his senior. He made sure the decision was left beyond doubt.
Higgins gave two separate eight counts and forced his opponent to retire after only a minute and a half into the opening round.
Amado said Higgins was adamant that it wouldn't last the distance and that it wouldn't come down to a final decision.
"It's very rare for someone to retire like that with all the padding on the helmets and gloves at that level," he said.
"It really showed how dominant he was on the night."
Christine Ng also entered the ring in an exhibition fight.
Amado said she looked composed and much improved throughout the bout.
"It was good for her to get in the ring with no pressure and just focus on the experience," he said.
"It would have helped her work on her nerves and ring craft to take into the ring next outing."