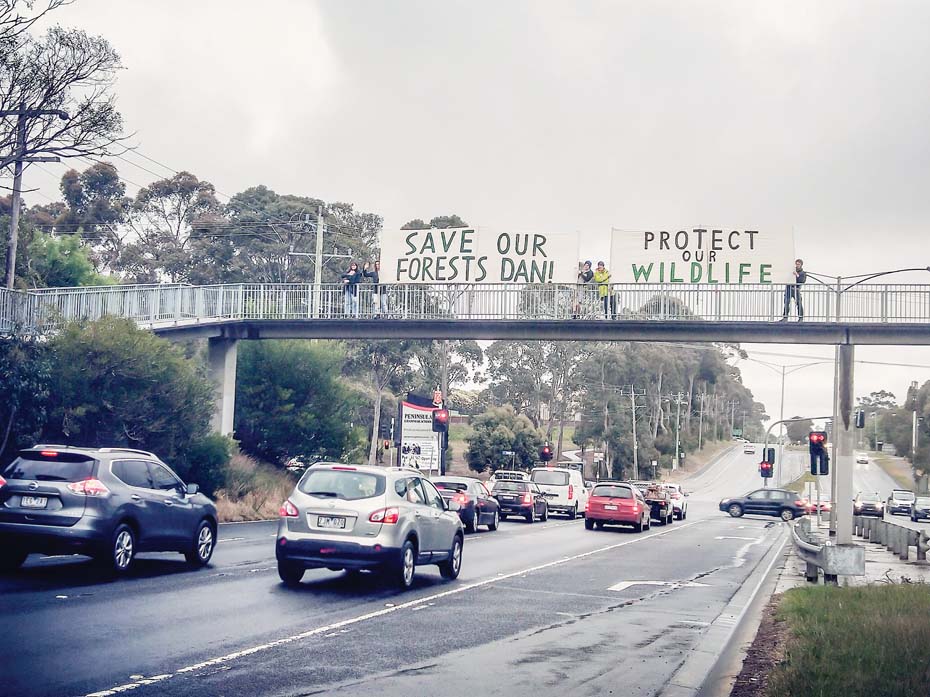 Although they may be several hours' drive away from the nearest forest, motorists heading south along Nepean Highway, Mt Eliza last week witnessed part of the protests aimed at getting the premier Daniel Andrews to stop logging in Victoria's native forests.
The walkway over the highway near Mt Eliza Way and Wooralla Drive – traditionally used to proclaim anniversaries and birthdays – was used as a platform for banners calling on the Premier to "Save our Forest Dan" and "Protect our Wildlife".
The walkway was also used recently by groups opposed to AGL importing gas through Crib Point.
The politicisation of the walkway may be a shrewd move as Neale Adams, a former Mornington Peninsula councillor, described the response from drivers to the anti-logging message as being "incredibly supportive".
"They were waving, tooting and giving us all thumbs up in support and everyone had a great look at the banners as traffic was moving pretty slowly," Mr Adams said.
"It feels so great to be a part of positive change and the campaign to protect our forests is all about positivity and connecting to nature".
Mr Adams said tall forests less than two hours' drive away "have been clear-fell logged for decades, with the majority going to make single-use paper products".
Deakin University student Hayley Forster, who helped hold the banners on the walkway, said the forests "are of so much value to the city of Melbourne, I can't believe we're still destroying wildlife habitat for copy paper".
"At university we learn about the value of protecting these beautiful places and the magnificent biodiversity our forests support, it's so heartbreaking to see them destroyed."
Mr Adams said protection for forests would continue to be pushed as issue "in the Frankston and Mornington areas as this year's [24 November] state election looms closer".