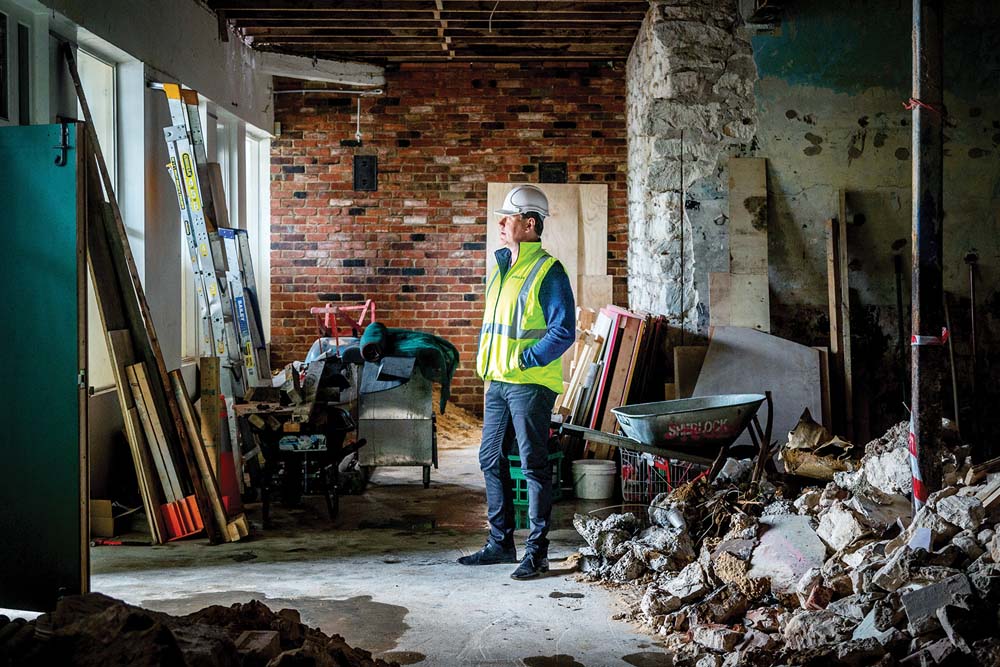 THE architects behind the $80 million redevelopment of Sorrento's renaissance-inspired Continental Hotel say they want to recreate the charms of the "marvellous Melbourne" boom period of when it was built.
Six Degrees Architects will aim to complete the public bar and bistro, fine-dining restaurant and champagne bar in September 2019.
This will be followed one year later by a "world-class" hotel, wellness centre, cafe and wine bar, day spa and gym, events and function rooms.
The National Trust-listed Ocean Beach Road hotel, built in 1875 by the "Father of Sorrento", comedian, actor, entrepreneur and politician George Coppin, is said to be the largest limestone building in the Southern Hemisphere.
Its full-blown re-creation by Sorrento entrepreneur and resident Julian Gerner and joint venture partners the Stellar Group is the culmination of his dream after he bought the icon from long-time-owners the Di Pietro family for about $13 million in July 2016.
His well-publicised vision for the site attracted plenty of opposition from Mornington Peninsula Shire and Nepean Conservation Group and others who saw his attempts to gain development permits as a means to a quick sale – a charge he always denied.
Their concerns were amplified in November last year when Mr Gerner put the hotel on the market for "north of $20 million" after realising that its redevelopment was "too big a project to handle alone".
Now, with a major backer behind him, Mr Gerner will be an "equity partner focusing on business development". He said last week he was "pleased and relieved" to have the hotel redevelopment and renovation milestones mapped out.
"I always had the view that we were on the right path and that it was a good project," he said.
"We always worked through Heritage Victoria and the shire and I knew that if we stuck to our vision we would get through."
The owners of the 143-year-old building say the revamp will turn the hotel and adjoining facilities into the "largest and most significant tourism investment into Sorrento to date, creating up to 200 casual and full time positions".
"When the Continental Hotel was first built it was the largest commercial development in the peninsula and redefined Sorrento as a premier lifestyle destination," Steller CEO Simon Pitard said. "We're pleased to be completing the circle with the redevelopment, which will re-establish Sorrento as the heart of the Mornington Peninsula."
Six Degrees Architects director Mark Healy said the group was aiming to "reinstate the Continental Hotel to its former glory and acknowledge its past as the cornerstone of Sorrento's dining and entertainment precinct".
"The spaces are designed to reflect the unique character and history of each part of the hotel," he said. "We've tried to create an inclusive environment for spaces like Coppin's Public Bar & Bistro, with brass and timber accents complementing the existing limestone.
"Restaurant 1875 and the accompanying champagne bar will signal a return to the old Hollywood glamour with the abundance of marble and detailed timber, offering guests a decadent fine-dining experience."
First published in the Southern Peninsula News – 16 October 2018