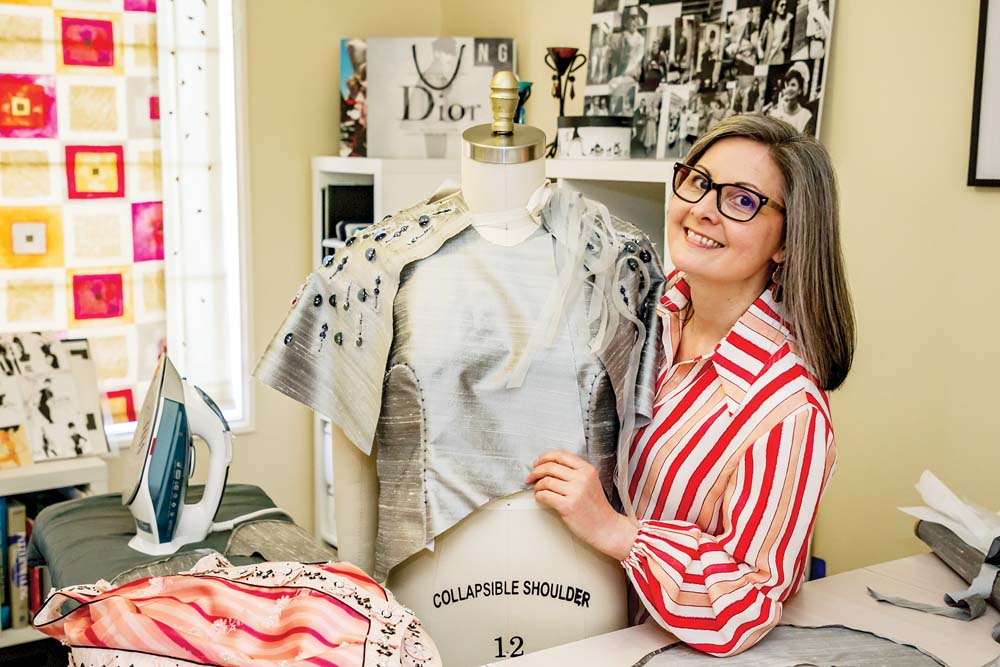 MELBOURNE'S Spring Racing Carnival means more to Lorraine Reeves than thundering hooves and two dollar place bets.
The Mt Martha fashion designer is gearing up for her first Fashions on the Field contest at Flemington on Melbourne Cup Day after being named as a top 10 finalist in the Emerging Designer Award category.
Ms Reeves says she wanted to be a designer since she was a teenager but didn't have the opportunity to study fashion when she finished school. "However, I have been a dressmaker my whole life and, even without formal study and being mostly self-taught, I have made bridal and special occasion wear for individual clients in the past."
Ms Reeves completed a Certificate III in Fashion Design as a mature aged student at Masters Institute of Creative Education (formerly Melbourne School of Fashion) at the end of last year.
"The course was over three years," she said. "In my final year I was selected, along with three fellow students, to present my capsule collection on the student runway at Melbourne Fashion Week.
"This year at fashion week I was selected to represent the institute as an emerging designer in a fashion capsule with an outfit on display in the Bourke Street Mall."
Ms Reeves said her aesthetic "would be considered classic styling with a twist, with the emphasis on embellishment and manipulated fabrics and trims".
"I prefer to create one-off pieces, and I value the idea of investment dressing with high quality workmanship and materials which last for a very long time," she said.
"I think this is important for the environment as there is far too much mass-produced fashion. And, of course, it is important for those wanting something different to what everyone else has!"
Ms Reeves said her designs were popular with those seeking bespoke and unique garments "specifically made for them to reflect their personality and which fit them well".
"It should be noted though, that something 'specially' made should be for wearing any time – not just special occasions," she said.
Winning the contest would give her work valuable exposure. "It would make my target market aware of where I am and what I can do," she said.
Prizes include a Myer internship, Myer editorial, Sofitel accommodation, Antler luggage, an opportunity to present designs in a Myer Bourke Street window display, fashion feature in Inside Headquarters magazine and a Myer gift card.
"There always seems to be limited time to design and create an outfit or garment, so it's a rush at the end," Ms Reeves said. "Or maybe it's just that I want to put perfection and individuality into everything I do.
"Of course, I feel very privileged just to be chosen as a finalist, so even not winning the competition will, hopefully, create more of the type of work I'm so passionate about."