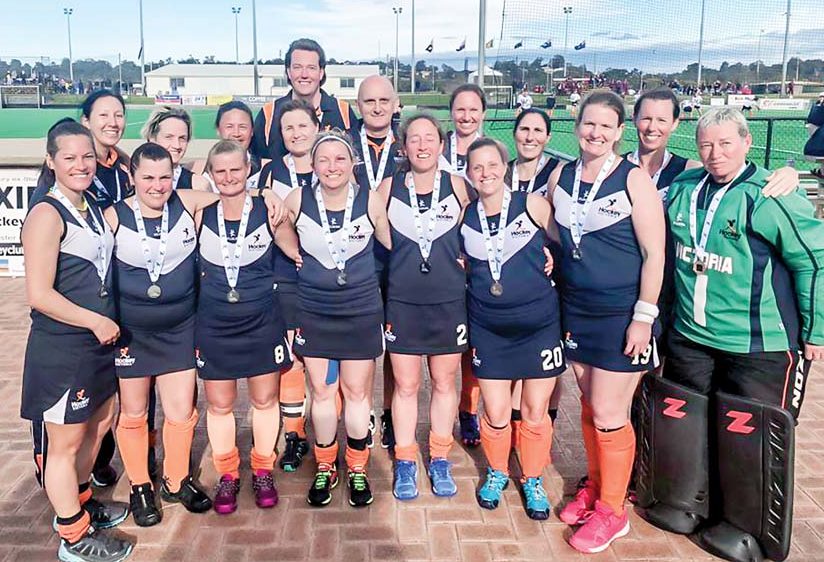 MORNINGTON Peninsula Hockey Club had five players represent Victoria at the Women's Masters Championships in Bunbury, Western Australia on Thursday 27 September.
Four of the women, Emma Brown, Kim Trezise, Julia Ashmore and Margaret Nettleship, returned home with silver medals from the national competition while Rebecca Gipp finished just shy of a bronze.
Mornington Peninsula Hockey Club goalkeeper Julia Ashmore said "it was a great result from everyone".
Ashmore, who usually plays in the over-45s, competed in the over-40s Victorian team which had to merge with the over-45s due to the lack of numbers.
Ashmore said the side had their chances in the gold medal game against Western Australia in which they were narrowly beaten 3-2.
"It was anyone's game, it could have gone either way," Ashmore said.
"We had about six from the over-40s and six from the over-45s merged into the team and we were playing against women in their low 40s. I think we did really well to come away with a silver medal."
Emma Brown and Kim Trezise represented the Victorian over-35s side which faced an undefeated Queensland team in the gold medal game.
Queensland showed their dominance by claiming the gold medal 4-0 and ending the championships seven wins from seven matches, but Brown and Trezise still walked away with a silver medal from the nationals and comfortably held the other states at bay.
Margaret Nettleship represented the Victorian over-65s and just missed out on claiming a gold medal. Nettleship came up against an undefeated New South Wales side in the grand final and forced the match into a shootout after ending normal time tied at 1-1.
Unfortunately for Nettleship the NSW side got the better of the Victorians in the shootout, claiming the win 3-1.
Rebecca Gipp competed in the over-50s competition and finished fourth overall, however the Victorians didn't go down without a fight.
The Victorians ended the bronze medal game tied 1-1 after the final whistle against NSW, but were eventually defeated 2-0 in the final shoot-out.
Following the Women's Masters Championships, Kim Trezise and Julia Ashmore were announced as part of the over-40s and over-45s Australian teams which will compete in the Trans-Tasman Masters Hockey Challenge on the Gold Coast in April next year.