DISTRICT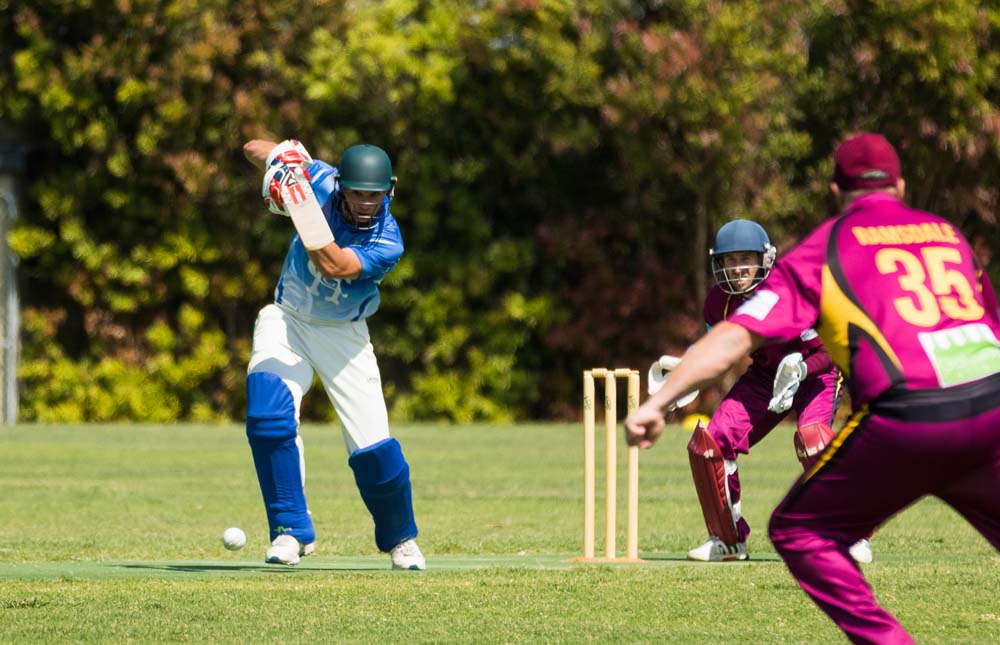 ROSEBUD have bounced back from a difficult start to get the better of Seaford at Olympic Park on Saturday.
Seaford won the toss and sent their opponents in to bat, which looked to be a masterstroke early. Rosebud's openers Kane Donald and Pete Doughty both fell for ducks to leave their middle order to pick up the pieces.
Billy Quigley came in to steady the ship with a handy 29, but Rosebud still found themselves struggling at 6/66. They showed signs of life to knock 77 runs for their next two wickets, finishing up on 8/143 from 40 overs.
Dil Pageni was the pick of Seaford's bowlers. Conceding just 9 runs with 8 overs and claiming a wicket.
Pageni came in to open the batting and again proved himself a star, scoring 65 runs in an opening stand of 87. Seaford found themselves cruising at 4/120 with just 44 runs needed to win, before Billy Quigley started to tear through them.
A quick fire hat trick left Seaford battered and bruised, and the rest of their tail quickly fell too. They went from 4/120 to all out for 126. Their final six batsmen were all dismissed for ducks.
Billy Quigley's 4/23 off six overs, hat trick, and run out made him an easy pick for man of the match.
Seaford Tigers didn't fare any better than their crosstown rivals, falling to Heatherhill at home at Belvedere Reserve.
The Tigers batted first, with David James' half century proving the highlight of a grim innings. Outside of James, the rest of the Tigers' specialist batsmen were dismissed for a combined total of just two runs.
They were left badly beaten all out for 116, a total Heatherhill chased with ease.
Steve O'Donnell opened and put 61 runs on the board, helping his team to a thumping 6 wicket win with 21 overs in hand.
At Roy Dore Reserve, Mt Martha took on Carrum and elected to bat first. A shaky start left Mt Martha struggling at 2/34, before a well batted 55 from Ryan Godwin helped stabilise their innings.
Mt Martha finished up at 6/156, a defendable total.
Carrum looked to have shot themselves in the foot with a shocking start, left languishing at 4/24. A brilliant partnership from Dylan Steed and Sam Ridgway got things back on track soon enough.
Ridgway's 79 not out was enough to gain his team a hard fought 5 wicket win with 2 overs to spare.
At home, Delacombe Park batted bravely to claim a thrilling win over Hastings.
Hastings batted first, with Luke Hewitt's impressive half century being the highlight. Jake Hewitt also leant a hand, smacking two sixes on his way to a handy 40.
Their good work was undone by a weak showing from their tail. Ricky Ramsdale tore through their weaker batsmen, claiming impressive figures of 4/11 off 8 overs. Hastings set a target of 165.
As Delacombe Park came in to chase, opener Jonathan Guthrie looked on right from the word go.
He raced away to a masterfully taken half century, but his teammates were dropping like flies. Delacombe Park were left at 9/145, requiring 21 to win with just one wicket in hand.
Guthrie took the game on and ended up claiming his side a stunning win. His 75 not out proved to be a match winning knock, as his side scored the one wicket win.
PENINSULA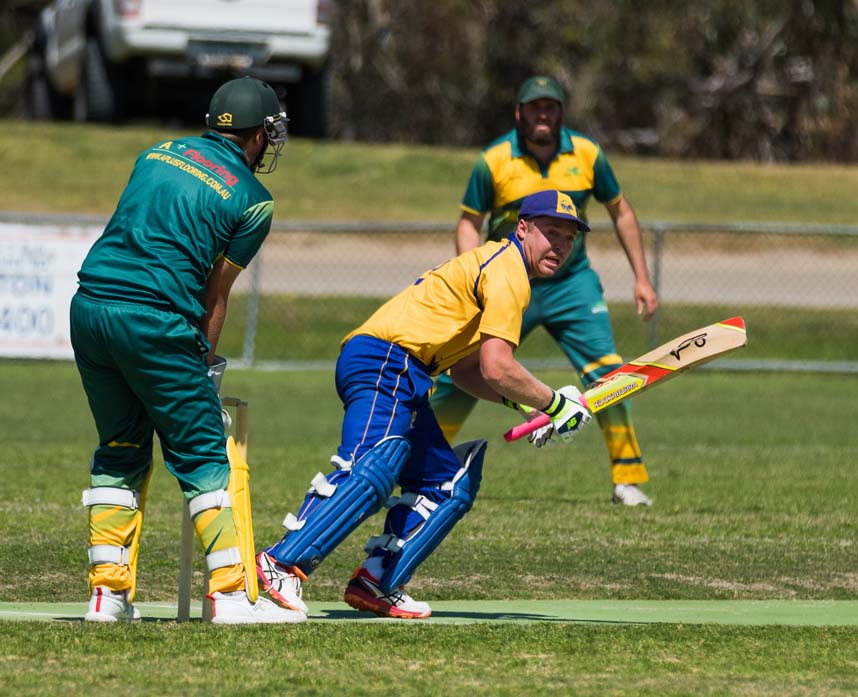 A BRAVE knock from skipper Aaron Paxton was not enough to help Long Island over the line against Main Ridge.
Paxton batted beautifully on his way to an impressive half century, but had little support from his teammates.
Paxton watched six of his teammates fall around him, with only one scoring more than six individual runs.
Daniel Polson eventually claimed his wicket, as they finished up all out for 156.
Main Ridge got off to a good start, with their opener and skipper Shaun Foster also putting on a show. He scored 68 runs and had plenty of help from his top order.
Main Ridge claimed a five wicket win with five overs left to spare.
At Red Hill Recreation Reserve, Red Hill held on to defend a small score against Pines.
Pines performed well with ball in hand to hold Red Hill to just 134 runs, and looked likely to chase it down during their innings.
At 1/70 Pines looked as if they would chase their target down with ease, before things went pear shaped. They lost 8/22 quickly after that, before Jamie McCall claimed the last wicket to put them out of their misery.
Pines finished all out for 114, having had a good opportunity for a win wasted.
Somerville also battled hard at home, but narrowly fell to Moorooduc.
An opening stand of 72 from Somerville's openers put them in the box seat, with Brenton Alp's 55 setting their innings up nicely. Somerville failed to build on their strong foundations, but still ended up with a respectable total of 151.
Mooroodoc's openers fell for just 13 runs between them, with Nick Marshall claiming both their wickets.
A brilliant 61 from Madushanka Perera quickly got thing back on track as Moorooduc narrowly managed to chase down their target with just three wickets in hand.
Nick Marshall could hold his head high, conceding just nine runs from his eight overs.
Baden Powell closed the round out by dominating Crib Point.
Baden Powell opened the batting and performed well, with most batsmen contributing well to an impressive total of 171.
Crib Point looked little chance of chasing that down, as they fell to just 3/15 early on. They ended up all out for 103, with Shannon Small's 1/8 off eight overs doing most of the damage in terms of restricting the run rate.
PROVINCIAL
PENINSULA OB have held on to claim an impressive win in a high scoring clash with Flinders.
Old Boys went into bat first, and put together a massive total thanks to a stunning middle order partnership between Tom La Brooy and Wade Pelzer, who combined for 103 runs. Pelizer eventually fell first for 69 before La Brooy saw his wicket fall for 75.
OB finished up on a whopping 5/221, setting Flinders a mammoth target to chase.
They had their work cut out for them, but a stunning third wicket partnership of 114 between Neil Barfuss and Tom Clements put them right back in the hunt.
Unfortunately once their wickets fell, the tail end could do little with the time they had, as Flinders ended up at 9/187 off their 40 overs.
At David Macfarlane Reserve, an opening stand of 92 was not enough to see Mt Eliza over the line as they made the road trip down to Sorrento.
Tim Clarke put on 52 run before putting one into the waiting hands of Leigh Pohole. Mt Eliza finished up at 7/164.
Sorrento showed intent early, and ran away to 1/113 to put themselves in the box seat. A good all round performance saw them chase down their target with 6 wickets and 3 overs in hand.
At Baxter Park, Mornington have pulled off a great escape by tearing through Baxter's middle order to defend their total of 8/146.
Baxter were cruising to a win at 3/111 with plenty of overs in hand, before they lost an astonishing 5/1 to undo all of their hard work.
Glenn Wood and Rueben Higgins made a mockery of Baxter's middle order, as they finished all out for 135, just 12 runs short of a win.
The final match of the weekend saw Langwarrin easily do away with Pearcedale.
Langwarrin set a target of 194, but bowled out Pearcedale for a paltry 93 before they even got close.
SUB DISTRICT
A FRANKSTON YCW masterclass was the most impressive performance of a weekend of uncompetitive cricket in Sub Districts.
YCW took on Carrums Downs and were made to bowl first, but that proved no challenge for the Stonecats.
Carrum Downs were decimated at home, with Liam Greenwood posting figures of 3/15, and Levi McLoughlin-Dore topping that with 4/11 from his eight overs.
Carrums Downs finished all out for 79, a total the Stonecats chased down with 21 overs to spare.
Skye also struggled badly at home, as they hosted Balnarring.
Brenton Taylor bowled just four overs, but did all the damage by wiping out Skye's middle order with figures of 3/10.
Skye finished up at 102 all out. Balnarring took just 27 overs to chase that total down, losing just two wickets in the process.
Dromana had a bad weekend up against Tootgarook, having their defendable total of 138 quickly wiped out.
Mark Whitehead was impressive for Dromana as opener, falling for 69 runs.
When Tootgarook came in to chase, it was clear they intended on getting home as soon as possible. They lost six wickets, but chased down 138 in just 27 overs.
Boneo also had luck away from home, as they travelled to RJ Rowley Reserve to take on Rye.
Boneo were sent in to bat first, and initially struggled at 3/34. They quickly steadied their course and finished up with an impressive 9/175, thanks to a handy innings of 69 from Ryan Jellie.
Rye worked hard but their run rate proved a massive issue, thanks to economical bowling from Chris Jobling, who claimed 3/13 off 8 overs, and Flinn Shiel who claimed 4/6 off 5 overs. Rye finished at 8/110, well short of Boneo's target.
Tyabb had a bye.