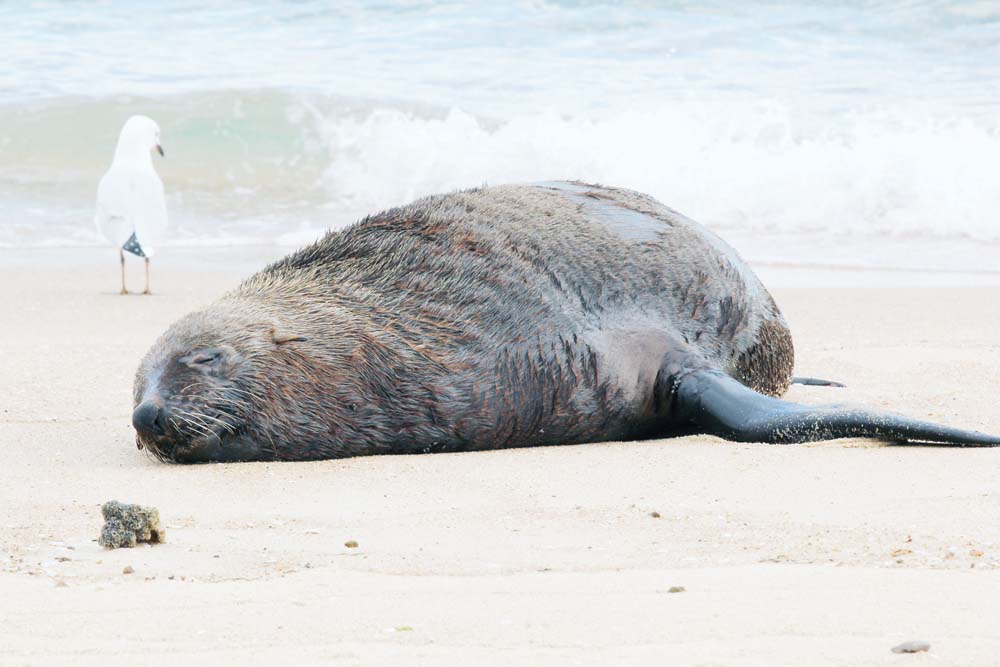 STRICT regulations governing the safety of seals on bay beaches have prompted the Department of Environment, Lands, Water and Planning to warn members of the public not to get too close.
Senior wildlife officer Abby Smith said as summer approached some seals swam ashore after the breeding season.
"In Victoria, it is common to see Australian fur seals resting onshore. They are beautiful creatures and can look very placid when lying on a beach," Ms Smith said.
"Despite their relaxed appearance, they are still wild animals. They will defend themselves if approached and can deliver a nasty bite.
"We're really lucky to be able to observe seals in their environment, but it's important to keep your distance."
Ms Smith said beachgoers must keep 30 metres from a seal on land, and five metres from a seal on a man-made structure, such as a jetty or boat ramp. Dogs must be kept at least 50 metres away.
AGL Marine Response Unit coordinator Mark Keenan said seals often came ashore to rest and recover after long journeys. "We recommend that members of the community do not disturb seals on land and allow them the opportunity to rest," Mr Keenan said.
The unit is the state's first dedicated marine unit that responds to calls for assistance involving seals, turtles, dolphins and other marine wildlife in Victorian waters. The unit comprises staff from Zoos Victoria, DELWP and Parks Victoria and are authorised under the Wildlife Act to enforce the regulations.
"We rely on members of the public to act as our eyes and ears, reporting when they see injured or distressed marine wildlife on Victoria's coastline, Mr Keenan said.
Mornington Peninsula Shire's acting manager environment protection Craig Murray said local laws officers would "respond to any attack on a seal as it is still considered a dog attack under the Domestic Animals Act 1994".
He said officers would support the marine response unit "by informing them of any seals on beaches".
He would not confirm that the shire would continue to erect signs and tape around a seal to prevent people getting too close, as it had done in the past.
Australian Wildlife Protection Council secretary Eve Kelly wants to know how the shire will deal with off-leash dogs attacking seals if there were no volunteers on the beach watching the seal, no signs or barriers, and no shire staff.
"Will dogs on a leash approaching a seal be dealt with in the same manner?" she asked.
She said wildlife volunteers "who are called upon when seals come up on busy beaches, haven't yet had a discussion with the shire about this issue".
"Without us being heard there are misunderstandings and misconceptions about what we have been asking for help with, as well as the problems facing both the seals and volunteers on busy days during the holidays.
"For example, we have been told that the shire thought we had expected seals to be minded by shire staff. This has never been the case and we have never indicated as such."
Ms Kelly said if the shire stopped erecting signs and tying tape around a seal to prevent people breaching the 30-metre exclusion zone "the situation is going to be much worse than before, when it should have been made better".
Anyone concerned about the welfare of a seal can call the marine response unit on 1300 245 678.
First published in the Southern Peninsula News – 23 October 2018