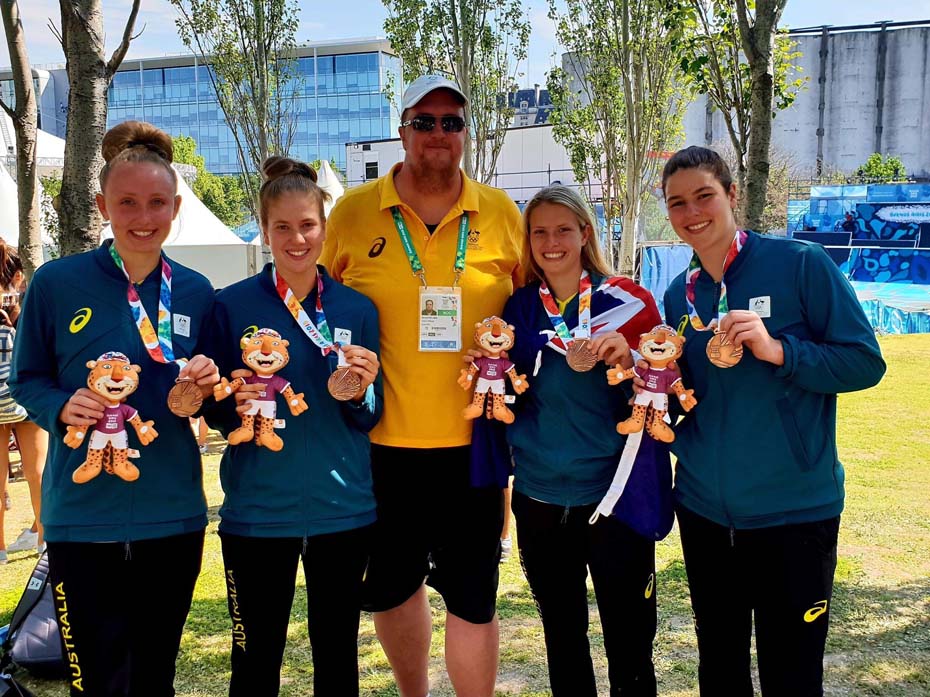 SOUTHERN Peninsula Sharks director of coaching, Gerard Hillier, has taken the Australian Youth Girls three-by-three team all the way to a bronze medal at the Youth Olympics in Buenos Aires, Argentina on Thursday 18 October.
The youth girls side, made up of Suzi-Rose Deegan, Sara-Rose Smith, Ruby Porter and Alexandra Fowler, secured Australia's first piece of international silverware in three-by-three basketball with a 16-13 victory over top-ranked China in the bronze medal game.
The Australian side entered the tournament which went for almost two weeks as the last women's seed (20th) and sat at 36th in the world rankings prior to the competition.
Despite their low ranking and entering the tournament as a wildcard, the youth girls played with a lot more quality than their ranking would suggest.
In the group stage, the youth girls were victorious in three of their four matches, defeating the Netherlands (ranked fifth) 11-7, Czech Republic (ranked 17th) 15-11 and Estonia (ranked fourth) 19-15.
They went on to comfortably defeat Ukraine (ranked second) 16-6 in the quarter finals before suffering an overtime loss to France (ranked sixth) 19-20 in the semi-final.
The Aussies bounced back to defeat China in the bronze medal game and will now likely sky rocket their world ranking, having finished third overall in the international competition.
Sharks director of coaching, Gerard Hillier, said
"I cannot put into words the amount of grit and determination these young ladies had in the face of some extremely strong competition and through adversity," he said.
"If we had to do it all over again, I couldn't think of four better players to go back to battle with."
The exceptional run from the youth girls tops off a remarkable 12 months for the coach who has been dominating the women's leagues with his various teams.
Hillier coached the under-18s women's side which won a bronze medal at the Australian Junior Championships; the under-16s women's side which won a gold medal at the Basketball Victoria Country Championships; the under-16s women's side which were crowned champions in the Victorian Junior Basketball League; and the Sharks' state championship women's side which finished runners-up in the Big V competition.