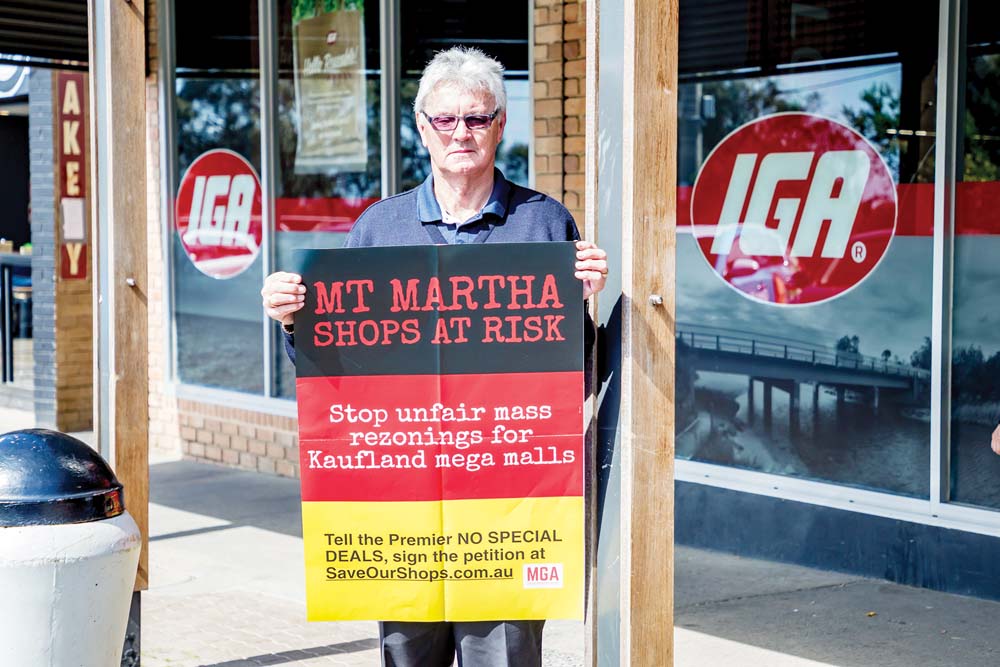 THE state government is handing the German supermarket chain Kaufland an "unfair advantage over local shops by going around local government planning processes", a rival operator has claimed.
Co-owner of Mt Martha SUPA IGA for 30 years Rod Allen – who is president of the MGA Independent Retailers – said the retail giant had "completely bypassed six local councils and communities and had taken its proposal to re-zone land direct to the state government by lobbying planning minister Richard Wynne". The MGA is a national retailer association whose 2700 members include independent supermarkets and stand-alone liquor stores across Australia.
Mr Allen said the proposed Mornington store near the Bata Shoe factory site would "have a big impact on shops from Mt Eliza all the way down the Mornington Peninsula".
Last month, Mr Wynne told Mornington Peninsula Shire he would appoint a committee to "provide advice and recommendations" on Kaufland's plans to open six supermarkets around Melbourne, ("Anger over state planning takeover" The News 13/8/18).
The mayor Cr Bryan Payne said the advisory panel was "another example of Mr Wynne impinging on the responsibility of local government".
Mr Allen said Kaufland was "using the minister to re-zone land so mega stores can be dropped onto local communities with all profits to be taken offshore and not spent in the local community".
"Any initial increases in employment will be more than offset when local shops are forced to shed labour as their businesses suffer," he said.
Kaufland is looking to open mega stores on sites up to 20,000 square metres at Dandenong, Epping, Oakleigh South, Coolaroo and Chirnside Park.
If given the go ahead, the stores will sell "everything from car tyres to cheese slices", from in-house bakeries, delis, butchers, cafes, conventional grocery and Kmart-style department store sections, Mr Allen said.
"They can be likened to shopping centres in their own right, in scale and product range, with proposed floor spaces of 6000-12,000 square metres which is four times larger than Coles or Woolworths and 10 times larger than Aldi, plus 300 car parking spaces," he said. "We call on Premier Daniel Andrews to save Victorian small businesses".
A petition www.saveourshops.com.au has been started to make Kaufland "compete fairly".