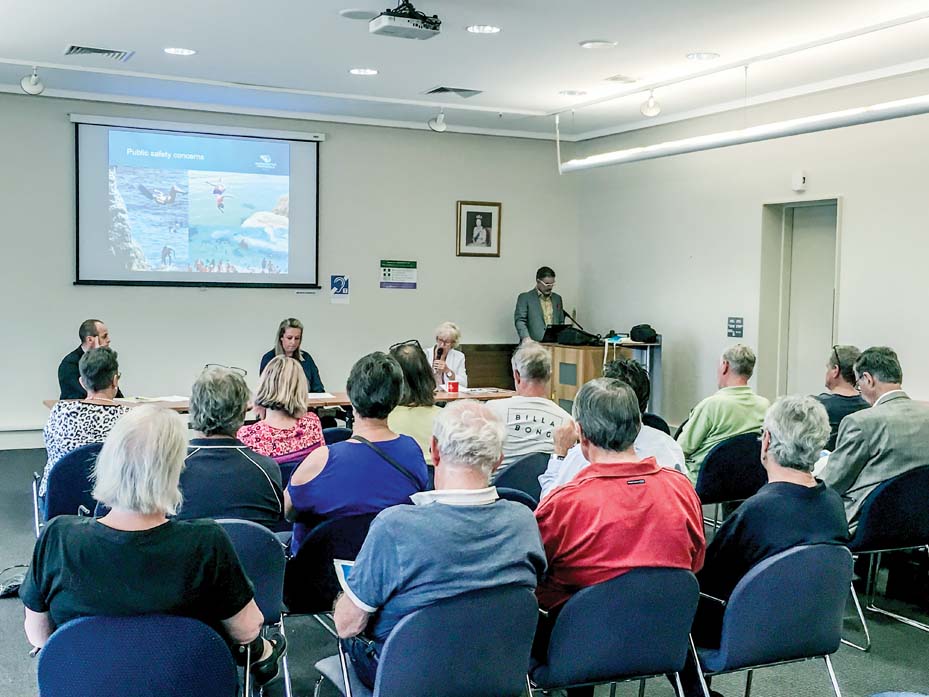 THE state government is still undecided about a temporary fence being built at The Pillars cliff jumping site despite a plea by Mornington Peninsula Shire Council for its help in controlling summer hordes.
Port Phillip regional director Kelly Crosthwaite said on Friday the Department of Environment Land Water and Planning was "currently reviewing the information provided by council [on] construction of a temporary fence and will continue to work closely with council to resolve this matter".
Her comment followed a public meeting at the shire's Mornington office Thursday 1 November which discussed the council's inability to properly manage parking issues, keep watercraft away, and prevent mainly young thrill-seekers from risking death or injury by jumping at the popular site.
Along with the young people comes litter, faeces, parking woes, alcohol and de-vegetation of the site which has become a summer nightmare for nearby residents.
The meeting, chaired by Cr Bev Colomb and attended by about 50 people, aimed to "let residents know what's proposed and to get their views". Speakers included Mornington MP David Morris, resident Gill Johns, and shire officers Jessica Wingad and Niall McDonagh.
Also discussed was the council's inability to stop water craft: the proposed exclusion zone must be approved by Parks Victoria and policed by Parks Victoria or the Water Police.
Ms Crosthwaite said DELWP had been working with the council to develop a long-term plan for The Pillars. She said a plan had been finalised and adopted by council at its 11 September 2018 meeting.
"The closure of the site with fencing was not supported by the community during the preparation of the long term management plan," she said.
Previously, the mayor Cr Bryan Payne had sent a letter to energy, environment and climate change minister Lily D'Ambrosio raising "a range of issues, including the extreme risk to public safety" and request for indemnity for the council "against any liability, losses or claims which may arise from or in connection with the use of the Pillars site by members of the public".