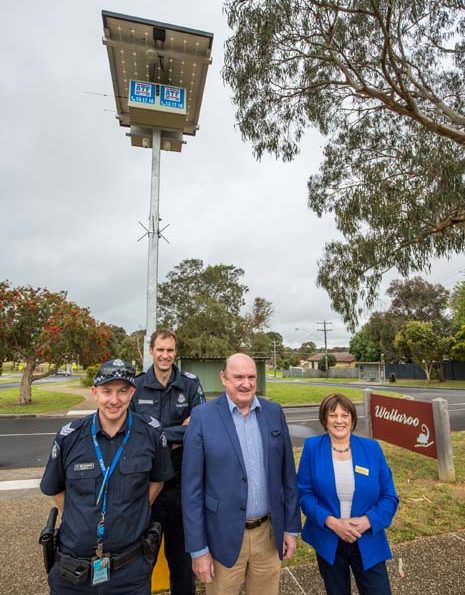 A SURVEILLANCE camera at a graffiti hot spot at Hastings is the latest tactic by Mornington Peninsula Shire to deter graffiti on the peninsula.
The mayor Cr Bryan Payne said the camera, at the intersection of Wallaroo and Hodgins roads, Hastings, was a "joint initiative of the shire and Hastings police to reduce anti-social behaviour and address the ongoing issue of graffiti".
"It's proving to be a very useful tool with an offender already recorded by the camera," he said.
Cerberus Ward's Cr Kate Roper said it was a shame when public spaces were damaged by "senseless acts of vandalism".
"Local kids catch the bus here and they should feel safe and welcome when travelling around Hastings," she said.
Earlier this year, the shire worked closely with schools at Hastings and Dromana to create a series of student-designed artworks to deter graffiti. They were installed where graffiti is an issue, such as Wallaroo Reserve, Hastings, and the freeway underpass on McCulloch Street, Dromana.
It is a crime to graffiti public or private property. The offence carries maximum fines of more than $38,000 and up to two years' imprisonment. It is also an offence to sell, possess or store graffiti materials.
The shire encourages people to report graffiti to police. Those with information can call Crime Stoppers 1800 333 000.  Anonymity is guaranteed.
The council aims to remove graffiti on shire property soon after it is reported. Priority is given to graffiti considered offensive.
Contact 1300 850 600 or report graffiti online at mornpen.vic.gov.au/report-it