PROVINCIAL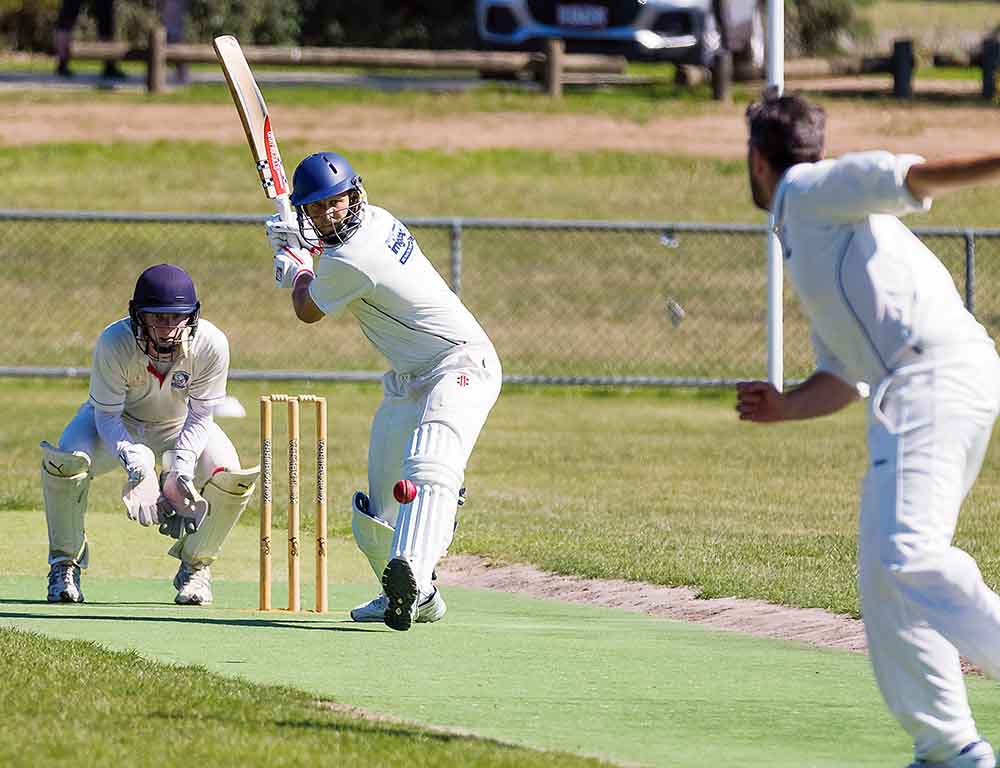 AN expertly taken century from Justin Grant has helped Mt Eliza to a nailbiter two day win over Mornington at Emil Madsen Reserve.
A big first day score of 85 from Ben Clements helped the Bulldogs to a good total of 216, which looked to be defendable.
A top order collapse and some middle order struggles saw the Redlegs struggling at 6/86, before Grant really stamped his authority on the game.
His unbeaten century saw them surpass their target of 216 with only two wickets in hand.
At Baxter Park, Peninsula Old Boys were thoroughly defeat by an impressive Baxter side.
OB's tame total of 104 was passed with ease, as Baxter recovered from 2/15 to end up at 2/245 at the close of play.
Daniel Warwick's 77 not out, including 15 fours, proved the highlight of the day.
Pearcedale's decision to bat first in their match against Sorrento proved an unwise decision, as the Sharks made easy work of them on day two of their claws.
Needing to beat 140 for the win, Sorrento put together a good middle order performance to end their innings at 7/214 before declaring.
Pearcedale put on a better showing from 40 overs in their second innings, with an opening stand of 86 runs helping them along to 4/159, though the first innings was already lost.
At Lloyd Park, Flinders could only manage a paltry total of 57 against Langwarrin. All four Langy bowlers claimed a wicket as they tore through the side, enforcing the follow on and keeping them to 4/53 off their second innings.
PENINSULA
RED Hill have might light work of a target of 168 in their match against Crib Point at Crib Point Recreation Reserve.
Crib Point would have liked their chances after getting off to a brilliant start and leaving the Hillmen bruised at 3/23.
3 and 4 batsmen Simon Dart and Alex Browne then steadied the ship, scoring a whopping 164 runs between them to put their side firmly in the box seat.
Red Hill ended the day at 7/250.
Pines had to work hard in order to defend their total of 189. But got the job done against Somerville.
Somerville lost their first wicket without score to get off to a rocky start, but quickly got things back on track with a 64 run partnership.
At 3/142 they would have liked their chances of going on to win, but a disastrous collapse left them all out for 171.
Patrick Jackson did the damage, taking 8/68 off a stunning 42 overs.
At Overport Park, a slow scoring Baden Powell could not get near a total of 165 set by Long Island.
Baden Powell's opening three batsmen combined for just 15 runs, leaving them little chance. They were bowled out for 115 runs.
Stuart Swift was pick of the bowlers, taking a five wicket haul on the day.
Moorooduc have bounced back well to restore some pride after a disastrous first innings against Main Ridge.
After their first innings came to a close for just 86 runs, they were keen to make amends.
Reece Cordeaux's 7 wickets saw them bring Main Ridge's first innings to a close for 151, but it was Moorooduc's second innings where they really impressed.
They bounced back from their first innings total of 86 to make 7/218 before declaring.
Main Ridge also had a crack at a second innings, and ended their day in a disappointing position at 6/83
DISTRICT
DELACOMBE Park have battled hard to get within touching distance, but fallen just short of their target against Rosebud.
Chasing 185 to win, a good opening run stand of 39 was broken up by two quick wickets, the second being a runout.
Jaquoin Mackenzie helped his side stay in reach with a serviceable 39, but ultimately his Rosebud teammates couldn't top him, and they fell just short at all out for 167.
Billy Quigley impressed with ball in hand, claiming five wickets.
Mt Martha have nearly pulled off a miracle win over Seaford, bouncing back from 7/63 to nearly chase down 152 to win.
Rhys Whitling's brilliant half century from the tail nearly proved the difference, but ultimately his side ended up all out for 127. Whitling was the last man out, and was close to pulling off an almighty achievement.
Seaford came in for a second innings, but ended the day at 6/98.
Hastings have battered Seaford Tigers thanks to a brilliant century from Malith Chathuranga. His knock of 107 not out, with 14 fours to his name, was helpful in getting his side to a total of 4/225 by stumps.
They met their target of 132 with little trouble.
At Bruce Park, Heatherhill's mammoth total of 9/285 was challenged by a brave Carrum side who came not far off meeting their lofty target.
Carrum worked hard to keep the run rate ticking, but ultimately ended up all out for an impressive total of 250.
SUB DISTRICT
A SENSATIONAL batting collapse from Rye has opened the door for Tootgarook to claim a shock first innings win in their two day clash.
Defending just 109 runs, Tootgarook had their work well and truly cut out for them.
Rye however collapsed sensationally, losing their first three wickets in succession as Jacob Long claimed a hat trick. He would finish with a stunning 8 wickets, as Rye were bowled out for 75.
Tootgarook came back in and made a snappy 155 before declaring and chasing the second innings as well.
Rye struggled, but held their nerve as they ended the day at 5/88.
Skye's tame total of 153 was enough to hold off the Tyabb on Saturday, as the Yabbies suffered from opening and tail end collapsed.
The Yabbies were left languishing at 2/4, and also lost their last 5 wickets for just 10 runs.
Clint Donohue was the star bowler for Skye, claiming 6/12 off 14 overs.
Skye came in for a second innings and finished up at 1/34 at stumps.
Frankston YCW can count themselves unlucky to have fallen short of Boneo's target of 199 runs.
Off to a tough start at 2/13, the Stonecats slowly worked their way into the game with some good middle order performances.
Although they look threatening, YCW eventually fell short and were bowled out for 177.
Sean Spencer took nearly career best bowling figures of 5/29, including the scalps of both openers.
Dromana's team performance earned them a total of 191 last week, a total that could be easily defended.
Carrum Downs looked up to the task however, and worked hard to chip away at the total.
Despite their best efforts, Carrums Downs were bowled out for 173 with 7 overs to spare.
Zacc Clan's 5/41 made him the pick of the bowlers.
Balnarring had a bye.