SOCCER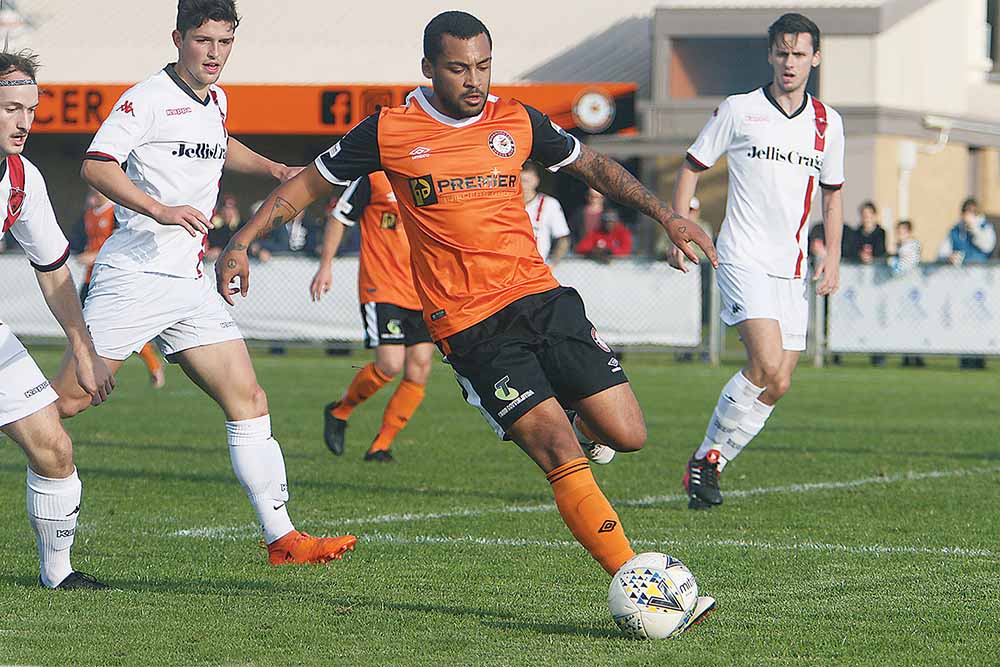 ADAM Jamieson is close to finalising a senior squad which he believes can take Mornington into the NPL.
While other local clubs have been announcing new signings in a piecemeal manner Jamieson has quietly gone about the business of overhauling his playing staff and he's pleased with the outcome.
Last week the club took to social media to name the 14 players already secured for next season.
"It's a pretty strong squad on paper but we know what on paper means and until you go out there and do it then it doesn't mean much," Jamieson said.
He's known for keeping his cards close to his chest but will at least acknowledge that this current squad has more players with NPL experience than ever before.
Striker Amir Osmancevic has joined from Northcote, defenders Andy McIntyre and Andy Mclean and striker Liam Baxter have been signed from Langwarrin, midfielder Sam Catherine has been lured from Dandenong Thunder along with goalkeeper Sermin Sadkovski from Richmond while midfielder or winger Ross Clark has joined from Mooroolbark.
Goalkeeper Steve Bayard, defenders Josh Valadon and Charlie Parker and midfielders Sam Scott and Andre Bennett have been retained while 20-year-old defender Lachy Thomas and 20-year-old forward Charlie O'Connell have been promoted from the club's development squad.
Jamieson is keen to retain Craig Smart, Keegan Ziada and Sammy Orritt but negotiations are ongoing and the future of Stefan Soler is unclear.
Smart has been linked with Peninsula Strikers and Berwick City, Ziada with Berwick City and Orritt with Oakleigh Cannons.
Stevie Elliott has joined Doveton, Jamie Cumming has joined Langwarrin and Max Etheridge is rumoured to be on the radar of former club Kingston City.
"Next season we can have four visa players on a teamsheet and at the moment we've only got three," Jamieson said.
"Sammy would be the fourth visa if we can convince him to stay and believe me I'm trying."
The top two sides in State 1 South-East will be promoted to a third-tier elite league created for the 2020 season and Jamieson aims to take Mornington there.
"It's a fresh start for everyone really. The plan from day one was to get a lot of new boys in as some boys wanted to move on and some boys went back to the UK and New Zealand.
"I'm really excited about this squad and I'm super excited about working with [new assistant coach] Nathan Peel.
"He's worked at every professional level in England and he's going to be an unbelievable asset to the football club, to all the players and to be honest to me too. I'm going to learn a lot which is going to be great for my development as a coach and manager."
Jamieson has pinpointed poor home results over the past two seasons as an area of concern and that has prompted the scheduling of a number of pre-season matches at Dallas Brooks Park.
Mornington will host Peninsula Strikers on Thursday 14 February, Banyule on Saturday 16 February, Berwick City on Saturday 23 February and Clifton Hill on Saturday 16 March.
Mornington will try to win the Steve Wallace Memorial Cup for a sixth straight year on Saturday 2 February and will open its 2019 FFA Cup campaign on Saturday 9 March.
Jamieson and Peel will start pre-season training on Tuesday 27 November and the last session for 2018 will be on Tuesday 18 December.
Training resumes on Tuesday 15 January and a pre-season camp at Barwon Heads has been scheduled for the first weekend in March.
The main pitch at Dallas Brooks Park is now floodlit and Mornington may play a couple of night games next season.
In NPLW news American import Michaela Dooley has left Southern United after arriving last July from Swedish club Skövde KIK.
The 23-year-old was on a two-year contract with Southern with a one-year option and chose the Monterey Reserve outfit after turning down a short-term offer of $2500 a month, a job and free accommodation from a Queensland-based club.
Although Dooley has agreed terms with a Brisbane-based side competing in Queensland's NPLW competition it is not the club which tried to snatch her from Southern's grasp last season.
Dooley will play with Souths United in 2019.
The club finished fourth last season and is expected to recruit aggressively with a view to challenging for the title next year.
"I know a couple of girls there and they have a strong competitive environment and they work on bringing in a couple of internationals each year," Dooley said.
"I really enjoyed my time at Southern and the girls there went above and beyond to make sure I integrated.
"The sense of community and their youth program are a big plus and even though we struggled we improved a ton by the end of the season.
"Hopefully they'll have a good year and I'll certainly be following them from afar."
In State 3 South-East news Skye United senior coach Phil McGuinness is trying to hold on to the core group of players who took the club to a third-placed finish in State 3 South-East last season.
Star striker Caleb Nicholes retired before the last match of the 2018 season and McGuinness is acutely aware of the impact that could have.
"The absence of his goals and experience has left a huge hole to fill but Daniel Attard and Mitch Blake are looking forward to the challenge of filling the big man's boots and we're also looking at bringing in a third striker to keep the competition healthy up front," McGuinness said.
"We don't have the spending power of some of the clubs in our area so it's important to keep hold of the players we have."
Midfielders Mark O'Connor (calf) and Marcus Collier (ACL) are recovering from injuries and McGuinness hopes to have Collier available midway through the 2019 season.
Baxter and Frankston Pines are among a group of clubs circling around young midfielder Jack Gallagher.
"Yeah I've heard he's creating a lot of interest from other clubs but I had a chat with him and he seems pretty happy to stay and fight for his spot," McGuinness said.
"I've been in contact with a few of my old players from my Langy days (as reserves coach) and hopefully I've done enough to convince them to try out at Skye during preseason."
In State 4 South news Seaford United announced last week that brothers Matt and Jeremy Schwellinger and Dion Stallbaum had been re-signed for next season.
In State 5 South news former Berwick City reserves coach Lee Barber is the new senior coach of Aspendale Stingrays.
Barber has 40 years' experience as a player, referee and coach and has been in charge of the Berwick reserves for the past four seasons.
Young Stingrays defender Alex Griffiths did his ACL while playing for the seniors last season and missed out on the under-18A finals.
He put surgery on hold while concentrating on his VCE exams and will miss the 2019 season.
The Stingrays' attacking options have been bolstered with leading scorer Domenic Paul signing on for next season and Alex Taylor-Hirst returning from working in the UK.
Taylor-Hirst scored 11 goals in the 10 games he played this year.
Under-18 strikers Quinn Carter and Ben Garside Weinert are expected to be involved with the senior squad alongside key defender Noah Berends and goalkeeper Matthew Self who played in the reserves this season as well as the title-winning under-18 side.
Under-18s midfielders James Macnab and Justin Lampert both had a taste of senior soccer last season and have re-signed for 2019.