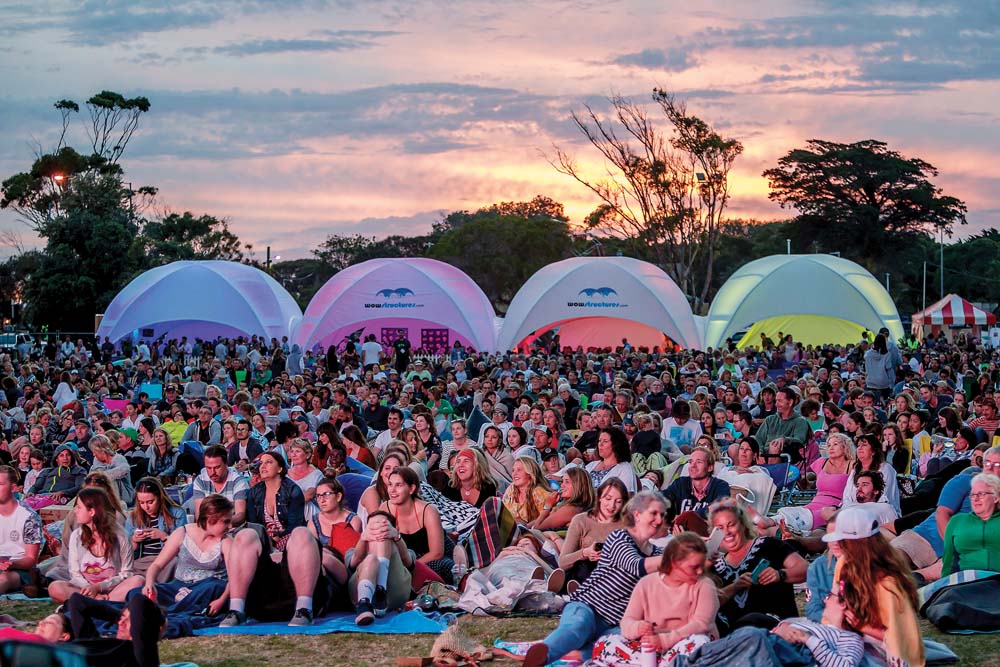 THE AGL Peninsula Film Festival returns to entertain the crowds on screen and stage this February, and for the first time introduces Musiqua, with live music at Hastings Foreshore.
Now in its eighth year, the festival will run from February 1 – 3, 2019 and features a ticketed launch at Rosebud Cinema on the Friday Feb 1, the popular FREE short film festival at the Village Green in Rosebud on Sat Feb 2 and is expanding to include a new music festival at Hastings, Musiqua, on the Sunday Feb 3.
The FREE short film festival is the highlight of the program and runs on Saturday 2 February 2019.  20 shortlisted Australian filmmakers showcase their films in front of a panel of celebrity judges and film luminaries. Judges award monetary prizes for best short films and other categories including Best Animation, Best Documentary, Best International and the Woodleigh School Emerging Filmmaker Award.
The 2019 event has welcomed a new category – the Rye, Rosebud and Dromana Community Bank® branches of Bendigo Bank My Local Hero Award. Aspiring film makers have the chance to enter a 2-minute film featuring someone who has made an impact on the region and share their inspiring story on the big screen.
This year, the festival's judging panel includes Lachy Hulme (Offspring, Romper Stomper TV series), Kestie Morassi (Wolf Creek, Dirty Deeds), Don Hany (Offspring, White Collar Blue, Bad Mothers), Michala Banas (Upper Middle Bogan, McLeod's Daughters) and Triple M radio host and actor Mick Molloy. They'll be joined by the world's best stuntwoman, US actress Danielle Burgio, who is highly regarded for her stunt work as Trinity in the Matrix series. Actress and television presenter Tania Zaetta will MC the evening.
A firm fixture on the regional Victorian calendar, film fans will once again roll out their picnic rugs at the FREE short film festival in Rosebud and enjoy an evening of short films and live music performances along with great local food and wine from the gourmet food truck alley.
The next day, Hastings Foreshore beckons the public to roll out the picnic rugs and dancing shoes at the inaugural music, food and wine gathering, Musiqua. The fantastic line-up showcases live music from respected artists Ella Hooper, Terry Serio & Charlie Owen, The Midwayers, Taylor Piggott and Matilda Pearl as well as food trucks, wine and craft beer and an afternoon market.
Festival Director, Steve Bastoni, said extending the festival to incorporate music and comedy entertainment at Musiqua offers greater opportunities to connect local audiences with emerging talent, while continuing to increase the exposure for independent Australian films and talent.
For a detailed three-day program and to purchase tickets to the Friday feature film screening, Sunday Session and live Musiqua music gathering www.peninsulafilmfestival.com.au