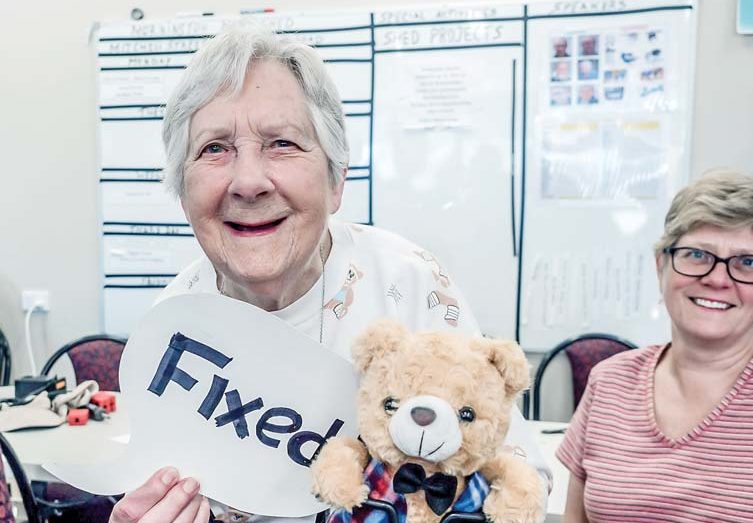 THERE was not much of Beth Young's cycling teddy bear being thrown on the tip, but the mechanical toy is now up and rolling thanks to the volunteer "fixers" at the Mornington repair Cafe.
Ms Young, 94, (pictured) was one of the dozen "clients" who took a broken item to the cafe's opening earlier this month.
Volunteers experienced in repairing household goods are opening up a repair cafe in Mornington.
The fixers, all experienced in repairing household goods and all members of the Peninsula branch of Solve Disability Solutions, set up shop at the Mornington Men's Shed on Sunday 18 November.
Bill Hallett said 12 people went along seeking repairs to bicycles, an antique piano stool, a Sony Walkman karaoke tape deck and Ms Young's cycling teddy bear.
A similar volunteer repair workshop is already up and running at Rye Community Centre, following on from the first Repair Cafe which opened in Holland in 2009.
Mr Hallett said the idea of the repair cafe was to help people keep their items – small furniture pieces to bikes, toys, crockery and computers – in working order and reduce the amount of waste going to landfill.
The fixers draw the line at repairs to mains electrical goods for safety reasons.
The next open day at the Mornington Repair Cafe will be Sunday 20 January at the Men's Shed, 91 Wilsons Road, Mornington.
Details for the repair cafes are on the Mornington and Rye Facebook pages or call 0409 197 307.