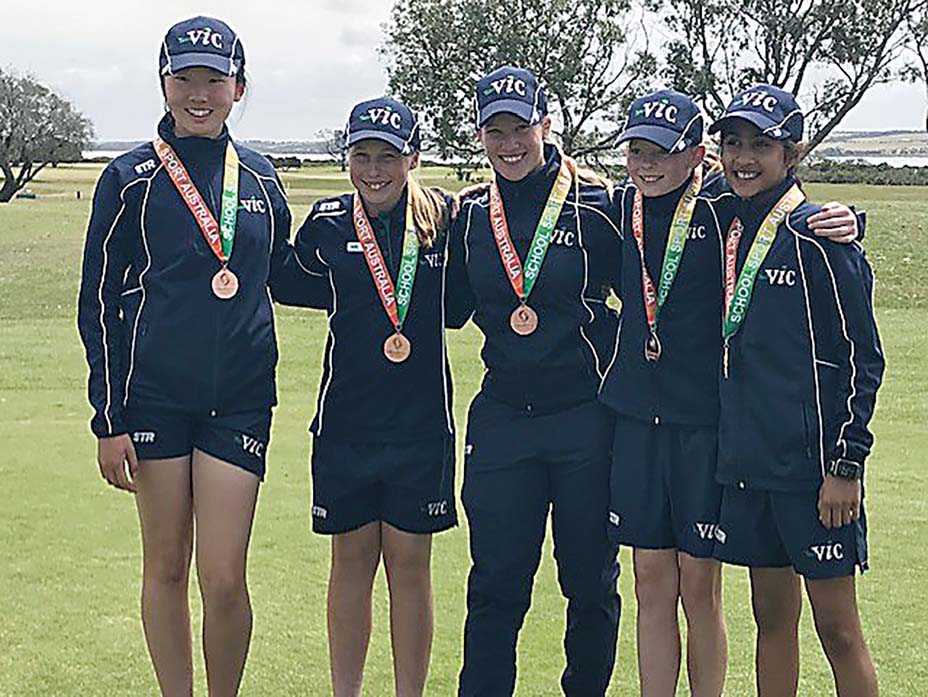 ROSEBUD Country Club junior golfer, Gracie Larsen, represented Victoria for the first time at the School Sports National Golf Championships on the Bellarine Peninsula on Monday 12 November.
Despite it being her first time competing, Gracie was awarded the honour of captaining the under-12s Victorian side, along with the boy's team captain, Bailey Goodall.
Victoria ended up coming away with an overall bronze medal from the five-day championships and Gracie's father, Tom Larsen, said the competition made them "better people, not just golfers".
"They played awesome as a team and really enjoyed themselves out there," he said.
"They had no caddy; the parents couldn't give any advice, they were all on their own. They made a few interesting choices but all round it was a really good experience for them."
On the opening day, the Victorian girls won the team Ambrose event (nett) and came in six-under the card with "big smiles on their faces".
The second day was the individual competition where Gracie played another solid round of golf, but unfortunately nothing seemed to drop for her.
"It was just one of those days," Tom said. "Seven or eight times she lipped out and nothing really went her way."
Gracie and the Victorian team enjoyed the day off on the third day and ventured to Sovereign Hill where the kids got to experience the gold mines.
"That was good for them," Tom said. "All the kids got to hang out and just get to know each other."
The final two days the golfers got back into the swing of things at the national championships where Gracie and the Victorian girls team topped off their final round with a birdie on the last hole of the competition.
Overall, Tom said Gracie "absolutely loved it" and really made him proud with the way she handled herself as the captain.
"She really upheld her role and I had a lot of people commend her on the way she went about everything and how she kept her composure throughout the entire competition," he said.
Fellow Rosebud Country Club junior golfer, Molly McLean, also went to cheer her friend on after missing the competition because of injury.
"Molly injured her back a couple weeks before and had to sit out unfortunately but it was great to see her there on the last day with her father," Tom said.
First published in the Southern Peninsula News – 4 December 2018