PROVINCIAL
SORRENTO have worked hard to restrict Mornington to a total of just 160 in their clash at Alexandra Park.
Defending a total of 205 runs away from home, helped by a brilliant 77 from Liam O'Connor, the Sharks started well to claim the first two wickets of the innings for just 19.
Mornington's middle order steadied the innings to put their side back on track, but once their wickets fell the rest collapsed quickly.
Jake Wood was the best of Sorrento's bowlers, taking 4 wickets for 26 runs from his 16 overs.
At Emil Madsen Reserve, Langwarrin's total of 246 was put under threat in their two dayer against Mt Eliza.
Mt Eliza were struggling at 2/13 to begin with, but recovered well to end up at 2/108 and in pole position for a win. Tim Clarke's 48 has handy, but it was Justin Grant's huge total of 95 that put his side in a good position.
Travis Campbell eventually got Grant out just 5 runs short of his ton. His wicket was taken with Mt Eliza at 5/194. They ended up all out for 219.
Leigh Paterson claimed a five wicket haul, positing figures of 5/45 for the day.
At BA Cairns Reserve, Flinders and Baxter got underway with Flinders having already lost the first innings.
Flinders came in to bat on day two and batted out the afternoon, improving greatly on their first innings total of 76.
Flinders recovered from 2/3 to end the day at 6/208. Blake Hogan-Keogh hit 14 fours to get to 74 runs before retiring hurt.
Peninsula OB performed well to pass their target of 168 against Pearcedale.
John Forrest was in fine form, passing his century and ending the day at 101 not out. Old Boys finished at 6/255.
PENINSULA
BADEN Powell have held on to claim a first innings win over Somerville.
Baden Powell won the toss and elected to bat first. They put together a complete team performance to get to 6/158.
Somerville started poorly and lost their first wicket for just four runs. From there some of their batsmen made starts but none could make any real impact. They were eventually bowled out for 114, well short of their target.
On the first day of Red Hill's clash with Main Ridge, spectators were treated to a phenomenal performance from Simon Dart. He smashed an astonishing 6 sixes and 8 fours on his way to a brilliant total of 108 not out.
Main Ridge were left rocked, and could not get close to their target of 227. They ended up at 7/126 at stumps, well short of a good result.
Pines were prolific at home against Moorooduc, passing their first innings target of 154 with relative ease.
A good bowling performance from Moorooduc's Robbie Lancaster was not enough, as Pines finished the day at 6/213, taking the first innings.
DISTRICT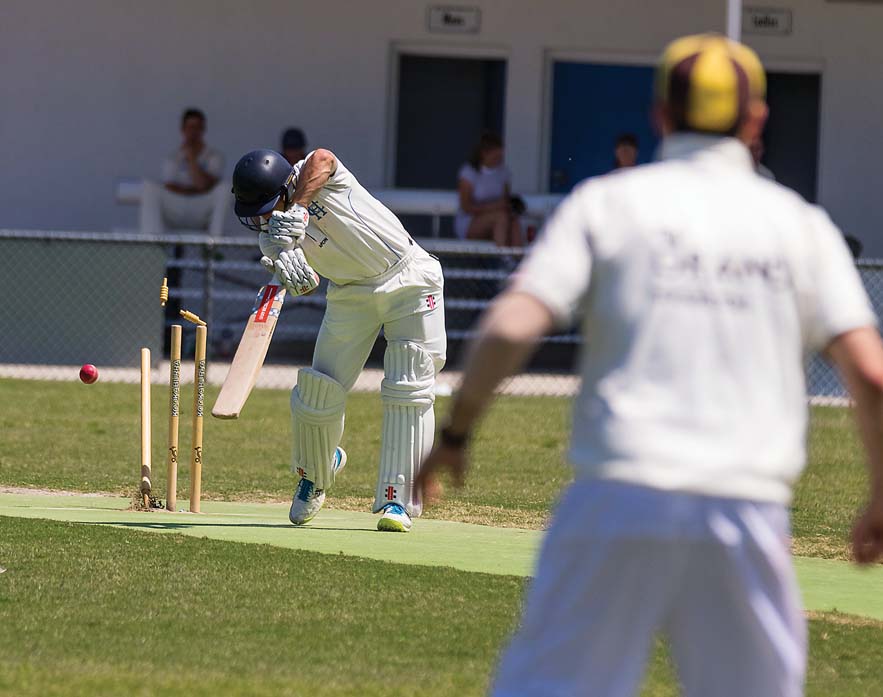 CARRUM'S run chase against Delacombe Park proved fruitless in the second day of their clash, as they fell nearly 100 runs short of a win.
Corey Hand came in late and was the best of Carrum's batsmen, top scoring with just 38 runs. They ended up all out for 130, well short of the required 225 to win.
The Seaford Tigers recovered from a sluggish start to easily claim a first innings win over Seaford.
Chasing 91, Seaford Tigers lost their first 6 wickets for just 73 runs and looked to be struggling as well. A stunning performance from the tail saw them get out to 243. Middle order batsman Matthew Roach was the best contributor with 74 runs.
Seaford came in to bat a second innings, and restored respect with a much better total. They finished at 5/252 at stumps. Opener Ryan Mcqueen put together a knock of 82, an improvement from his first innings total of 6.
Rosebud were in grave danger of losing their first innings against Mt Martha, passing their target of 144 with just one wicket in hand.
Rosebud were struggling badly and lost two quick late wickets to be at 9/137. With the game in balance, Billy Quigley held on help claim the winning runs. He top scored for Rosebud with 36 not out.
At Thomas Barclay Oval, Jake Hewitt nearly proved the difference for his Hastings side, but ultimately his 48 was not enough to help his side to a win over Heatherhill.
Chasing 176 to win, Hastings blew their chance by losing their last three wickets for just 2 runs. They ended up all out for 151.
SUB DISTRICT
BALNARRING put together a good team performance to pass Frankston YCW's total at Peninsula Reserve. The Stonecats set a total pf 156 on day one.
Balnarring had good performances from many of their batsmen. None passed a half century, but all contributed to reach 9/188 at stumps.
Andrew Kiston claimed five wickets.
At Boneo Rec Reserve, Boneo were relentless as they pumped Rye by over 200 runs in the first innings. Caolan O'Connor's 91 from 101 balls was a highlight of their innings of 2/266.
Skye got 8/141 in the second innings to restore some respect.
Dromana put together a stunning opening partnership of 150 runs to help themselves to a four wicket win over Tyabb.
Nick Taranto's terrific ton put Tyabb off to a dream start on day one, but he was let down by a lackluster bowling performance.
Dromana's Adam Ciaverella put together an innings of 77 runs, while Mark Whitehead contributed 76 runs of his own. Once their wickets fell the middle order toiled away to eventually end the day at 6/235.
Rye had a bye.
First published in the Southern Peninsula News – 4 December 2018