SOCCER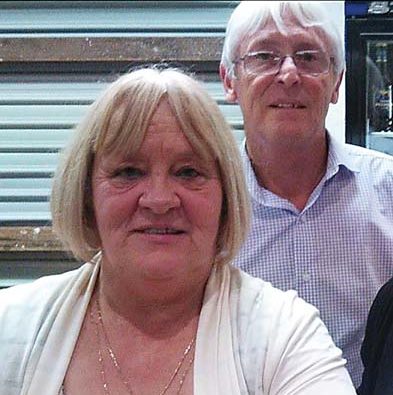 WILLIE Lynn and wife Liz have been involved with Seaford United since 1978 and have no plans to step aside soon.
Willie is in the 12th year of his second stint as president having previously completed 10 years in charge while Liz has had several stints on the committee and turned her hand to almost every volunteer job at the club.
"I'm the cleaner, the shopper and the washer upperer," Liz said.
"I wash both the kits for the seniors and reserves, I cook for them after training on Thursday nights and I help run the bar."
North Seaford Reserve became their home away from home just a few months after migrating from Scotland.
Willie was born in Stevenston in Ayrshire and Liz in Glasgow and they arrived in Melbourne in August 1977 and joined Seaford United the following year.
"That was the first year Seaford had a senior team and I've got a funny feeling that they won the Bayside League that year," Willie said.
Guiding a club through the highs of promotion and the lows of relegation can be demanding but Willie Lynn seems to take it all in his stride.
"We joined the club at the start because of the social aspect and that's one of the things we've always enjoyed.
"We won the cup and league in the same year – mind you that was a long time ago in fact I think we were in the old District Leagues – and that's probably been the main highlight as far as results go."
Over the years Lynn has watched some high-profile players wearing the Seaford strip perhaps none more so than Heidelberg United legend and former Socceroo Jim Tansey who he rates as the best defender he's seen at North Seaford Reserve.
Other high-profile players include Iain Stirton, Billy Whiteside, Carl Gilder, Jimmy and Ray Bryden, Terry Wogan, Alex Marshall, Andy McKenna, Gordon Bentley, Stevie Irvine and Dave Greening.
"The best keeper was probably Jimmy Bryden who was a big boy and really commanded his area.
"In the early days we had a lad from Dundee called Duncan Fox and he was maybe the best midfielder and I'd have to say big Stirton was the best striker but Ray Bryden was another good player."
The highest level Seaford has reached in Victorian soccer is the old State League 3 and as its name suggests it was the third-highest tier of club competition in the state.
While most clubs aspire to play at the highest level Lynn says that from his experience there's a price to pay.
"I think the hardest part is getting volunteers in to do various jobs around the place and it seems like it's getting harder all the time.
"In my experience some of the easier times were when we were in the lower leagues because when we went into the higher leagues it just seemed harder to attract volunteers.
"I'm not sure why that is but maybe when you're in the lower leagues you tend to get more of a social atmosphere and it's a wee bit easier to get people involved.
"It seems to come in phases where you have a good group of people involved one year then the following year they're not involved and you're struggling to get the help you need."
But despite seasons when the presidency would have tested a lesser man the 70-year-old Scot can't see himself walking away from the job.
"I think the real reason I've lasted so long is that no-one else wants the job because of all the work involved.
"To tell you the truth I've been retired now for 15 years and it gives me something to do.
"I don't play golf and I don't fish and if I wasn't involved with the club I'd be sitting in front of the tele watching 'Days Of Our Lives' and I'm not into that at all.
"I've got no intentions of stepping down and as long as I'm upright I'll keep going."
Recent seasons have not been kind to Seaford with the senior team finishing bottom of State 2 South-East in 2017 and second bottom of State 3 South-East this year.
Next year Seaford will line up in State 4 South where derby clashes against Baxter and Chelsea will be eagerly anticipated and Lynn is confident that not only will the drop down the leagues be arrested but the club can look to regain lost ground.
"Looking back (at 2018) it wasn't a really good season at all and I was a bit disappointed.
"We went through a couple of coaches and there was a fair bit of disruption but when wee Matty (Morris-Thomas) took over it seemed to improve a hell of a lot.
"We've already signed Mitch (Lander) for next season and there's a couple of others on the way but I'm not telling you who they are just yet.
"I've got a bit of time for wee Matty and he knows what it's all about.
"We'd like to think that we can have a good year next year and move back up but once again the higher you go the harder it gets for presidents and committees."
But Seaford's onfield struggles are in stark contrast to the club's strong participation levels with around 400 players in the senior, junior and women's programs.
The club fielded "15 or 16" junior teams last year, five Bayside League teams, and under-12, under-14 and senior women's teams.
"We've got well over 200 kids involved with the juniors and while you'd see that as important for the club's future the fact is that as they get older it gets harder to hold onto them.
"They start to socialise, they get wee part-time jobs and they go to uni so there's a lot of other things on their minds.
"And the ones that are really good and want to keep playing don't tend to stay at Seaford but go to the NPL.
"But basically the sport is really strong on the peninsula and you only have to look at the (player) numbers to see that it continues to grow.
"It doesn't really matter how good you are because every single kid deserves the chance to play this beautiful game and our job is to make sure that there's always a place for them."
There's been a major improvement to the infrastructure at North Seaford Reserve recently with the completion of new changerooms jointly funded by local council and state and federal governments.
The new facilities are symptomatic of the current relationship between Seaford United and Frankston council but it hasn't always been so positive.
"In the 20 odd years I've been president there's been some pretty bad times I can tell you but at the moment our relationship with the council is very good.
"At the last soccer liaison meeting with the council I brought up the issue of getting dugouts built and they said they were looking to do that so I'm very hopeful that something will be done soon.
"Overall I think the future's looking good and irrespective of what level we are at our numbers are good both on the pitch and off.
"I'm not going to tell you how much money we've got in the bank but we're comfortable financially."
As comfortable as Willie and Liz Lynn are after 40 years' service to the one club.